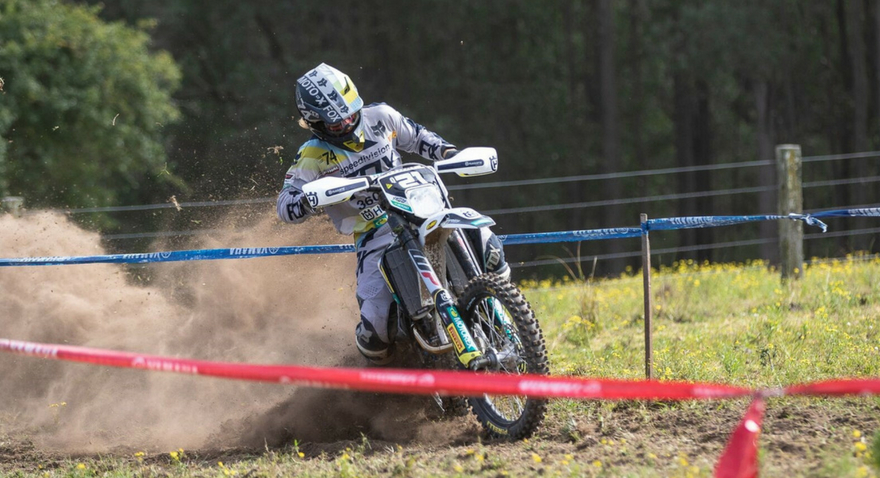 The 2018 Yamaha Australian Off-Road Championship (AORC) is back this weekend with Round 7 at Broken Hill, NSW and the riders are ready and raring for the first ever AORC desert cross-country. Daniel Milner (E3), Daniel Sanders (E2), Luke Styke (E1) and Michael Driscoll (EJ) will all be out to improve their points lead. This weekend will also see both Juniors and Seniors complete their first cross country of the season.    
The Juniors will take centre stage on Saturday as they complete a cross-country starting at 12:30 pm. The J4 and J3 classes will compete for two and a half hours whilst the J2 class will race for two hours. Before the cross-country gets underway, riders will partake in a prologue to determine the starting order for the cross-country. The Junior field race around a 25km loop, with wide open spaces it will be interesting to see who handles the desert conditions the best.
The Senior action kicks off on Saturday at midday, as the field compete in a prologue to determine their starting positions for the cross country. The prologue for the seniors is a 2.1km track that is tight and technical. Sunday is where it all heats up again with a four-hour cross-country facing the riders, they will race around a 38km loop beginning at 11 am. The E3, E2, E1, EJ and Masters classes will battle it out over four hours, whilst the Women's and Masters classes will race for three hours.
Click here to see the full Round 7 Schedule. 
Broken Hill, New South Wales 
This will be the first time AORC has ventured to Broken Hill, NSW and its set to be a big weekend with the first-ever desert cross country. Broken Hill is located 511km from Adelaide, and is an inland mining city famous for its mining history, today Broken Hill is the longest running mining town in Australia. The town was Heritage listed in 2015 and has nicknames such as 'silver city', 'oasis of the west' and 'Capital of the Outback'. The population of Broken Hill is just under 18,000.
Live Timing Details
To stay up to speed with all the live action and the results throughout the weekend download the MYLAPS app*;
IOS: https://itunes.apple.com/au/app/mylaps-speedhive/id988412583?mt=8
Android: https://play.google.com/store/apps/details?id=com.mylaps.speedhive&hl=en
Social Media
Stay up to date with all the happenings of the 2018 Yamaha Australian Off-Road Championship by visiting the brand new AORC website at www.aorc.org.au! or by following the AORC on Facebook as well as @aorc on Instagram. Don't forget to download the brand new AORC App via Team App*.