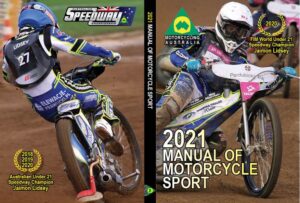 Motorcycling Victoria Events are governed by the rules as outlined in the latest edition of the Manual of Motorcycle Sport (MoMS) as well as the individual event Supplementary Regulations and Final Instructions.
What is the Manual of Motorcycle Sport?
The Manual of Motorcycle Sport (MoMS) is an annual publication of the rules around Motorcycle Sport in Australia. This is published by Motorcycling Australia (MA). Download a digital copy here.
Rule Changes:
Each year Motorcycling Australia reviews the rules, and invites feedback from the community.
The process for this is set out on their website, along with instructions on how you can submit any changes you believe need to be made.
Rule Change Process
---
What are "Supplementary Regulations" and where can I find them?
Supplementary Regulations (Supp Regs) are an additional set of rules and information that are published by event organisers/promoters specific to individual competitive events.
Supp Regs are created and published for all competitive events and are to be used in conjunction with the MoMS.
They can normally be obtained through the Events Calendar on or by contacting the event organiser/promoter directly.
What are "Final Instruction" and where can I find them?
Final Instructions a final confirmation of Supp Regs and any amendments that may have been made to them.
Please contact the event organiser/promoter to get a copy.
---
Bulletin – Rule Changes
All Rule change bulletins can be found on the Motorcycling Australia website HERE
Prohibited List:
The World Anti-Doping Agency (WADA) has published the 2019 Prohibited List, which will come into affect on 1 January 2019.
For you convenience the list can be downloaded here:
2019 Prohibited List (summary and Explanatory notes)
Motorcycling Australia Limited (MA) Anti-Doping Policy
For more information please visit the www.wada-ama.org 
---
Policies
The team at Motorcycling Australia, along with their partners, are consistently reviewing and updating all polocies relating to Motorcycle Sport. To keep up to date or find any information relating to policies in our sport click HERE
The information includes information under the following categories:
INTEGRITY FRAMEWORK
GOVERNANCE
PURE PERFORMANCE PROGRAM
ILLICIT DRUGS
MATCH-FIXING
MEMBER AND CHILD WELFARE