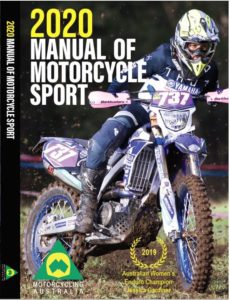 Motorcycling in Victoria Events are governed by the rules as outlined in the latest edition of the Manual of Motorcycle Sport (MoMS) as well as the individual event Supplementary Regulations and Final Instructions.
What is the Manual of Motorcycle Sport?
The Manual of Motorcycle Sport (MoMS) is an annual publication of the rules around Motorcycle Sport in Australia. This is published by Motorcycling Australia (MA). Download a digital copy here.
Prohibited List:
The World Anti-Doping Agency (WADA) has published the 2019 Prohibited List, which will come into affect on 1 January 2019.
For you convenience the list can be downloaded here:
2019 Prohibited List (summary and Explanatory notes)
Motorcycling Australia Limited (MA) Anti-Doping Policy
For more information please visit the www.wada-ama.org 
What are "Supplementary Regulations" and where can I find them?
Supplementary Regulations (Supp Regs) are an additional set of rules and information that are published by event organisers/promoters specific to individual competitive events.
Supp Regs are created and published for all competitive events and are to be used in conjunction with the MoMS.
They can normally be obtained through the Events Calendar on or by contacting the event organiser/promoter directly.
What are "Final Instruction" and where can I find them?
Final Instructions a final confirmation of Supp Regs and any amendments that may have been made to them.
Please contact the event organiser/promoter to get a copy.
Bulletin – Rule Changes
2019
#1998 Information Bulletin – Update Licencing and Junior Endorsements
#1997 Information Bulletin – Ninja 400 Rule Update 4
#1996 Rule Change Bulletin – Road Race – Stopping Events / Stopping Rerunning Events
#1995 Rule Change Bulletin – Junior 50cc Auto Class
#1994 Rule Change Bulletin – MX, SX & Classic MX – National Flag Protocols
#1993 Rule Change Bulletin – Road Race – Technical Rules Update for Ninja 400
#1991 Rule Change Bulletin – Competition Event and Race Definition 
#1990 Rule Change Bulletin – Road Race – Superstock & Production Classes
#1989 Rule Change Bulletin – Historic Road Race – Period 3 & 4 Carburettors 
#1988 Rule Change Bulletin – ATV – Open Classes for Supermoto & Motocross
#1987 Rule Change Bulletin – Classic Motocross & Classic Dirt Track – Handlebar Crossbar Pads
#1984 Rule Change Bulletin – Speedway – Additional Race Format 
#1986 Information Bulletin – Road Race – Ninja 400 Technical Rule Update 
#1985 Rule Change Bulletin – Track & Dirt Track – Wheel & Tyres
#1983 Information Bulletin – Road Race – Countershaft Sprocket Covers
#1982 Information Bulletin – Minikhana Updates
#1981 Rule Change Bulletin – OEM Definition 
#1979 Information Bulletin – Road Race SS300 Class – Ninja 400 Rule Update
#1978 – Information Bulletin – Junior Road Race – 9 to under 12 Junior Competition Class
#1977 Information Bulletin – MX – National & State Issued Numbers 
#1976 Information Bulletin – Road Racing (Superbike Only) – Data Qcquisition 
#1975 Rule Change Bulletin – MX Machine Requirements 
#1974 Result Change Bulletin – AJMX 2018 50cc Div 2 7-U9
#1871 Rule Change Bulletin – Historic Road Racing