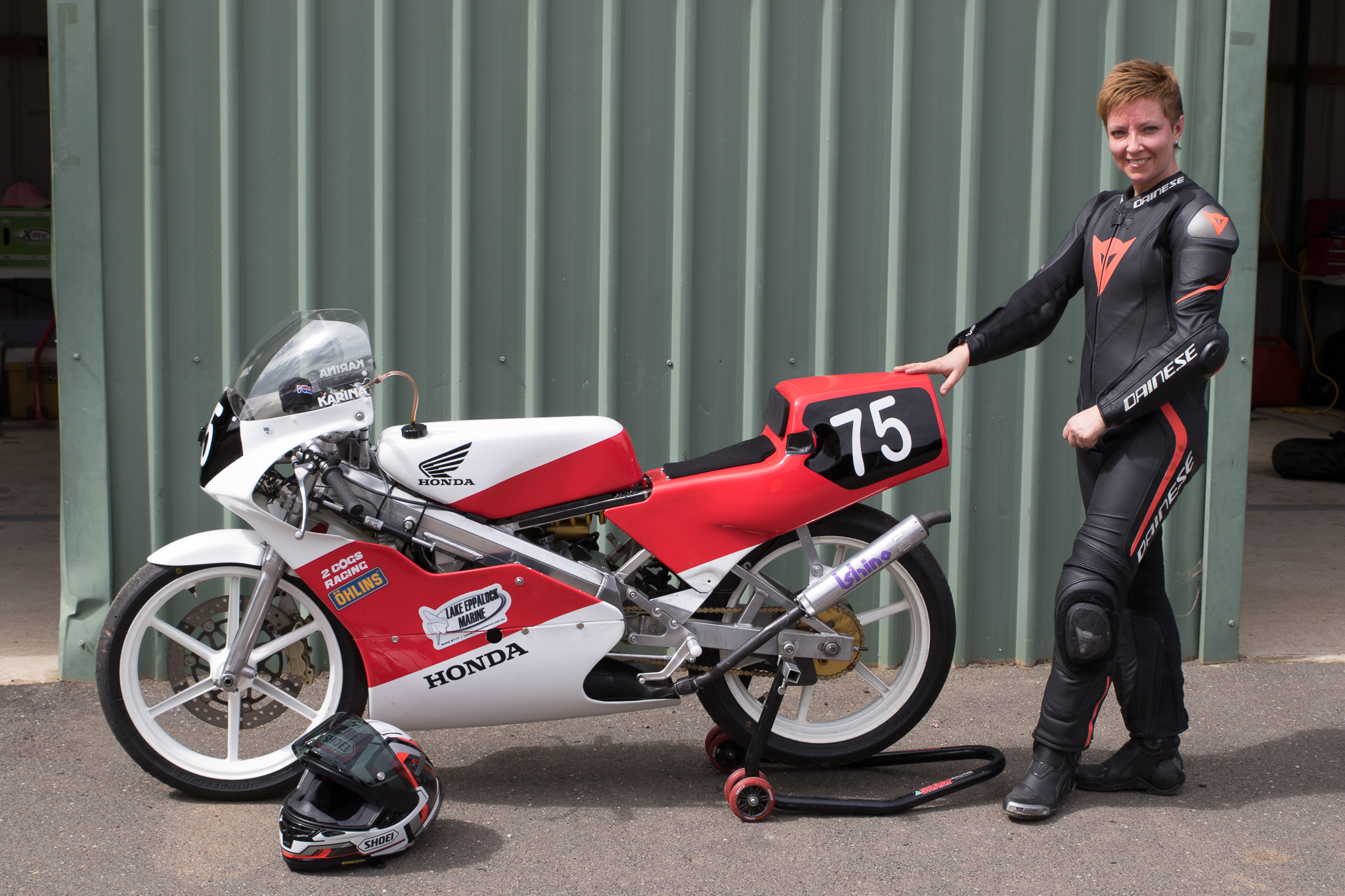 Women in Motorsport – Karina Sunk
by James O'Hagan
In a sport dominated by men, one woman will be taking on some of Australia's ultimate riders at the heart of Victorian motorcycling, the 2018 Australian Historic Road Race Nationals at Broadford. Over 25 classes and X bikes will take on the 75 turns and 2.16km of the revered circuit.
Karina Sunk had her first ride at Mallala at the impressionable age of 18, in a combination of terror and infatuation, she fell in love with track riding. Barbagallo, Phillip Island, Broadford, and Mac Park become part of her vernacular, alongside ignition timing, needle jets, and squish.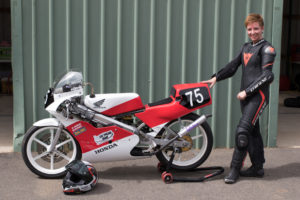 Fast forward to 2014, she lined up at the Island Classic on board her pride and joy, a 1990 Honda RS125 GP. A bike responsible for teaching riders such as Rossi, Capirossi and Aoki, but now it educates Karina, both as a rider and as a mechanic. Karina completes all her own mechanical work and preparation for all weekends. From simple the oil changes, to complete top end rebuilds, she does it all. Data such as compression, jet size, and air pressure and all recorded and analysed.
Her weekends are planned far in advance and nothing is left to chance, fuel is purchased and accounted for, tyres are selected and scrubbed in for optimum performance for qualifying. The bike is prepped with fresh gearbox oil and distilled water replaces the coolant. The carbies are cleaned and reinstalled. The spare (wet) bike is prepped and ready roll if anything goes awry. With both bikes prepped, the attention to detail truly shows her dedication and love of the sport. The notion of dirty two stroke bikes isn't an option, both bikes look as if they've come from the HRC factory.
While many people move quickly through the ranks of 125, 300, 600 and 1000+. Karina holds the love of small bikes close to her heart.  With the recent acquisition on a Honda NSF250 (moto3) she's now keen to learn the art of four stroke tuning. Countless hours of research ensured both 2 and 4 stroke bikes are prepared for optimal performance. As the race seasons go by, Karina is mastering the art of riding and has gained a true love of the sport, the in-depth knowledge of both bike and tracks has ensured a strong bond within the racing community. Andrew & Tait Coghill from 'Two Cogs racing' are always at the track helping Karina achieve her goals trackside. She's become a welcome team member and embraces her motorcycling family.
You can see Karina and 'Two Cogs racing' this weekend at Broadford, for more details please click here. https://prestonmotorcycleclubinc.wildapricot.org/page-18091