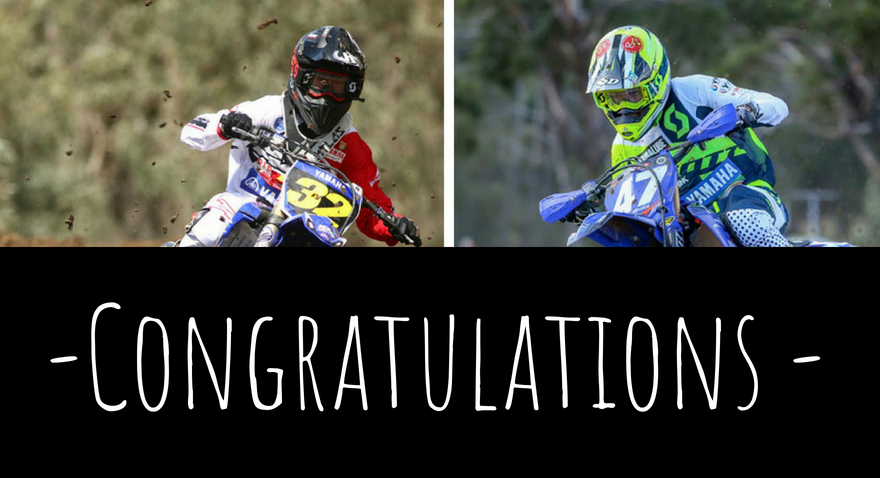 Motorcycling Victoria (MV) is proud to announce that 2 of our Junior Victorians have been selected as part of the Australian Team to compete in the 2018 FIM World Junior Motocross Championship (WJMX) that will be racing at the renowned Horsham Motorcycle Club VIC on the 26th of August 2018.
Liam Andrews & Bailey Malkiewicz will compete side by side representing Victoria in the 125cc class along with 5 others from Around Australia.
Andrews has been absolutely on song in the 250cc and 125cc classes, taking out the Victorian Motocross Championships in both classes for the 2018 series!
Malkiewicz is currently leading the MXD class in the MX Nationals and finished second in the 125cc class at Horham during 2017 Australian titles.
Both started their riding career early, racing 50's in Victoria!
Massive congratulations to both of these boys on their fantastic achievement! Can not wait to watch the action in August!
Please find below complete list of the Australian Team:
Representing the 125cc class for Australia will be;
– Liam Andrews
– Regan Duffy
– Blake Fox
– Dante Hyam
– Jack Kukas
– Bailey Malkiewicz
– Korey McMahon
Representing the 85cc class for Australia will be;
– Ryan Alexanderson
– Jett Burgess-Stevens
– Jackson Camilleri
– Ryder Kingsford
– Deegan Mancinelli
– Zac Watson
– Brad West
Representing the 65cc class for Australia will be;
– Jet Alsop
– Seth Burchell
– Jack Deveson
– Kayden Minear
– Braden Plath
– Seth Shackleton
– Thomas Wood
Australian riders may still have the chance to secure a wildcard entry. If there are less than 40 entries received from other federations, there will be opportunities for wildcards for Australian riders at the WJMX. This will be revealed at the closing of entries in the coming weeks.
Any queries in regard to team selection should be forwarded to Team Manager, Mark Willingham at mark@eagerpig.com.au