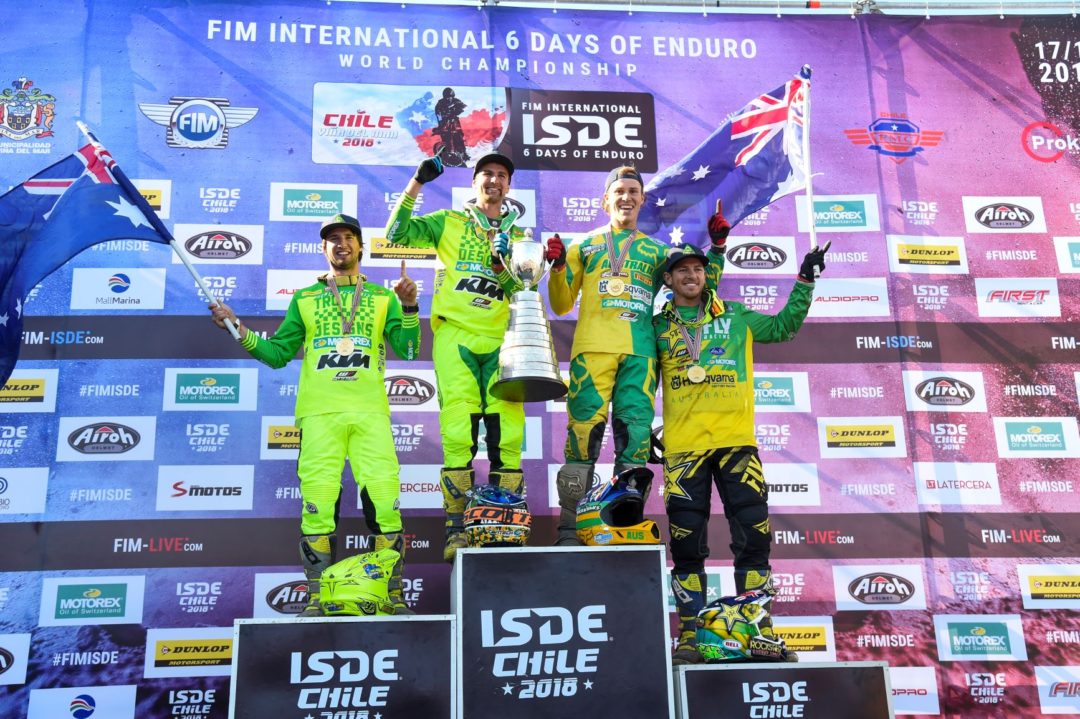 Victorian dominance at the 2018 FIM 6 Day Enduro
VIC POWER – it's in our DNA

Submitted by: Jo Davis
Photos Courtesy of John Pearson Media
Is it the apples? Is it the clear mountain air? Is it the Yarra River water?
We woke up Sunday morning to find Motorcycling Australias (MA) Chris Gray, live streaming the final moto from Chile where the 2018 Six Day Enduro was coming to its VICtorious conclusion.  The Australian World Trophy Team had won, the Australian Womens Trophy Team had won (for the sixth time) and our junior Australian team had placed in the top five.  Surely this cements Australian off-road racers as the best in the world?
Something in the Victorian DNA is breeding the off-road stars of yesterday, today, and the future.  And it has been like this for a long time even back to the day of Norm Watts, the Chapmans, Shane Watts, Frank Bonfadini, Andrew Carruthers, David Flea Fleming – the list goes on.   And what makes these victories sweeter for us in Victoria is that three of the four senior men's riders were Victorian and two thirds of the junior team were Victorian.
From right here in our own backyard.
It could be the apples or it could be the genes but there is no denying Daniel Chucky Sanders has talent.  From watching him coming up through the junior and senior grades, where he was clearly a cut above the rest, seeing him transition from a wild, crazy kid with enthusiasm spilling uncontrollably over the edges, to seeing him now mature into one of Australia's best off-road racing talents.  Being around the off-road community, the mateship, mentoring and support provides that breeding ground for riders to achieve their absolute best.  And the Victorian off-road community is getting this so right year after year.
So we set about asking the question 'who are these champions and why do Victorian clubs produce such a consistent winning stream of riders?"
Three of the riders sent to Chile are members of the Motorcycle Racing Club of Victoria (MCRCV) and when we contacted MCRCV's guru of trail rides, Dean Harris, we asked him his thoughts on how the club has produced its current crop of champions. Dean said that at the VORC presentations last week MCRCV had a rider on just about every podium.
"MCRCV is an off-road racing club through and through, with the occasional motocross event.  It is our ability to access quality private properties with a variety of terrain, as well as being able to attract hardworking and dedicated club members that the club can rely upon that gives us the edge.  Take a look at Three Bridges in the Yarra Valley (the Sanders property) – how could you not improve when riding there (especially in the wet!).  And Flowerdale is a round of our club champs that pushes riders to become better – and we have been able to use this property for over 10 years.  We even had an event called 'Flowerberg'.   But you can make an event hard using any conditions and any style of terrain.  Also the mentoring by club members creates better riders e.g. Pete Sanders and his influence and experience that he puts into Chucky and the courses he has set for us, Steve Mason with Tom Mason, Rob Snodgrass with his son Lyndon." (I can remember riding with Robert in the Victorian Millage Yamaha Enduro series.)
Dean goes on "the depth of the club is what creates the future of the club and the quality of riders so MCRCV has, in recent years, turned their focus to attracting and developing junior riders.  I remember seeing Lyndon and Tom on the start line on their Kawasaki 65s. And I remember Chucky in the club's J4 class, riding his 125 on a 25 minute cross country loop where he stoved in the expansion chamber.  He dashed home to return on his dad's KTM200, rejoined the race, caught up with the front runners and crossed the line in first place.  Obviously he could not take the points as he had left the course, but it just goes to show his dogged enthusiasm to finish the race."
But aside from the strength of MCRCVs influence in Chile, the Victorian riders seem to possess that focus and aggression that marks champions in our sport.  Daniel Milner, of Kooweerup MCC, has been dominating the Australian off-road scene for some years now and is inspiring those around him to emulate his successes. The epic battles between Milner and Sanders throughout the year has pushed them both to improve and this healthy rivalry is now being rewarded with the victories in Chile.  Daniel Milner (via mum Loris) sent us through his thoughts as he heads home:
"Arriving in Vina del Mar Chile I think the boys were quietly confident that our team had a great chance to give it a red hot go this year all going well of course. All the boys had been riding exceptionally well in the AORC and state Competitions and Josh in the USA.  All were starting the event without any niggling injuries which is always a bonus. When walking the tracks a lot of the terrain had similarities to home, hilly, very dry and dusty, loose and a mix of rocky terrain with many tricky sections and warm temperatures. So for everything to go so well , apart from loosing Lyndon on Day 2, and then knowing that the three of us couldn't afford any mistakes, was going to be challenging. But we did it and it's all in the history books now, to be a part of this team has been amazing. Everyone has given it their all, the support crew, mechanics and MA admin have been amazing, and it all wouldn't happen without them. To stand on the top step and hold that trophy was unbelievable. On a personal note it's my 8th occasion of representing my country in the sport I love, and it's a privilege to have been a member of the Snr World Trophy Team at each one, winning silver, bronze and now 2 Gold medals . To be a type 1 diabetic is an added commitment and dedication, to stay fit and healthy. So to be outright runner-up in 2013 in Sardinia and again in 2015 in Slovakia, it was always my ultimate dream to try and go the next step and win an ISDE outright. That dream become a reality this year and to have my Dad there to help celebrate my achievement was great. I can't thank KTM Australia, and all my sponsors enough for all their support this year."
We caught up with Lyndon Snodgrass's riding mate Chris Wynd (now Expert in VORC) to find out how Lyndo is making his own mark: "I've been mates with Lyndo for years and I am impressed by his commitment to his riding.  He has a property near Yarra Junction and he rides for KTM Australia.  But even when he was at school he would come home and train 4 days a week for a couple of hours on his training loop.  His pastimes are all based on his fitness – push bike riding, going to the gym and bushwalking, and all this helps in his racing.  What I have noticed most about his riding is his aggression and his persistence.   He always tries to achieve that 'flow' and he will tackle a corner 30 times until he gets it right".
Chris also rides with Andrew Wilksch (he calls him 'a real genuine bloke') and Tom Mason – now I have been watching Andy Wilksch back when he used to ride a Suzuki RMZ – standing out from the pack on his yellow motocross bike but throwing it around the offroad tracks of Kooweerup and Mansfield and always impressing with his speed and smooth style. Quite simply, he had skill.  And I was not surprised to hear that he was chosen for Chile, now riding for Sherco.  Andy hails from Great Western (between Stawell and Ararat) – the only Victorian rider in the 6 day from the west side of the state.  He still works full time as a qualified carpenter for his dad's business and in the off season he can be seen competing in road races on his push bike.
And Tommy – Mt Evelyn born and bred in the foothills of Mt Dandenong – really couldn't fail to excel given the playground on his doorstep and the influence and mentorship of his dad Steve and mum Lorraine, and the support of MCRCV.  Tom drives an excavator and lays pipes for Barrell Plumbing but Tom's boss is a motorbike rider and would understand the sacrifices he is making for his sport –  keep in mind that a lot of these riders have to pay a large percentage of their costs out of their own pockets to compete here and overseas.  I think it would be hard to maintain your enthusiasm for the sport – whilst your friends are working, going on holidays, buying houses, getting married – you are ploughing your hard earned funds into getting overseas to race for your country.  So all credit to the families, sponsors and supporters that make these dreams possible – the Victorian off-road community really rallies around their riders and makes their successes our own.  But back to Tom – he is a quiet achiever with a hidden inner larrikin and he certainly had a few interesting moments in Chile – running into a spectator's car and falling on a cactus.  (Mmm could that be his new nickname – Cactus?  Tom Cactus Mason?).  But this is not to distract from the fact that this is one talented kid finishing 16th in E3 and blitzing the sandy motocross track in the final moto.
Really it is no surprise that our great state consistently produces such successful off-road riders.  A combination of access to great properties, enthusiastic and hardworking clubs and, possibly most importantly, the mentorship and unwavering support of parents for their kids to help them achieve their dreams.  Why would you want to live anywhere else?
The team arrive back to Tullamarine Airport tonight (19/11/18) at 8:50pm so get out there and welcome our winning team home.