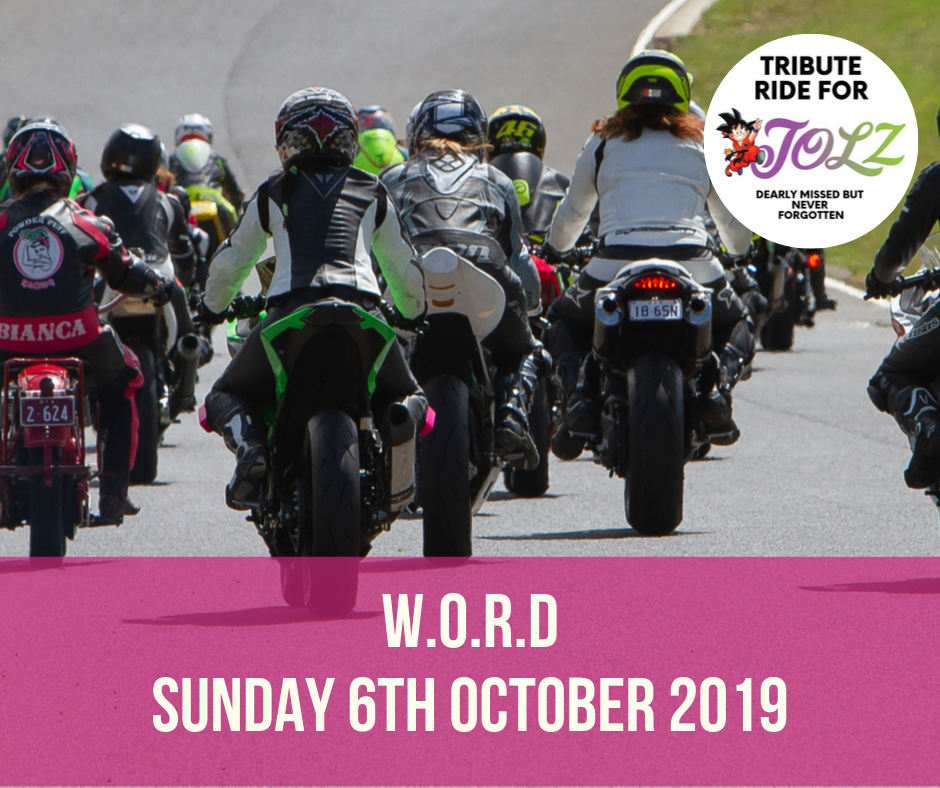 MOTORCYCLING VICTORIA'S LATEST
WOMENS ONLY RIDE DAY (W.O.R.D) AT BROADFORD WAS A DAY OF INCLUSION AND TRIBUTE.
Photo Supplied by: James O'Hagan and Sid Evans
The Motorcycling Victoria Female Participation program has, for many years, been running the Womens Only Ride Day's on the Road Race track at the Broadford State Motorcycle Complex, with great success and feedback. The most recent was held this past Sunday the 6th October 2019.
The whole purpose of this program and the Women's Only Ride Day's that Motorcycling Victoria coordinate and run is to provide a day and environment that promotes Female inclusion in a male dominated sport that caters to all variety of female riders. From Beginner riders wanting to get some more time on their bike in a controlled environment to advanced riders taking the opportunity for some more track time to practice for upcoming races.
In the lead up to this event, Motorcycling Victoria were approached by some ladies who asked if it was possible to dedicate a lap of honour to lady who was a regular at these days and who recently lost her battle with cancer. Motorcycling Victoria was honored to be able to offer this tribute to a fallen rider who was a regular at the Women's Only Ride Days at the Broadford State Motorcycle Complex.
Meghan from Motorcycling Victoria had this to say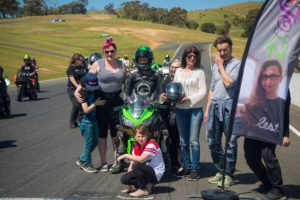 "I was particularly impressed and overwhelmed that the ladies who approached our Board with the idea, were comfortable enough to do so."
she added that she hopes this was a result and extension of "all the hard work that has gone into the program and promoting a safe and inclusive environment for all of our riders"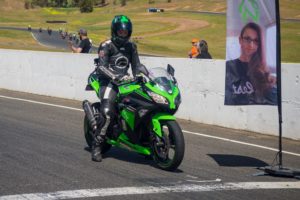 Two of those closest to the fallen rider, Jolean Juratovac, paid tribute to their friend on the day with a heartfelt and moving speech at the compulsory riders briefing and again with a lap of honour and photo with her family. Jolean's family attended what we are sure was a difficult day to remember their loved one – but hopefully were comforted by just how many lives Jolean touched in a positive way.
The MV Female Participation Program have dedicated $5 from every entry on the day to the Lort Smith Animal Hospital in Jolean's name. This amount will also be met by Motorcycling Victoria and Shannons Insurance. A small contribution to a charity dear to Jolean's and her family's heart.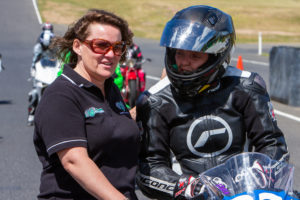 The Women's Only Ride Day run at the Broadford State Motorcycle Complex is supported by a dedicated team of qualified Coaches who have been working hard all year to introduce a program that will assist any rider wanting coaching and be catered to the needs of each rider.  Which they actively encourage feedback from riders who would like to see more from the program or if they just have general feedback.
The team at Motorcycling Victoria, the Female Participation Committee and Coaching Panel, are all  hard at work on the final two days for 2019 and confirming the dates and program for 2020. We have come a long way with the female program, but we are all excited about what is ahead and extending the program out to Coaches and Clubs.
We will continue to work with our internal team and incredible supporters, including but not limited to:  Shannons Insurance, Spokes, Broadford State Motorcycle Complex, Girl Rider, Suzuki Australia, Honda Australia and the Transport and Accident Commission.
Saturday 9th November – Ladies Day (in the Dirt)
Sunday 1st December – Womens Only Ride Day (W.O.R.D)
To keep up to date with all events visit: https://www.motorcyclingvic.com.au/calendar/
Or follow our page on Facebook:  https://www.facebook.com/mvwomenandgirls/
More photos available by contacting: James O'Hagan, Sid Evans and Robert Field
The Motorcycling Victoria Female Participation program is supported by the Victorian State Government.