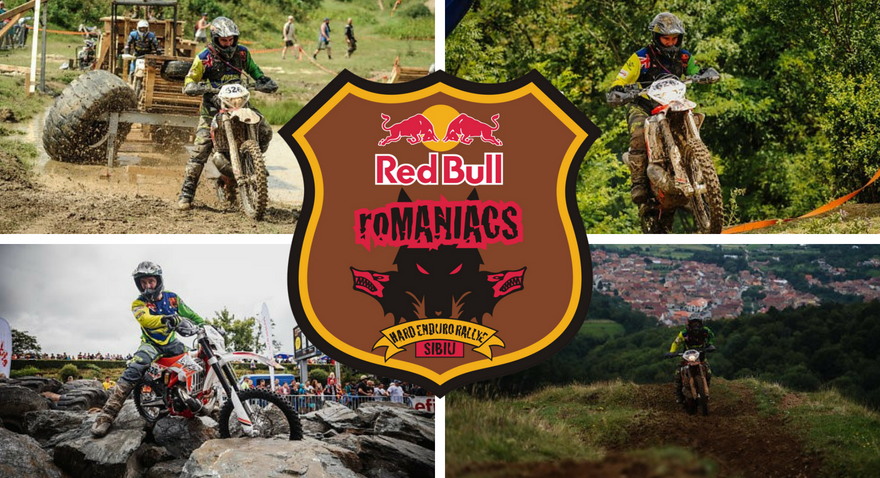 The Red Bull Romaniacs extreme enduro rallye was created in 2004 by founder Martin Freinademetz. It has evolved over the years to be the world`s toughest enduro rallye. The Red Bull Romaniacs takes place every year and attracts competitors of more than 50 nations.
The race is spread over five days, the first being the inner city Prolog in front of thousands of enthusiastic fans. The four "Offroad race days" lead the competitors on some of the world`s most beautiful enduro trails in the region around Sibiu, Romania.
The breathtaking wilderness, Romanian hospitality and the unbelievable challenges make the 600km race an unforgettable and lifelong memory for all participants.
Australia was the second highest represented nation in 2018 with 46 riders just behind the United Kingdom who had 86 riders. Of the 46 Australian riders a significant portion of them were Victorians.
Robert Kingston (#626) spoke to Motorcycling Victoria about his experience in Romania. "Mum kind of freaked out when I told her, but she was pretty much my number one fan when I was over there. Mum was online every day watching the other Aussies and my progress and downloading all of the images she could!
I hired out a Beta RR 300 over there, which was grouse and absolutely perfect for hardcore enduro stuff! The perk with this was that we got a service crew, so I could just throw them the bike at the end of the day. The crew would then wash it and fix it up, so in the morning it was all good to go again.
My bike was pretty good, but on the third day I blew out a moose an hour or two in, so I had to ride with a flat tyre for the whole day, but luckily we had double rim locks so I could just keep riding, the benefit was that we got good traction up the hills but we did lose a bit of speed on the flats.
By the end of day 2, the radiator and thermo fan were completely destroyed from crashing so much!
I have never really had to walk my bike down a hill before; but every day you had to walk your bike down at least one hill because it was just that insanely steep, even the seasoned pros were walking their bikes down.
There was one hill I remember where there were about 30 bikes all laying on their side littering the hill with their riders literally dragging them down, it was a matter of survival rather than speed. There were some points where I had to ride over bikes just to get through. I also remember one hill there were 3 riders dragging one bike out of a bog hole, it was just absolute carnage!
I only managed to ride twice in the 8 weeks prior to going over, because I snapped my AC joint in my shoulder. I tried my best to prepare for the event, I was going to the gym every day but ultimately I needed time in the saddle and I just couldn't do it with my shoulder like it was. To top things off I broke my thumb a few days out! So I rode the entire time with a broken thumb and a sore shoulder!
The Romaniacs really test you both mentally and physically, we were up at 4 am would ride for 6-10 hours, have dinner, go to riders brief at 9 pm and then crash into bed to do it all again the next day – that went on for 5 days straight!
The first day was the Prolog through the city and it was epic, almost everyone timed out because it rained so much over there making all of the wood and obstacles super slimy and slippery.
One of the days we got to ride through some pretty cool old buildings, it was such an awesome backdrop. You would have never been allowed to do that in Australia though (with all of our OH&S laws and rules). When we were riding through some of the buildings there was literally rubble falling from the ceilings around us onto the ground!
When we got out to the countryside the mountains just seemed to go for days, it was an unreal view, nothing like what we have in Australia.
It was great having all of the Aussies there, we all helped out each other and gave heaps of support, it was grouse.
Despite the average conditions, I would 100% do it again, in fact, we are already planning the next trip!
The Redbull Romaniacs is essentially the 'Tough Mudder' of the enduro racing world! I would strongly recommend it to anyone who wants to give themselves the ultimate challenge! But it's definitely not for the faint-hearted."
Photo Credit: Kingston's Mum via https://www.redbullromaniacs.com