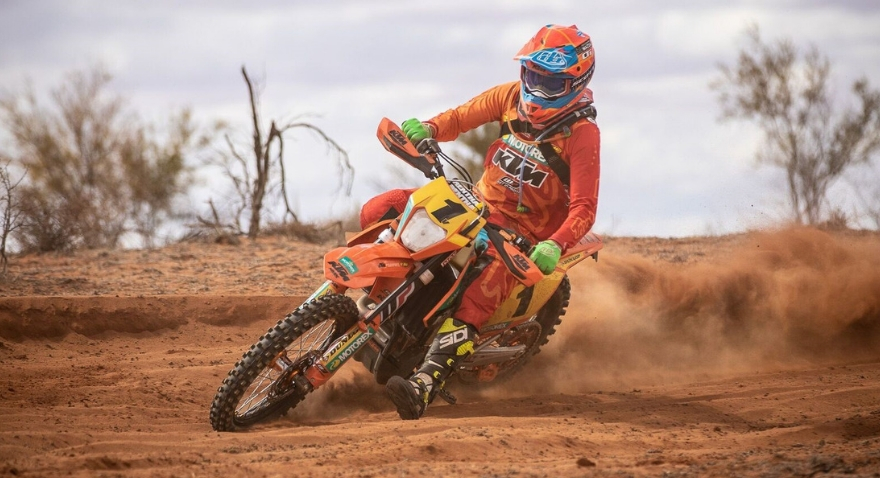 Daniel Milner has taken out the first ever Yamaha Australian Off-Road Championship (AORC) desert cross country, collecting the E3 class victory alongside the Silver City Desert win. Milner was a man on a mission this weekend, not putting a foot wrong on his way to the E3 win here at Broken Hill, NSW.
In the testing conditions Daniel Sanders continued his undefeated season in E2, putting his Husqvarna clear of the field yet again.
E3
Milner and his KTM looked to be absolutely loving the desert conditions here at Broken Hill, NSW. Starting from first after yesterday's prologue, Milner got out of the blocks quick and didn't look back. Milner's quickest loop of 28:11.401 was the quickest of the day and set him up to finish the eight laps in 3:49:56.173.
Milner enjoyed the desert conditions here at Broken Hill; "The conditions were tough, but I really enjoyed the challenge of this cross country. It was great to take the win in the first AORC desert cross country and a big thanks to my team here at KTM," finished Milner.
Rounding out the podium was Andrew Wilksch, Wilksch will take great positives from this round as it was his first ride of the new Sherco 500. The new ride seems to suit Wilksch style as he finished the cross country with a time of 4:08:03.982.
AORC E3 Round 7 Provisional Results
1st – Daniel Milner (KTM Off-Road Factory Racing Team) 3:49:56.173
3rd –  Andrew Wilksch (Motul Pirelli Sherco Off-Road Team) 4:08:03.982
E2
After a tough day at the office in yesterday's prologue, Daniel Sanders turned the tables to continue his undefeated E2 season. Sanders put his Husqvarna machine to work out in the dusty conditions to take the win and extend his points lead after clocking a time of 3:50:44.075.
Sanders was content to end the race with the win "Todays conditions were pretty gnarly and I'm happy to once again take the win and come away from the weekend safe and sound. Massive thanks has to go the team at Husqvarna for all their work helping me get through the four hours today," said Sanders.
After just missing out on the quickest time in yesterday's prologue by just 0.02s, Lyndon Snodgrass grabbed second place on his KTM. Snodgrass was in an early battle with Sanders as the pair put in some quick laps. Snodgrass still managed to finish in second place after receiving a five minute penalty for deviating off the course, giving him an accumulated time of 3:57:04.762.
AORC E2 Round 7 Provisional Results
1st – Daniel Sanders (Husqvarna Off-Road Factory Racing Team) 3:50:44.075
2nd – Lyndon Snodgrass (KTM Off-Road Factory Racing Team) 3:57:04.690
J2
Phillips was on song throughout the cross country, collecting a fastest lap time of 20:32.125. Phillips showed his speed as the only J2 competitor to record a lap in the 20-minute mark.
AORC J2 Provisional Top 5 Results
1st – Max Phillips 2:08:19.007
The next round of AORC will see the field off to Kingston, SE in South Australia on September 22-23, as usual to stay up to date with all the AORC action head to AORC website, like AORC on Facebook and follow AORC on Instagram. 
Entries are open – Click here to enter
Photos courtesy of John Pearson Media