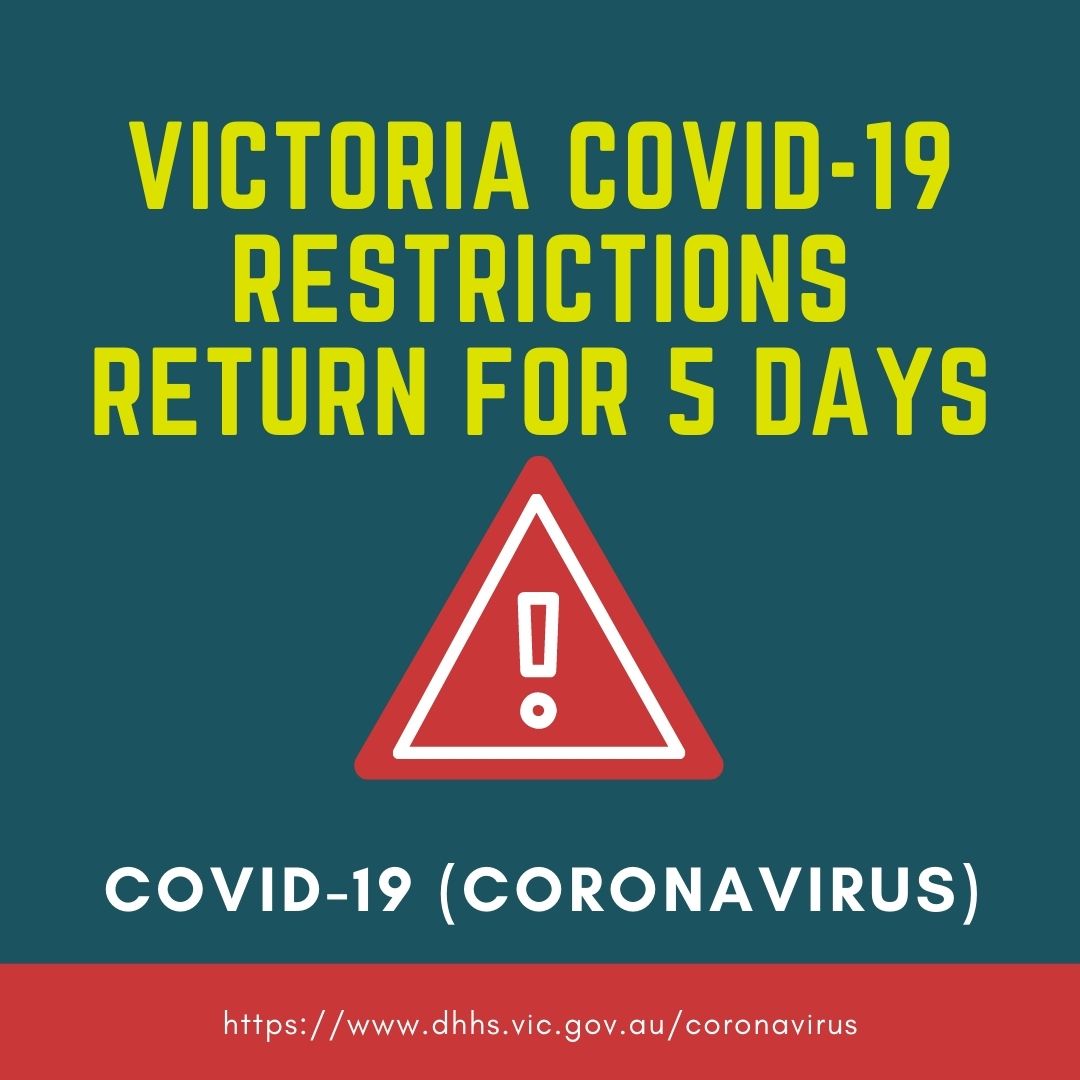 Victoria's 5 Day Lockdown
From 11.59pm Thursday 15th July until 11:59pm Tuesday 20th July, there are only 5 reasons to leave your home.
At this stage these restrictions are being reviewed each day, and updates will be made if any circumstances change. To keep up to date on the latest we encourage you to visit the DHHS website directly:  https://www.dhhs.vic.gov.au/coronavirus
The restrictions are the same as those that were in place only a few weeks ago. These restrictions apply to the entire state, no one is excempt. We understand that this can be frustrating, but we must all do our part not to further spread this virus. These restrictions apply to the entire state.
The only permitted reasons to leave your home are:
Shopping for Food and Supplies*
Authorised work
Care and Caregiving
Exercise (for up to 2 hours, with one other person)*
To get Vaccinated
Masks are once again mandatory in every environment outside of your own home.
*Exercise and Shopping will be limited to five kilmetres from your home, or the closest shops available.
The team at Motorcycling Victoria will continue to work through these restrictions, to ensure you are kept up to date and support is provided to clubs who need to recschedule their events.
For general enquiries please feel free to call (03) 5784 2827 or email to robert.mestrom@motorcyclingvic.com.au 
---
This weekends events are all being reviewed and updated as required. If you have specific questions please contact the event organisers directly. Calendar of Events
Round 3 of the Victorian MX Senior Championships, that was planned for this weekends has been postponed until 14th and 15th August.  Any entries to this event have automatically been moved to the new date, please contact mxsenior@motorcyclingvic.com.au if you require more information.
---
To download a copy of the Premiers full statement click HERE. 
To download a copy of the detailed Restrictions click HERE
To keep up to date on any changes please visit https://www.dhhs.vic.gov.au/coronavirus