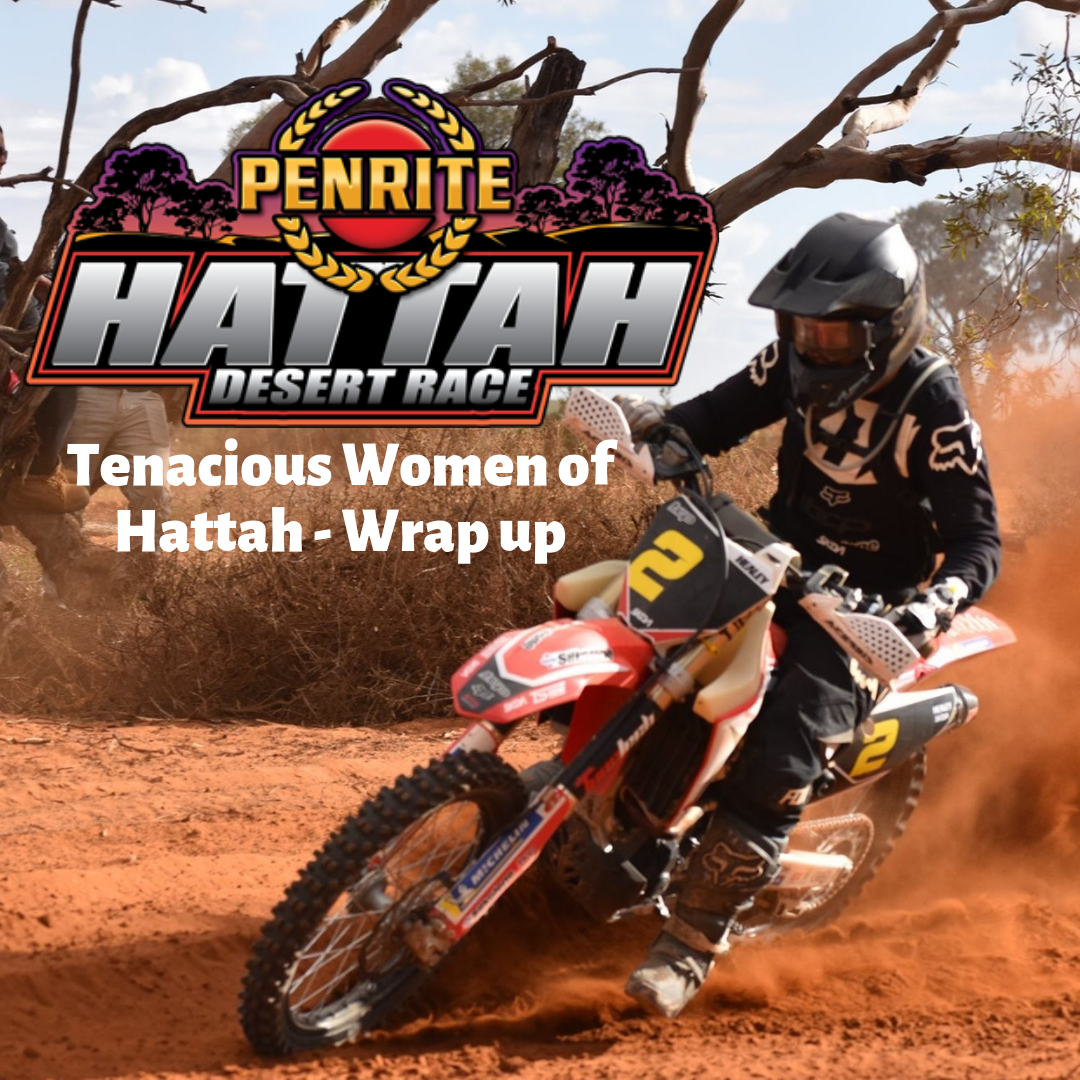 TENACIOUS WOMEN OF HATTAH – EVENT WRAP UP
Well it was a wild weekend at the Hattah Desert race, with extreme weather conditions putting the competitors and the Race Officials under pressure.
If you have not yet made the trip to Mildura to see what this event is all about, we suggest you add it to your calendar for next year. The atmosphere is one to be experienced – starting with the enthusiasm and excitement from competitors, the helpful approachable nature of the officials and volunteers – to the welcoming smiles and chatter amongst the pits by the support crew and sponsors.
Photos: Supplied (if you see your photo please reach out so we can credit you)
The Motorcycling Victoria team are so thankful to have been invited by the organisers to attend and see what it is all about, and to present the Female awards as part of the Motorcycling Victoria commitment and support for Female Participation in this sport. And Wow! These ladies are impressive.  Once arriving home safe we touched base with the Podium holders to see if they could answer a few question.
Starting with the Tenacious Women of Hattah class, the ladies were presented their award by Mary Brock at Motorcycling Victoria on Sunday night at the Presentation dinner. Each accepted their award with grace and appreciation, and acknowledgment for their fellow competitors especially in the extreme conditions.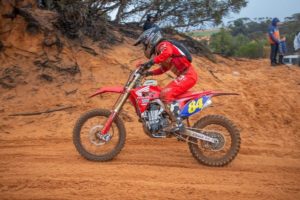 1st:    Jessica Moore
2nd:  Emma Milesevic
3rd:   Jessica Gardiner 
Results: https://speedhive.mylaps.com/Sessions/5459610
Unfortunately, the ladies were not able to provide any info in time for this to be published.
However, Honda Australia did release the following statement on the 2nd place holder, Emma Milesevic from Ballarat Victoria.
 "Emma Milesevic, a Honda Genuine Ride Red rider excelled on her way to 2nd in the women's class and 37th outright. This year marked the first time women had finished inside the top 40 outright and the team were very pleased with her commitment to the race."
 "It was a tough race but I loved it and learnt a lot, I can't wait to do it again next year," said an elated Milesevic.
EDIT:  Over the weekend, we heard back from the lady who took out 3rd place,  Jessica Gardiner from Londonderry, NSW.
Jessica was happy to help us out and answer our questions, especially now that she had managed to finish "scrubbing all the red dirt off everything"
What was the most memorable moment from your weekend?
"The most memorable moment would have to be the start and first lap of the race before we got the crazy rain fall. There is no better feeling then taking off with 400 riders on the start line one by one within milliseconds of each other and your heart rate is skyrocketed before you even wind the throttle on. After it's one lap of epic battles and high speeds in one of Australia's best tracks out bush!"
Who do you want to thank?
"I have to thank the whole Yamaha Mxstore Ballards Offroad team and our sponsors. Every one contributed in a small or large way to make this event possible. To Steve and Matt for there pit crewing and Steve for endless shed hours in the lead up to prepare for this! Promoto suspension got Jeremy and my sand suspension dialled in perfectly. To my work JKWS for always allowing me to chase my dream in the motorcycle industry."
 What would you say to a women or girl thinking about getting into the sport but not being sure?
"Get out there ladies have a go. In this era we have worked hard to be accepted just as much as every single guy out there. We have our own class and if we want more women events we must support them to keep them growing. I've seen many complaints over the years for not enough women races so when there is we need to get behind it. Be there be involved! Why let the guys have all the fun, we deserve to enjoy the adrenaline rush too! So with open arms, ask questions speak to the girls and ladies already involved we will all help and guide you to become involved."
Jessica is a MA licenced coach and is doing her part to push an increase in female participation in NSW, Jess has a coaching school in Putty NSW at the end of this month, more information visit:  http://jessgardiner.com.au
---
Motorcycling Victoria did catch up with Danielle Foot from, from Moriac VIC, on first place in the 250cc 2 Stroke Class. Upon presenting the award to Danielle on Sunday night it was mentioned that Danielle decided to take on the Up to 250cc 2 Stroke class this year, instead of entering the women's class. She set herself the challenge of competing amongst the guys and has been working hard toward this, and came aware with a Podium place with her fellow riders supportive of her win. It was great to see a Female rider taking on a new challenge.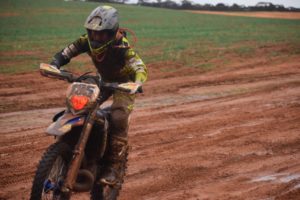 Congratulations to Jacob Eustace and Nathan Howe on your podium place in this class – it was well earned!
1st:    Danielle Foot
2nd:  Jacob Eustace
3rd:   Nathan Howe
Results: https://speedhive.mylaps.com/Sessions/5459615
We asked Danielle some questions and she was quick to reply and help us spread the word to encourage more female riders into the sport!
What was the most memorable moment from your weekend?
"My most memorable moment of the weekend would definitely have to be crossing the line! Being such a close battle with me and second, it was an awesome feeling to get the win after such a crazy race!"
Who do you want to thank?
"So many put in the work to get me to Hattah! My parents for supporting me always. Lauren, Sean, Ava, Jed, Jem and Siobhan for making the trip up and getting my fuel stops on point! Also big thankyou to my sponsors Road & River Motorcycles, Sherco Australia, Motul, Pirelli, Chad's Offroad Setups, SK Designs, Alpinestar and my trainer Russ!"
 What would you say to a women or girl thinking about getting into the sport but not being sure?
"I think its awesome seeing more girls getting into the sport and getting amongst the boys, if any girls are thinking about it id say go for it! The community and the friends you make will last a life time and its such an awesome feeling! Lifes too short"
---
By all accounts, Saturday was a great day, with the juniors racing in some more "desert like" conditions. The Motorcycling Victoria team were disappointed not be able to make it to the race as planned, but were still granted the honour of presenting the awards to the winners of the two (2) girls classes.
First up the awards were presented to the Juniors 7 to under 12 class. These girls are something to be witnessed their love and drive in the sport as such young ages, is inspiring.
1st Daniele McDonald, from Parkes in NSW
2nd Jade Chellas, Parkes in NSW
3rd Teagan Wilkin-Thom, from Yarroweyah in VIC
Be sure to keep an eye on these young ladies! There is sure to be much more to come.
---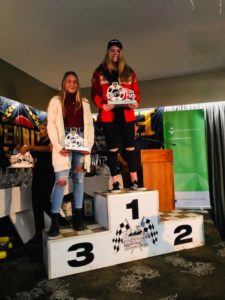 The second award presented by Motorcycling Victoria on Sunday night was to the Girls 12 to under 16 class. With the support of their sponsors and family these young ladies are already achieving incredible results across the sport.
1st:    Madi Healey
2nd:  Jayde Dudley
3rd:   Kaitlyn Hall
Results: https://speedhive.mylaps.com/Sessions/5456664#byClass
Motorcycling Victoria are very thankful we manage to get in touch with the top three (3) riders to help us spread the word on what it means to get involved in this sport, everyone replied with their own answers:
First we touched base with Madi Healey, who has had an incredible year, all as a result of her commitment, love of the sport, hard work and a great support crew!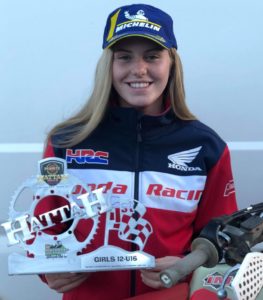 What was the most memorable moment from your weekend?
"Honestly the most memorable moment of the weekend and the thing I love most about the whole weekend would have to be just the whole atmosphere! How there's people all over the track cheering you on and just encouraging you to go that little bit better! This race would have to be my favourite race of the year!"
Who do you want to thank?
"I would love to thank just absolutely everyone who was behind me on the weekend and all my friends and family helping out in the pit! BCP Pro Circuit Honda , Lee Hogan, Steve Jones from tunetech suspension, VIPT lifestyle fitness and everyone else behind me !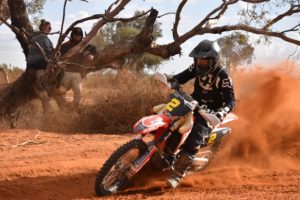 What would you say to a women or girl thinking about getting into the sport but not being sure?
"Anyone unsure about getting into the sport just give it a go and you might surprise yourself how well you actually do! The main thing is to have fun and go out and just enjoy yourself!"
Honda Australia released this statement in support of Madi:
"Honda would also like to recognise the tremendous effort of Junior Factory Rider Madi Healey, of team BCP Pro Circuit Honda. Healey took 1st place in the junior girls class on the CRF250R, and convincingly so….. This was Healey's hat trick event at Hattah, having won the last three years in a row."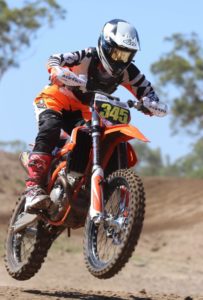 Jayde Dudley made the 10hour trip all the way from Vineyard NSW to compete in her first ever Hattah and left with an incredible result! Jayde took out the well-earned second place in this class, and was happy to be involved and answer our questions. Thank you Jayde.
What was the most memorable moment from your weekend?
"Most memorable moment from the weekend for me was finishing my first ever attempt at the Hattah Desert Race in 2nd place with a huge group of 28 girls. Never having raced anything like the Hattah before I can't get over how insanely fun this event was to race with so many other riders."
Who do you want to thank?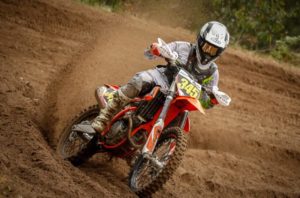 "Big thanks to Mum and Dad for the effort they put in and the traveling they do to get to the races, all the girls for the great competition. My sponsors- Triple R Motorcycles, MCD racing, Thor MX, Gas Imports and KTM Australia for their support."
What would you say to a women or girl thinking about getting into the sport but not being sure?
"To any girls or lady's thinking about racing but not too sure, definitely give it a crack you'll never know how much fun and enjoyment this sport has to offer until you give it a go. Don't be scared just get out there and have some fun, no matter what skill level you may be."
Finally, Motorcycling Victoria touched base with Kaitlyn Hall (via her dad Richard). Kaitlyn and her family travelled all the way from Dubbo NSW for her 5th Hattah Desert Race, and when contacted to see if they would be happy to contribute to this event wrap up – they were happy to help.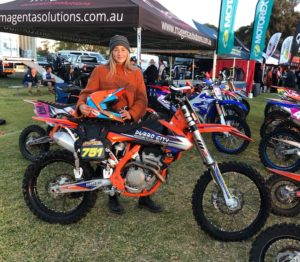 What was the most memorable moment from your weekend?
"Overall the Hattah Desert Race is my most favourite race of the year that I mainly look forward to competing in. This is the race I dedicate & train hard for all year and I want to win it. I have a lot of memorable moment of the 5 years of entering the Hattah Desert Race. One of them for this year was starting my bike up in the morning and going out to do my prologue thinking "this is it, lets go Kaitlyn".
I had a big crash in the race but after gathering and brushing myself off I knuckled down determined to finish the race. So you can appreciate how I felt coming over the finish line & being told you have just come 3rd in the girls class was very emotional."
Who do you want to thank?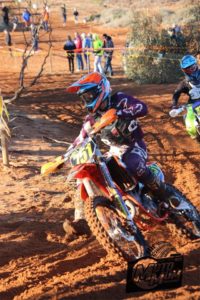 "Most of all I want to thank my Mum & Dad for putting in all their commitments for me to go racing & to get me to the meeting.  I would also like to thank my brother Campbell for working on & preparing my bike for all the races. He does an awesome job.
Magenta Business Solutions for backing the girls class and helping the girls get recognised.
The Hattah committee, land owner and everyone involved. If it wasn't for their dedication the race would not run. Halls Transport Repairs. Josh Green at Off Road Advantage. Dubbo City Motorcycles. Everyone who makes these events possible."
What would you say to a women or girl thinking about getting into the sport but not being sure?
"I would say-Just do it and don't be afraid, you only live once nothing adventured nothing gained and get out there and kick some arse – Girl Power !!! Woohoo"
Kaitlyn's Dad appears to one of her biggest supporters and added this about Kaitlyn:
"Kaitlyn is an inspiration to others and her peers and is a well-respected young lady with a huge heart with an infectious smile. We are very proud of her."
Every single one of these ladies shows how infectious and fun this sport is, and their responses to the questions speak volumes for their dedication and love of this sport.
Reading all of this – why wouldn't you want to give it a go?
Motorcycling Victoria are hosting a Ladies Day (in the Dirt)  on the 10th of August at the Broadford State Motorcycle Complex, why not come and have a go to see firsthand what it's all about?
FOR MORE INFORMATION CLICK HERE
Motorcycling Victoria would like to congratulate every rider who competed at the 2019 Hattah Desert race, we hope to be back to watch you all again next year!
Thank you again to the Hattah Committee and the North West Victorian Motorcycle Club for your dedication and commitment to organising this event, it is clearly one that would be sorely missed if it were for all of the hardworking team behind the scenes! We are all grateful and thankful beyond measure!