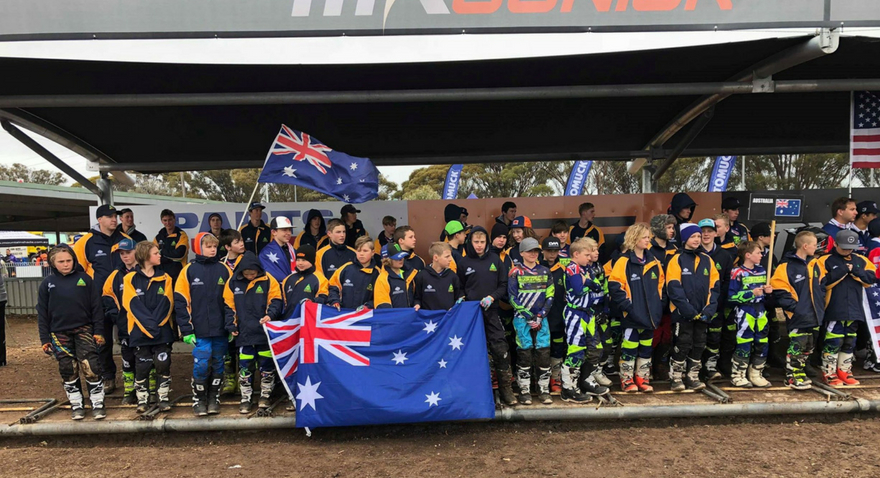 Horsham, a small quaint country town set in western Victoria nestled into the side of the Grampians, was overrun on the weekend by thousands of Motocross teams and fans!
Thousands of people turned out to show their support for Team Australia! AUSSIE, AUSSIE, AUSSIE, Oi, Oi, Oi!
Sunday – Raceday – The World MX Juniors stage was set at Motorcycling Victoria's small Horsham Motocross club! The club did nothing short of a phenomenal job! To organise an event of this scale is no small feat, and to do it so smoothly and with such finesse is a true testament to the Horsham Motorcycle Clubs committee members, general members, volunteers and the community!
Riders from all over Australia converged in Horsham to do our country proud, with 8 Victorians among the ranks.
65cc – Over 50cc to 65cc 2-stroke
#36 Billy Cameron – Finishing 29th overall
#37 Ty Sharp – Finishing 21st overall
85cc – Over 65cc to 85cc 2-stroke
#11 Jett Kipps – Finishing 33rd overall
#29 Connor Adams – Finishing 29th overall
#38 Ty Kean – Finishing 13th overall
125cc – Over 100cc to 125cc 2-stroke
#32 Liam Andrews – Finishing 17th overall
#42 Riley Findlay – Finishing 30th overall
#47 Bailey Malkewicz – Finishing 1st overall
For these kids to receive an opportunity like this, it's nothing short of a dream, not every day do you get to experience the race conditions, atmosphere and format of an FIM sanctioned event!
Team Manager Mark Willingham said, "to see the way these kids have grown in both skill and confidence is an amazing thing to be part of! I can truly not tell each and every one of our riders how proud not only I am of them, but also how proud their clubs, families, friends and the rest of Australia are of them'.
The future for these kids is looking brighter than ever with the possibilities of attending future events potentially lurking around the corner.
It was also a terrific way to gauge the level at which they are riding, compared to the rest of the world!
Overall Team Vic put on one heck of a show and we (MV) and the rest of Australia could not be prouder of each and every rider and your fantastic achievements.
Keep up your hard work, and keep your eyes on the horizon!