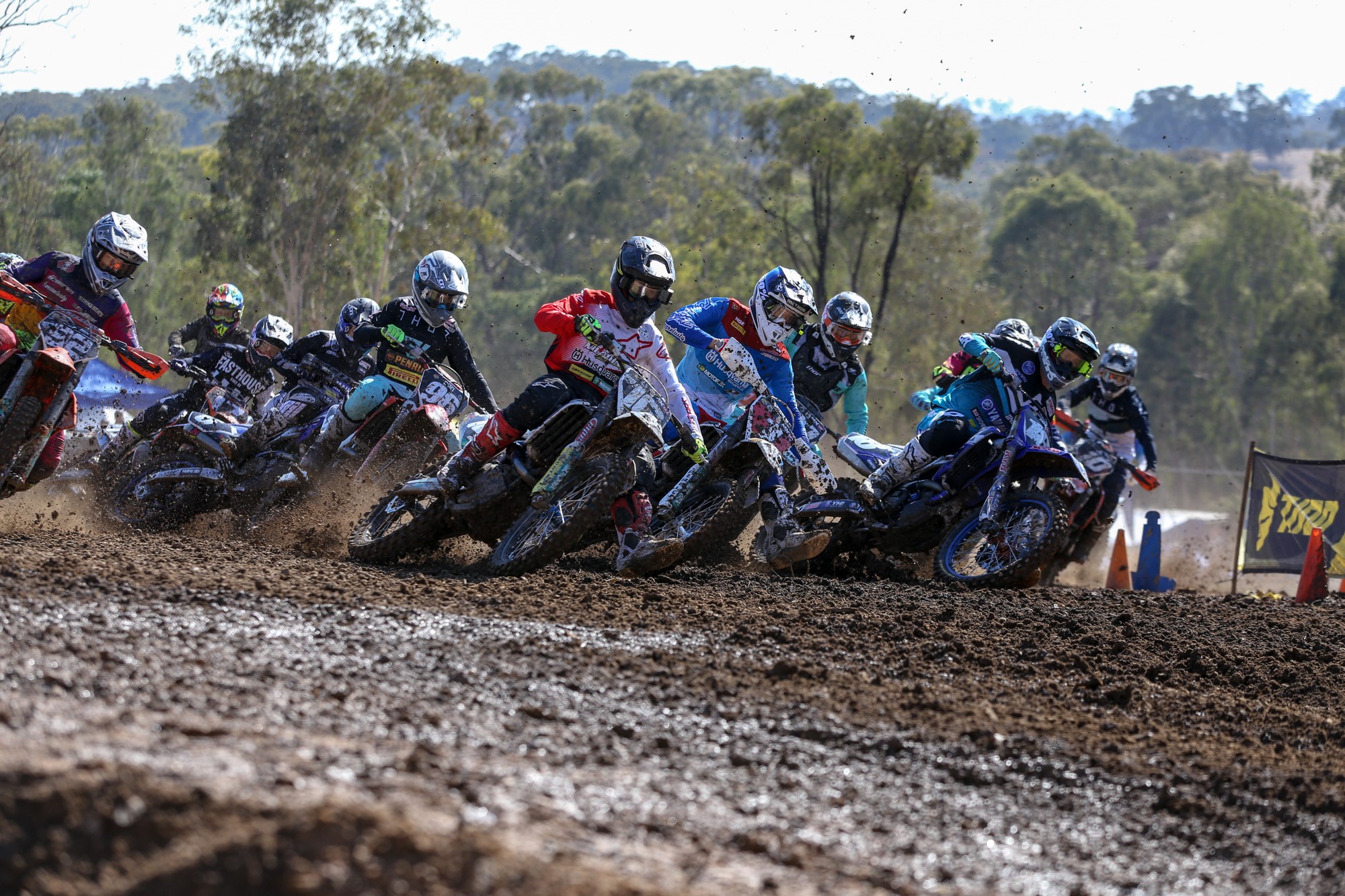 Success at Round 3, MX Nationals
Written by: MX Nationals
The Victorian State motorcycle complex, Broadford roared into life on Sunday for the third round of the Pirelli MX Nationals, riders and crowds alike enjoyed an amazing day of racing on a world class track.
With the weather finally on our side and track conditions at their absolute best, we have seen at the complex since the world GP the riders put on a show that didn't disappoint.
The Thor MX1 class was challenged with the three moto format, the first two motos back to back 9 lap sprit races.
Todd waters took out both motos followed by Kirk Gibbs and Hayden Melross,  in the afternoon the MX1 class riders were tested on their endurance in a growling 17 lap moto, that would see Hayden Melross lead for majority of the race, before a late moto crash giving the win to Kirk Gibbs followed by Todd Waters and Luke Clout.
1st – Kirk Gibbs   (2-2) for a 2-1
2nd Todd Waters (1-1) for a 1-2
3rd Luke Clout  (4-4) for a 4-3
4th Hayden Melross (3-3) for a 3-4  -RED PLATE HOLDER-
5th Jesse Dobson (5-5) for a 5-5
The Pirelli MX2 class was again dominated by the current red plate holder Wilson Todd qualifying first and again going on to win both motos, however Kyle Webster wasn't letting Wilson out of his sights with a battle in the first moto keeping all the cheering fans on the side lines on the edge of their seats until the chequered flag.
1st – Wilson Todd  1-1   – RED PLATE HOLDER-
2nd Kyle Webster 3-2
3rd Jay Wilson    4-3
4th Aaron Tanti 5-4
5th Nathan Crawford 2-7
The Motul MXD class put on a show to remember with red plate holder Regan Duffy maintaining the championship points lead and Rhys Budd and Mason Semmens both proving they aren't to be counted out of the chase yet.
1st – Regan Duffy   4-1   -RED PLATE HOLDER-
2nd – Mason Semmens 3-2
3rd – Rhys Budd 2-3
4th – Maximus Purvis 1-6
5th – Brodie Ellis   7-4
The Yamaha Rising Star Rookies would round out the day with some amazing young talent showcased.
1st Levi Rogers   1-1
2nd Alex Larwood 7-2
3rd Brad West      3-5
4th Joe O'Donnell 9-4
5th Benny Novak 5-8
If you missed a minute of the action at round three of the Pirelli MX Nationals watch it free on demand via  http://www.nrgtv.com.au
To stay upto date with all this MX Nationals simply go https://www.mxnationals.com.au or follow us on instagram @mxnationals