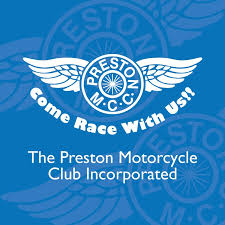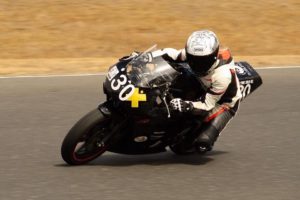 Written by: Jenny Huynh
What a day! Race report:
Q1
Realised I left my glasses in the car and didn't have time to fetch them, went out aiming just to warm up a bit and get comfortable on the bike, was feeling a little flat so just gave myself that time to ease into the day. 1.20
Q2
Now have my glasses so no excuses time to turn it on got a better time but felt like I did it the hard way, wasn't smooth, made the time with pure aggression and was pooped afterwards 1.15
Q3
Didn't think I would get a better time so used the session as a practice on some weaknesses that I knew would let me down when racing began so worked on better entry speeds and working out which gear/s I should be using around the track. 1.16
R1
My weaknesses showed when racing began with Sarah diving on me on the entrance to 1, crash and school house. I had the jump on her on exit and down the straights with my bike having better power, we exchanged places about 5 times each lap, on the last lap I knew I had to bide my time and wait for the right moment, stuck behind her on the last corner and exited just that little harder and her drag racing down the straight to cross the line 1/2 a wheel in front. 0.37 seconds ahead, having us finish first and second in our bracket. Best lap 1.16
On board Sarah https://youtu.be/JlpwZJyxxkA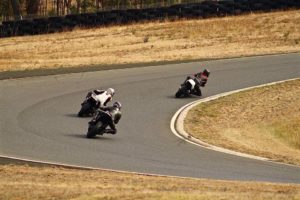 R2
As well as the previous tactic worked I wanted to improve on my riding so stayed behind her most of the race to trying get the tow through the entrance of all corners, I did well to keep up and planned to do the same thing on the last corner but of course she saw it coming so powered out more aggressively than she had done all day so I didn't quite have enough time to cross the line first. Finished in second 0.164 seconds behind Sarah. Best lap 1.16
R3
That's it change of tactic, needed to stop her diving on me on every corner so worked really hard to brake later and enter the corners faster. I felt like I was in panic mode and once I was ahead of her I told myself I had to stay ahead. It helped having Michelle and Jay in the higher bracket just visible ahead of me so focused on trying to stay with them, it worked! New pb for the day 1.14 however that was a break out but luckily only for 1 lap so crossed the line first but finished 3rd. Not bad, still a contender for a trophy.
On board Sarah https://youtu.be/B6AiXjJVSZ4
R4
Sarah really stepped it up and managed to dive on me at crash on the 5th lap, even with my improved braking and entrance speed. Passed her again on the back straight on the last lap but she still had 2 more opportunities so I had to pull out some guns and blocked her by cutting into crash earlier sacrificing corner speed, she retaliated by passing me down the hill into the chicane, I used one of Sarah's moves into school house by diving on the inside and getting the jump into the last corner, we were neck and neck going around both exiting hard but thanks to the extra pull from my bike I managed to cross the line 0.233 seconds in front. Best lap 1.15
On board Sarah https://youtu.be/ZXidTG8hJM8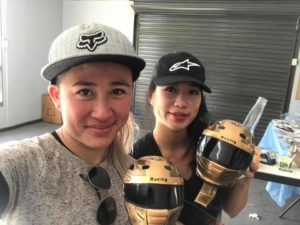 Overall 2nd with a cool new look motorcycle helmet trophy! Overall a successful day, get back in the 14s after a year of slower times during 2018 with recovering from a couple of crashes and wrong suspension set up. 2019 is looking up!
Thanks for reading and for all the kind words of encouragement from everyone, you know who you are, thank you Sarah for being such a great sport and providing me with fun clean battles, thank you Jol and JJ, Richard for being great pit crew, coaches and tactical support.
Until next time. Peace.