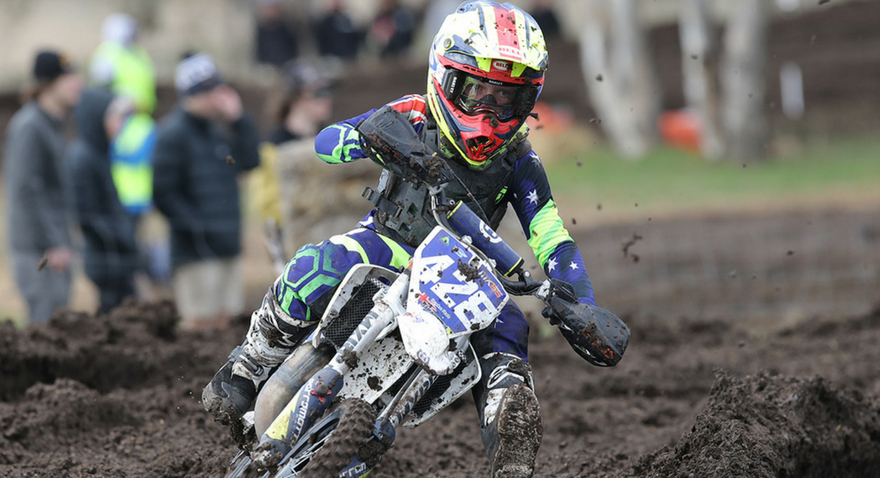 In the 65cc FIM World Junior Motocross Championship Cup (WJMX) Australian Braden Plath is the newest Motocross World Champion. His weekends efforts at Horsham were amazing as he battled his way past a few crashes to take home the 65cc world cup. His results of 5-2 were enough to hand him 38 points which was enough on count back.
Plath put crashes behind him to take the 2018 WJMX Cup; "It was a great weekend, I had a few crashes over the weekend but I was able to make my way back through the field. I was really disappointed after the first race but after moto two I wasn't sure if I had won but to find out I had, it was awesome," finished Plath.
Race One:
The first race of the day to kick off proceedings at the WJMX, the track was wet and muddy, and the riders were in for a battle. Finding a way through the tricky condition aboard his KTM was Kayden Minear who was the best placed Australian in fourth position.
After qualifying second fastest yesterday Plath was a man on a mission getting out of the gates well in second position. Battling for the lead, Plath took his first fall of the race and slipped back making it hard for himself. Another fall and Plath had fallen to mid pack, but the Husqvarna rider got back on and rode his way back to fifth position at the chequered flag.
Jet Alsop was another Aussie inside the top ten riding his KTM to seventh position as he led a four-man aussie charge, including Seth Burchell in eighth, Seth Shackleton ninth and Koby Hantis in tenth.
The next aussie riders just outside the top ten was Deacon Paice (15th), Ty Sharp (16th), Jack Cannon (18th), Thomas Wood (19th) and Thomas Wood (20th).
A great effort to have 11 Australian riders in the top 20.
Just outside the top 20 was a group of Aussies Nicholas Lovett (21st), Billy Cameron (22nd), Hixon Mcinnes (23rd), Oliver Paterno (24th), Angus Pearce (26th), Jason West (29th), Nate Thompson (31st), Kayd Kingsford (32nd), Jack Devenson (35th) and Ky Wood (38th).
Race Two:
The after sun baked the Horsham track and the conditions for race two made it a completely different race. It was another good start from Australian Plath who went into the first corner sitting in the top three. It was another race where Plath dropped to as low as fifth position but his last three laps brought him back into second place.
Another strong ride from Alsop saw him round out the top five on his KTM, Burchell was the next best Australian in sixth position.
There would be three more aussie riders crossing the finish line inside the top ten, Cannon on his Yamaha grabbed seventh. In ninth it was Minear who back up his fourth place in race one and rounding out the top ten was Hantis.
Another great result for Australia having six riders in the top ten.
Outside the top then Australia still featured prominently with Wood (12th), Kingsford (13th), Shackleton (14th), Mcinnes (16th), Owens (18th), Paice (19th) and Pearce (20th).
There was a log jam of Australian riders between 25th and 31st, Paterino (25th), Sharp (27th), Thompson (28th), Cameron (29th), West (30th) and Lovett (31st).
Image Courtesy of Classic Shots Photography