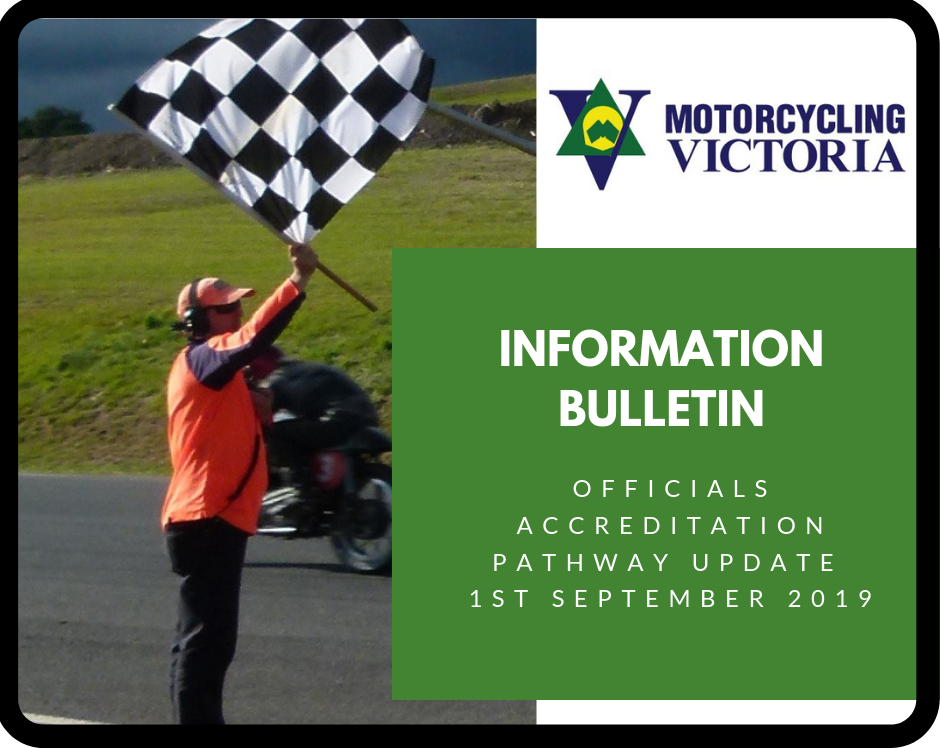 Motorcycling Victoria News
Officials Accreditation Pathway and Training Update
The Motorcycling Victoria team have been working in collaboration with the MV Officials Panel over the last twelve (12) months to align Victoria's Official accreditation pathway closer to the National plan and other states.
We are pleased to inform our community of the changes that will be implemented and live from today the 1st September 2019.
Any changes that have been made, have been done with the intention of better supporting our volunteer officials with appropriate training and clear expectation of practical work required to upgrade.
Motorcycling Victoria are also incorporating the online training certificates from the State Government supported program: Play by the Rules.
These resources are available to all sporting organisations in Australia, and will be a prerequisite in the Officials Licencing and upgrade process, from the 1st September 2019.
---
OFFICIALS ACCREDITATION PATHWAY
The Accreditation Pathway, and the steps for each level are explained in this downloadable PDF HERE.
---
KEY OFFICIALS SEMINAR
The most notable change to the Accreditation pathway will be that any officials who attend the Key Officials Seminar will, upon successful completion of the seminar, leave with a Level 1 Key Officials accreditation.
This will enable all successful participants to be involved at Club Level activity and gain experience before upgrading to a Level 2 accreditation. We believe that this is first step to ensuring our Officials are supported and receive the experience they need before being upgraded to Officiate at Interclub level and higher.
This will also lay the foundation for all officials wishing to see upgrades beyond Level 2, they will already have a clear understanding of what is required to be considered for a State and Open level official.
For more information on each accreditation level click here to download a PDF copy.
---
ACCESSIBLE TRAINING OPPORTUNITIES INTRODUCED
Motorcycling Victoria will continue to schedule and host Key Officials Seminars in the current face to face format, however with the support of the Victorian State Government we are delighted to introduce our first ever Online Key Official Seminar, to be offered in September.
If successful, the online seminar will be implemented as way of making training more accessible to our officials and volunteers who are short on time, but interested in getting involved.
Motorcycling Victoria are currently accepting application for the below Officials Training Seminars:
Online Key Officials Seminar (run over 2 nights) Tuesday 17th and 24th September. APPLY HERE
Mildura Key Officials Seminar (run over 2 nights) Wed 9th and Thu 10th October. APPLY HERE
---
OFFICIALS LICENCE RENEWALS OR UPGRADES
From the 1st September 2019 any licenced official wishing to renew or upgrade their Licence, must complete the relevant training and practical experience detailed in the Accreditation Pathway.
Motorcycling Victoria understand there will be a transition period for this program, but we thank you all in advance for your understanding and cooperation while we get this up and running.
For more details on what you need to know Click Here
---
Meghan Hayes from Motorcycling Victoria is happy to discuss any concerns you may have and encourages you to reach out directly if you require more information.  Click HERE to email.
---
These changes are just part of the Volunteer Program Motorcycling Victoria are working on with the support of the Victorian State Government.