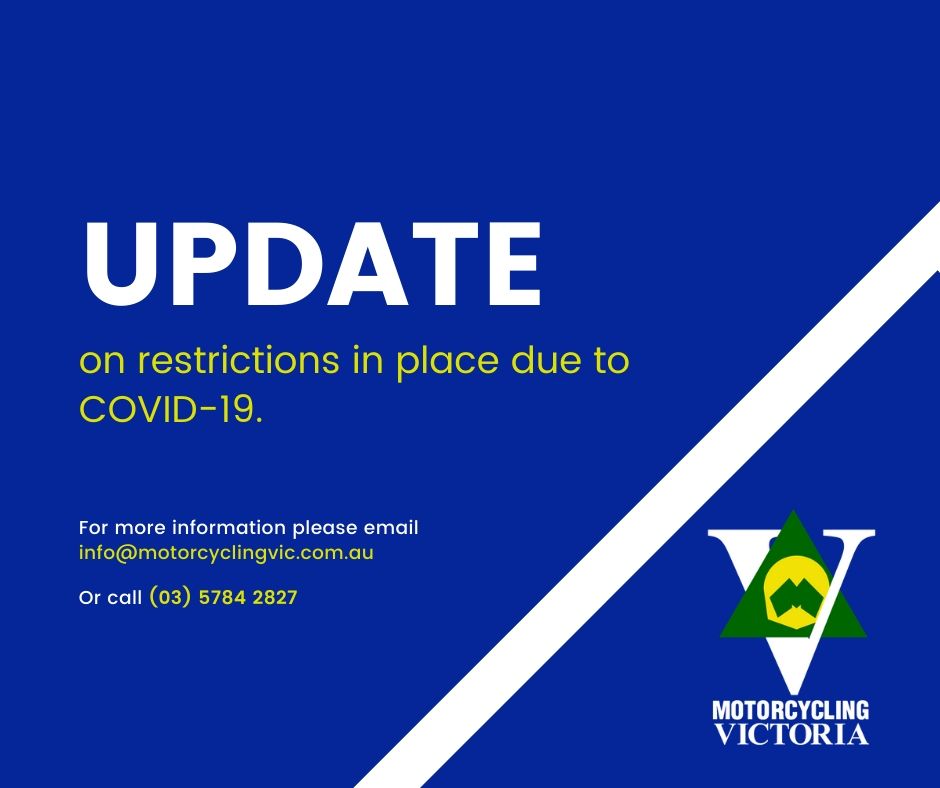 MOTORCYCLING VICTORIA | COVID-19 UPDATE
WEDNESDAY 29th APRIL  
Motorcycling Victoria wish to confirm for all of our Riders, Volunteers and Clubs that all MA permitted activity remains on hold. This hold on activity will remain in place until at least the 11th of May, and quite will possibly extended on through the month of May as a minimum.
The Motorcycling Victoria team are working closely every day with Motorcycling Australia, Victorian State Government and various other governing and support bodies who are all in the same position.
We understand and encourage you all to follow the strict guidelines in place in Victoria, and only leave your home if necessary. Hang in there, we know this is very frustrating.
---
MA Licensing
Motorcycling Victoria is continuing to work closely with MA and the other states on all things licensing, including refunds or extensions. We will not have more information on this until we know how long our sport is going to be affected.
However if you have not yet renewed and are concerned about holding your MX or Off Road number. We can confirm all numbers will remain as they are during this halt on activity.
---
Motorcycling Victoria – Change to Operating Hours
As of Monday 4th May, the MV team will continue to work from home. These hours of operation will decrease. If you are unsure of the availability of a certain team member please contact them directly.
The decision to do this has not been easy, but has been done with the best interest of Motorcycle Sport in Victoria. These hours will remain in place until further notice.
---
Warm regards,
Motorcycling Victoria