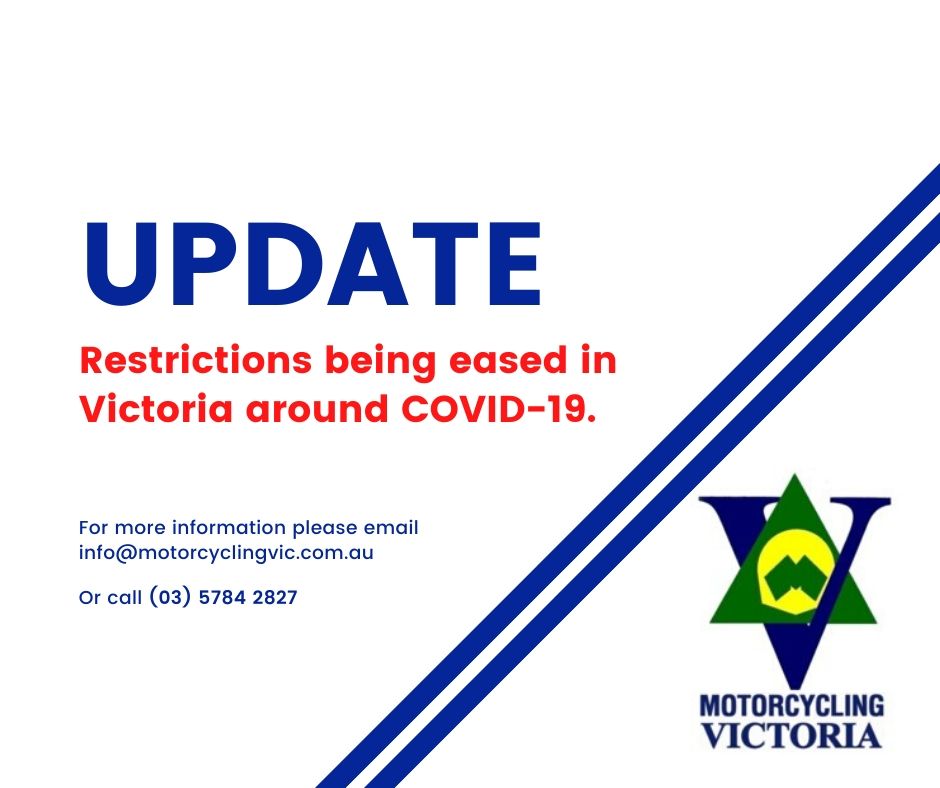 12th May 2020
 FOR IMMEDIATE RELEASE
UPDATE | COVID-19 RESTRICTIONS TO EASE
After the announcement yesterday that Victoria will enter stage 1 of the lockdown lifting, Motorcycling Victoria wish to make it clear to all our Clubs, Riders, Volunteers and Coaches what this means for us.
To see the full statement from the Premier  yesterday's click here: https://www.premier.vic.gov.au/statement-from-the-premier-38/
The State of Emergency in Victoria remains in place until the 31st May, and restrictions around the recreational activity come into play.
https://www.dhhs.vic.gov.au/sites/default/files/documents/202005/direction-restricted-activity-no-7-signed-2020-05-11.pdf
---
Motorcycling Victoria can confirm that no competition activity will be permitted until after the 31st May, unless any changes are announced earlier by the State Government. Any competition activity already permitted and on the calendar for May is now officially cancelled.
However, we are working behind the scenes to have an operational document available to clubs and coaches wishing to start back up again under the strict guidelines from the Vic Government and in line with Motorcycling Australia's announcement that only RPA permits will be available for the restart of our sport.
If you have not seen the information on RPA from Motorcycling Australia feel free to touch base with MV directly for more info.
All Affiliated Clubs and Coaches will be eligible for apply for a RPA permit, however only if there are no outstanding Event Reports or Invoices due to MV office.  If you are unsure if you have anything outstanding please contact your Sport Development officer directly.
We aim to have the document and information ready before this coming weekend, and will announce as soon as it is available and approved by Sport and Rec and the MV Board.
Warm regards,
Motorcycling Victoria