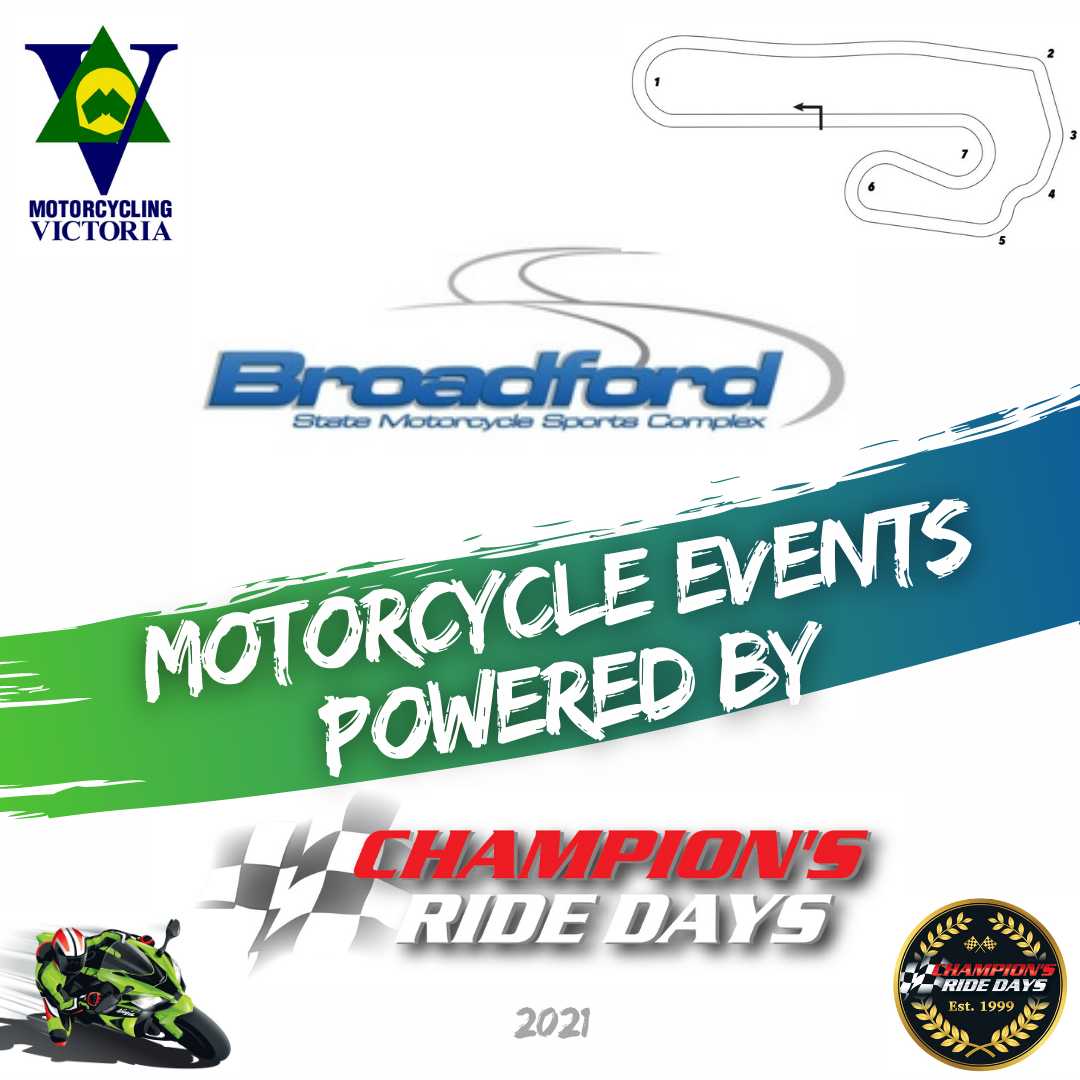 BROADFORD RIDE DAYS POWERED BY CHAMPION'S RIDE DAYS 
Motorcycling Victoria is pleased  to announce that from 2021 Champion's Ride Days will partner with Broadford State Motorcycle Complex, to run all recreational motorcycle events, on our behalf.
Champion's Ride Days are entering into their 22nd year of running motorcycle events across Australia. With their experience and dedication to safety and professionalism, we know that all our events are in good hands. This partnership has been struck up through witnessing their operations here over the last 17 years, and knowing they are dedicated to the motorcycling community here at Broadford. With their Crew's commitment and willingness to ensure all riders enjoy Broadford State Motorcycling Complex, we know that this partnership with MV will be welcomed by all who attend, including Medallion holders who will be honoured for all events as well.
For the rest of this year, Champion's will be running all events as ride days with dates including Nov  21, 22, 28 and December 5, 6, 12, 13.
In 2021, the Broadford calendar will then be divided into Ride days, Practice days and Test and Tune days all powered by Champion's Ride Days.
Your enquiries and bookings will go through their website and office, to keep it efficient and streamlined.
All disciplines including sidecars and juniors will be included on the relevant calendar dates.
We understand that you may have questions or concerns, and Motorcycling Victoria have done everything to ensure it is a smooth transition for the year ahead.
We hope that you all appreciate the time and effort it takes to run these events, and we believe Champion's Ride Days are the best to do this, enabling Motorcycling Victoria more time to focus on bettering the sport and supporting our members.