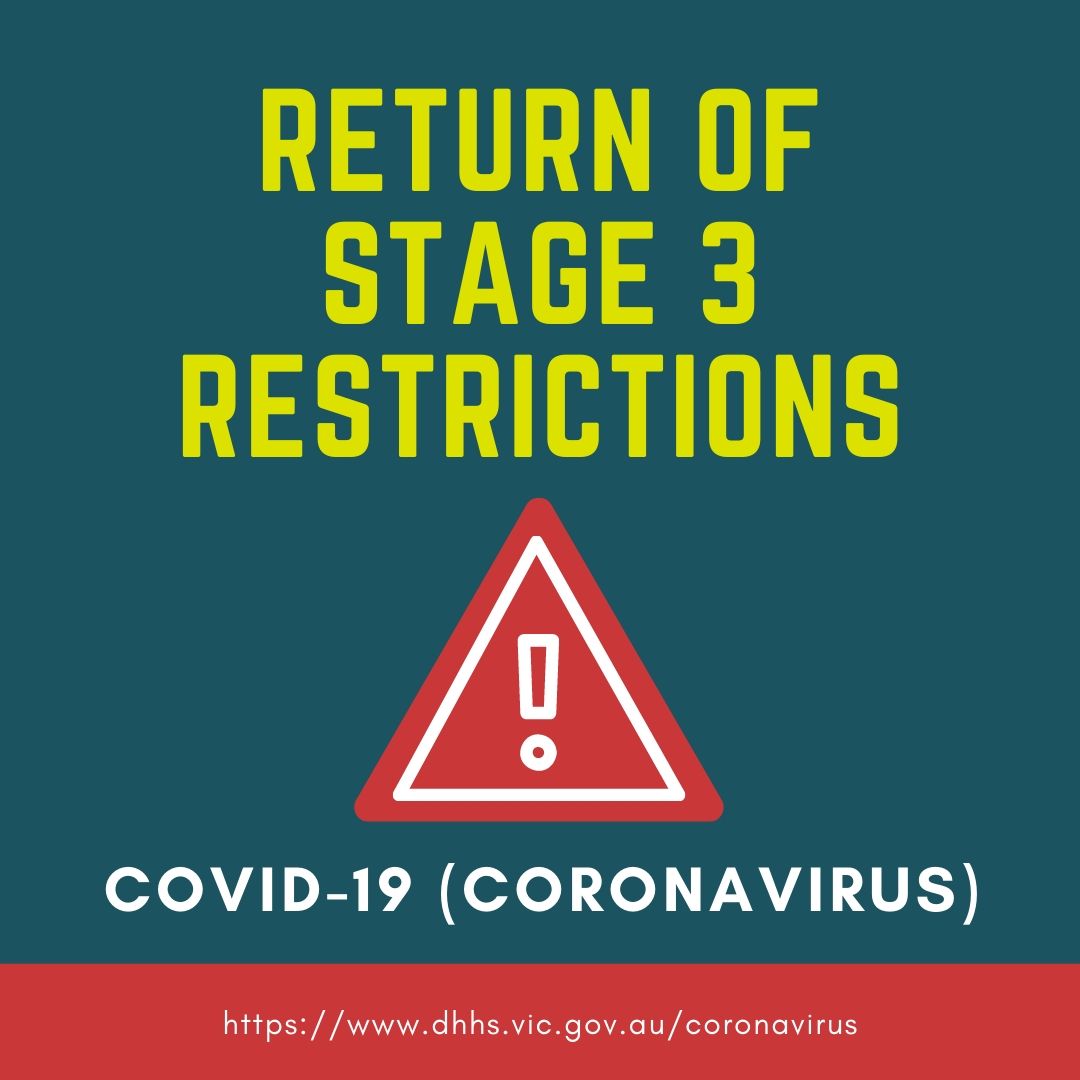 8th July 2020
FOR IMMEDIATE RELEASE
STAGE 3 RESTRICTIONS RETURN FOR MELBOURNE LGA'S
The State Government has announced a return of Stage 3 restrictions in Metropolitan Melbourne and the Mitchell Shire. Motorcycling Victoria need to inform our riders and clubs how this impacts us all.
Firstly, with the Mitchell Shire returning to State 3 restrictions, this will mean that the Broadford State Motorcycle Complex must again close its gates from 11.59pm tonight. This will have a significant impact on the complex and the affiliates who have bookings.
---
If you have been issued with a Motorcycling Australia or RPA permit for during this time period and you are within the LGA's affected by the Stage 3 restrictions, your permit is invalid – please make arrangements to cancel your event.
For those clubs, coaches and riders outside of the LAG's listed, you can proceed with your return to sport as planned for now. If this changes we will advise you as quickly as possible. We ask you to be especially vigilant with who attends your event, no-one from the LGA's affected is permitted to leave their home for the reason of Motorcycling Activity, this is unfortunately not listed as one of the four reasons people can leave.
To re-cap if your main place of residence is within Metro Melbourne or the Mitchell Shire, as of 11.59pm tonight (8th July 2020) you are only permitted to leave your home for one of the following reasons:
To shop for food, medication and other necessary goods and services.
To access medical services or provide caregiving
Work or education (if necessary)
Essential Exercise
https://www.dhhs.vic.gov.au/updated-restrictions-1159pm-wednesday-8-july
These restrictions remain in place for six (6) weeks, or unless we are otherwise notified.
Please know that Motorcycling Victoria team sympathize with those affected as 90% of our team are from the affected areas and will be returning to isolation with you.
---
Are you unsure if you are affected? Here is a breakdown of all the areas affected:
Metropolitan Melbourne, also known as Greater Melbourne, includes 31 municipalities
They are: Banyule, Bayside, Boroondara, Brimbank, Cardinia, Casey, Darebin, Frankston, Glen Eira, Greater Dandenong, Hobsons Bay, Hume, Kingston, Knox, Manningham, Maribyrnong, Maroondah, Melbourne, Melton, Monash, Moonee Valley, Moreland, Mornington Peninsula, Nillumbik, Port Phillip, Stonnington, Whitehorse, Whittlesea, Wyndham, Yarra and Yarra Ranges
The Mitchell Shire, including towns such as Broadford and Wallan, is not part of Metropolitan Melbourne but is covered by the lockdown
---
The MV MX Management Committee are also working hard behind the scenes and will be updating us all on how these restrictions impact the Regions and Championship plans.
For those clubs on the border of Victoria and NSW or SA. We sympathize with your plight, and will work with you directly to ensure we understand what we can and cannot achieve within this lock down time.
Remember we can all do our part to fight this virus where ever possible.
This includes continuing to:
Be vigilant and always practice good hygiene
Maintain physical distancing, keep at least 1.5 metres away from others
Understand the risk and symptoms
help continue to slow the spread of COVID-19 by getting tested, even if you have mild symptoms
If you feel unwell at all stay home
Take care wherever you go, assume you are already carrying the virus and protect your community '
Caution: Any rider caught falsifying their address and residence to gain entry to any event outside the restricted LGA's could face up to a 2 year licence suspesion.  
To ensure you are getting all of the correct information please visit:
https://www.dhhs.vic.gov.au/coronavirus
Warm Regards,
Motorcycling Victoria
download a copy of this press release here