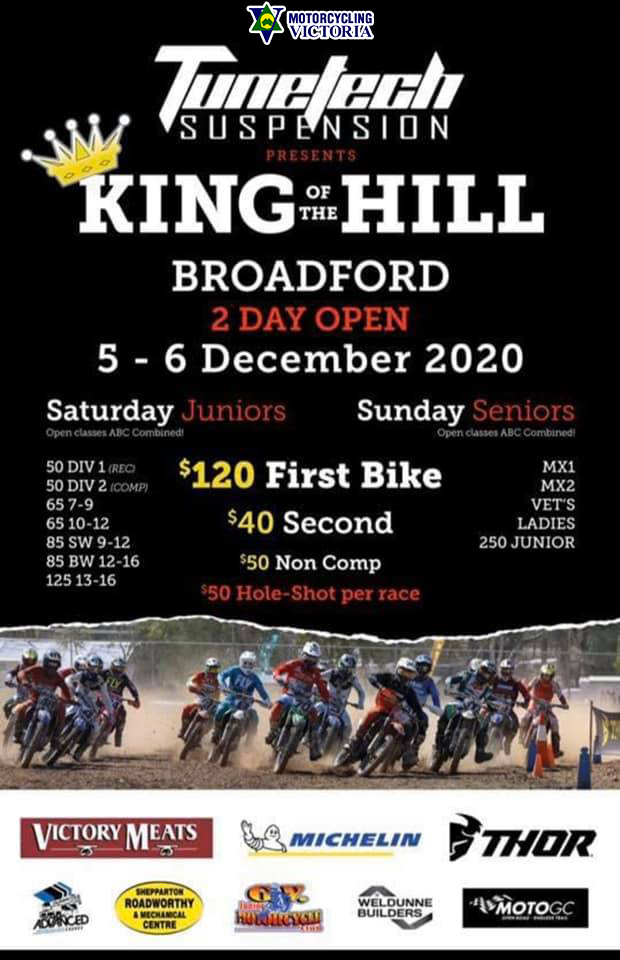 The 2020 Tunetech Suspension King of the Hill Motocross 2 Day Open will be held at the Motorcycling Victoria Motosport Complex Broadford 5th and 6th December 2020.
Competition entries are now open and will close on the 1st December 2020 8 pm, with late entries closing on 3rd December 2020 6 pm for Junior and Senior classes of racing. Due to COVID-19 Restrictions, all riders are required to provide a flag marshal. Grid positions will be a peg draw with gloves on.
Sign-In 6:45 am to 7:45 am 5th and 6th December 2020, scrutineering completed by the rider. Racing will start at 10 am. Junior 50cc, 65cc, 85cc and 125cc will race on Saturday, and Junior 250cc, Senior MX1, MX2, Vets and Ladies will compete on Sunday.
Trophies will be awarded for 1st, 2nd and 3rd with a Holeshot prize of $50 for Junior and Senior Classes.
This event will be run under Covid-19 Guidelines; for sign-in, athletes will need to bring their a pen. Contact tracing will need all attendees to sign-in.
Enter at: https://osm-ma.omnisportsmanagement.com/EventManager/(S(fwrczsclm0nqfwiv1rf24vuc))/EM_RegEventInformation.aspx?EventId=39%2BRiPMu1VUcU7%2FI3qDS0n%2FDPuh0n6nS
**THIS EVENT WILL ONLY PROCEED IF STATE RESTRICTIONS ARE LIFTED TO ALLOW FOR MORE NUMBERS IN COMPETITIVE GROUPS **  IF RESTRICTIONS ARE NOT LIFTED THIS EVENT WILL BE CANCELLED