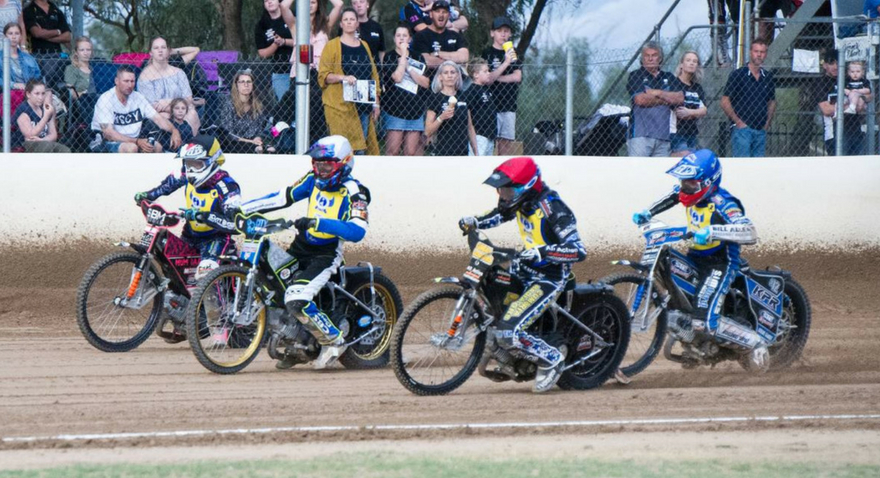 This weekend Mildura's Olympic Park will play host to the Junior Solo Best Pairs/Senior Solo Teams Racing. This is the last round of the winter season and is set to be an action-packed event with plenty of close racing.
The 'Junior Solo Best Pairs' is part of the 'Junior Winter Teams Development Program' that gives young Australian riders the opportunity to ride against like-skilled riders and gives them the chance to learn how most overseas meets are run.
To date, the racing has been super close and exciting to watch from start to finish.
It's also great to see that numbers have been growing at each meeting. It has also been fantastic to see the improvement in the standard of racing as the season has progressed.
In the 'Junior Solo Best Pairs' 12 riders forming 6 pairs will battle it out for the points to see who takes home the series trophy for the 'Junior winter solo development program'. Jackson Milner and Patrick Hamilton are right up in the pointy end of things and are showing great form coming into the weekend. These two will be the ones to watch!
To the senior solo teams and 16 riders form 2 teams of 7, with Justin Sedgmen (from VIC), the cook brothers (from NSW) Ryan Douglas (from QLD), Rob Bramford (from SA) all battling it out to take the podium. Sedgmen, Douglas and Bramford all have overseas experience, so it will be great to see how this experience works in their favour on the weekend, will their form be more refined than the others? Unfortunately, the seniors do not get to take home trophies or rack up points, they just get to leave with pride and a great sense of satisfaction!
This is a super cheap day out for the family with kids and students under the age of 17 getting in for FREE!!! Only the adults need to pay and it's a super low $10 per head! Bring your own packed lunch, and you have a great action-packed family day out for under $30!
As this is the last junior round of the season a short Trophy ceremony will follow awarding those who have accumulated the most points over the winter season.
The Mildura MCC will also have a BBQ roaring and ready to go with drinks also available.
Gates will open at 10:00 am with the first race to start at 10:30. Looking forward to seeing you there!