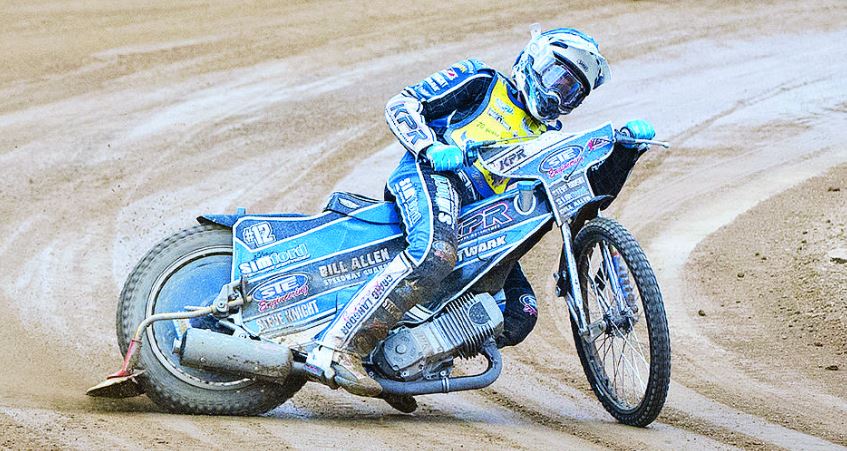 JORDY STEWART WINS JASON LYONS TROPHY
By: Brendan Gledhill
In a superb demonstration of focused and hard charging, aggressive riding, local rider, Jordy Stewart, won his first Jason Lyons Trophy at Mildura's Olympic Park Speedway on Saturday night, finishing ahead of a crack International field which included Three times World Speedway Champion, Jason Crump, who returned to Mildura to ride for his former British Elite League, Belle Vue Team mate, Jason Lyons.
The Lyons Final saw Justin Sedgmen take gate one, with Stewart from gate two, while third in, Josh Pickering, selected gate three, which left the first and second in the "B" Final to take the two remaining gates. The young Tom Brennan selected gate four, leaving Zach Wajtknecht to take gate five.
From the start of the Final, there was some close riding, and as the riders went into turn one for the first time, some unavoidable contact was made, which saw all the young Australian boys hit the deck. The Referee stopped the race with the Red light. Both Pickering and Stewart were up quickly, although some repairs were required to the Stewart machine. Sedgmen was last to get to his feet as he has been given a sharp hit to his left shoulder. The Referee determined that there was no specific blame associated to the crash, so after a few minutes, all riders were invited to again start in the final.
Sedgmen started well from gate one and powered through turns one and two and took a slender lead down the back straight ahead of Stewart, with Pickering also challenging in third place. Brennan had the better of Wajtknecht and that is how they remained for two laps. Stewart was looking hard, as to how he might challenge Sedgmen, who looked comfortable, as though he would go on and win his third Jason Lyons Trophy, however in one amazing attack, Stewart  charged aggressively up on the inside of the more experienced Sedgmen. Jordan Stewart made his bold move stick and he applied even more pressure by riding hard to make sure that Sedgmen could not fight back. The large crowd, who could be heard cheering from the Stadium, could sense a strong result and Stewart went on to consolidate his lead over the next lap and a half and won clearly from Sedgmen, who was still working and trying hard.
Pickering came down in turn four of the final lap whilst holding third place comfortably, which left the two English lads to then finish on the podium. Tom Brennan finished in third while Zach Wajtknecht took fourth. Pickering did not finish, although he was not hurt.
Jordan took second pick of the "Sunraysia Riverland Refrigerated Services and ATPI", Lyons Final, after completing the twenty action packed heats with fourteen points, but losing the first pick to local star, Justin Sedgmen, who also finished the night on fourteen points, just having dropped one point to Josh Pickering in Heat 18. Stewart dropped his point to Sedgmen when they met in Heat 12. Pickering himself, was third pick after finishing with eleven points for the night.
The Lyons Final format saw the top three points scorers go straight into the "A" Final with a "cracker" "B" Final, which had the ATPI, English visitors Zach Wajtknecht and Tom Brennan included with their ten point haul, while Josh McDonald was next on 8 points on count back from local rider,  Cooper Riordan. The program had arranged for the first and second placed riders in the "B" Final to go into a five rider Jason Lyons Trophy Final.
Three times World Champion, Jason Crump, who rode brilliantly all night, finished in fourth place on the Score Chart, with ten points, like Wajtknecht and Brennan, however, when offered the chance to be first pick in the "B" Final on count back, Crump made the most generous call to allow an extra young rider into the race and he withdrew from the Finals.
After the final and at the Trophy Presentation, Crump advised the large crowd in attendance that his opinion was, that the "future of Australian Speedway was behind him on the podium" and that he had had his chance and the future of Australia's speedway was not about him.
The vocal and excited crowd was delighted with Crump's attitude of giving an extra young rider the chance to make it into the prestigious Jason Lyons, five-rider Final and Crump was able to then watch attentively from the wings with his good friend, Lyons, who joined Crump on the Olympic Park infield to watch the Final.
Crump, had on Friday of this week, given some specialized coaching to all three English boys, who had been brought to Australia for this furlough, by the London based Global Travel and Management Services company, ATPI, who also happened to be a sponsor of Jason Crump for many years. By getting onto the Lyons podium, two of the English boys had already shown the value of the Crump coaching methods.
An exciting meeting entertained the knowledgeable crowd, who enjoyed watching some close racing on a superbly presented Olympic Park track. Riders could get grip right across and around the circuit, which provided some exceptional contests between the young International and Australian riders as well as the "Master", Jason Crump.
Bad luck for the night went with new Victorian Solo Champion, Jaimon Lidsey, who, in Heat 8, crashed heavily into the AirFence in turn one of that Heat, when he was pitted against Stewart, but for this time Stewart had the inside gate position while Lidsey started from the outside position. Lidsey seemed to just "straight line" the first turn and went into the fence quite heavily. Lidsey was attended by Ambulance staff and stayed in the Ambulance for some time, suffering with a strong migraine headache. Lidsey withdrew from the meeting and Stewart had a comfortable win in the re-run.
Josh Pickering showed a welcome return to Mildura after a successful season overseas while Cooper Riordan was the best of the others, including Dakota Ballantyne, Rob Medson and the two visiting Danes, Matias Nielsen and Kenneth Jurgensen, along with Matt Pickering, Zaine Kennedy and Josh McDonald.
Crowd support for the entire meeting was strong and it seemed that many visitors to Olympic Park had not attended for some time.
Support events too were well received with the support Solos with Brayden McGuinness doing well, winning on a count back from Declan Kennedy, with Jack Morrison in third.
Byren Gates, this time with new passenger, Daz Whetstone, won comfortably ahead of Club President, Neale Hancock / Tubs Johnson in the Sidecar division, with AJ Pearce / Eli Bock in third and Nathan Cock / Jack McMahon in fourth..
In the Junior 250cc class, Patrick Hamilton just pipped Liam May for the overall win for the night.ahead of regular Melbourne visitor, Jamie Crundwell.
Olympic Park could expect another large crown at its meeting on 24th November which will see a Test Match between STE Engineering, Team Australia and the ATPI Rest of the World. Patrons can expect to again see some wonderful riding as the Teams racing format in a Test Match is not usually senn in Australian speedway.
Results: Here