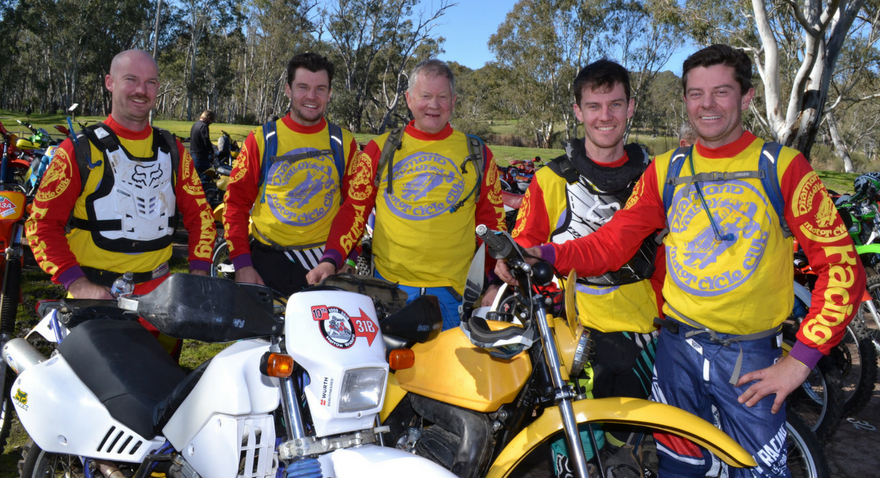 The entry list read like the 1983 Blue starting line.
Over 220 riders made the 5 hour drive to Harrow, Victoria.  Harrow is on the South Australian side of the Grampians between Horsham and Hamilton.  A most picturesque village with the most beautiful riding country you could imagine. Always rains, always wet, always green.  I have now done 4 Harrow Vinduro rides and have told the stories of how enjoyable it is and reminiscent of old Blue light organisation, friendships, time cards, check points, fuel stops, gold, silver, bronze, river crossings, tight technical, free flowing, bog holes, drum brakes(no brakes) helping other riders, bloody good fun.  So over the last 12 months, Clint, Dave, Paul and Ben Robbins have hunted down an assortment of pre 1985 Yamaha TT 350, two XR 250 and Suzuki PE and with a group of other like-minded enthusiasts made the road trip to Harrow.  Leaving midday Friday, half the fun is the road trip.
With 5 Robbins on similar minutes getting through sign in and scrutineering was a laugh in itself.
Comments like , 'geez 5 of ya, didn't ya dad have television',  and the return comments, 'no he's here with us riding'.
Camping 2 nights in a swag under a quick shade in the middle of winter is not everyone's idea of 3 star accommodation, but I heard no complaints.  Saturday is scrutineering and sign in and then a cruisy 20 minutes trail loop to a grass track Motocross to test the jetting and a bit of bike prep.  Then all bikes lined up outside Harrow Pub and rode off to be impounded overnight for cold start test next morning.  A presentation dinner marking 10 years of the Harrow Vinduro was run by locals at Harrow Hall and a display of old bikes and some bench racing at the Harrow pub saw Saturday out.
Sunday morning came and the rain had bucketed down all night.  We all thought, just like the Blue Light, it always rains on the main day.  Quick bacon and eggs, riders briefing and 9.00am start.  All bikes had to be cold started and 3 riders away every minute.  A ride through town and into a 40 kilometre tight technical loop.  Rivers, undulating creeks and bushed valleys, off camber, single track, hand made temporary river crossings.  It was a pearler and sorted the riders out.  A quick fuel top up and into the 80 kilometre loop.  Endless bushy river valleys, single track, sand, mud, water, open field, creek crossings.  It had it all, and flowed with no bottle necks.  Mostly on private property.  Even a style over boundary fences where no gates were in place.  A style is a temporary structure over a fence and something you ride up and over a fence.  You see and locals asked the Vinduro committee to come and run an event here, so the whole town is behind the running and organisation of the event.  Another fuel stop and even further out.  It just gets better and you don't want it to end.  In all a total of 140 kilometres of pure enduro riding.  (Pure Enduro that's where PE Suzuki originated- true)
What do you get for finishing?  If you finish the entire loop you get a gold medal. And Silver for less down to bronze for first section only. A lot of bikes and bodies do not make the distance and gold is held in high esteem.
There is a mountain of people that help make this event happen.  Just like the Blue Light Ride.  But it's the riders who support the work that goes into it by making this the biggest Vinduro in Australia and possibly even more.  Riders travelled from most states in Australia to ride at Harrow 2018.  The event increases every year and this year the organisers took the progressive step of allowing more recent models in allowing bikes with front disc brakes I thinks it's around 1987 models.   This encouraged the Robbins clan sufficiently to seek disc brake bikes for the 2018 event.  This was a positive move as the younger generation only grew up on disc brakes.  The Vinduro sport is now growing again.  The past is the future. Just for the record the crew took home gold medals.
The Starting line up:
30b Frankenberg Shane
30c Robbins Paul
31a Robbins Benjamin
31b Neilson Ricky
31c Robbins Colin
32a Robbins Clint
32b O Reilly John
32c Ruedin Trevor
33a Ridgeway Jason
33b Robbins David
33c Walsh Brendan
34a Cox Gary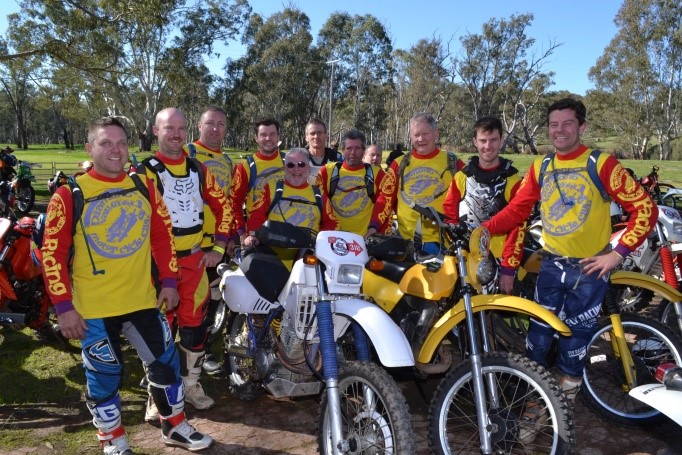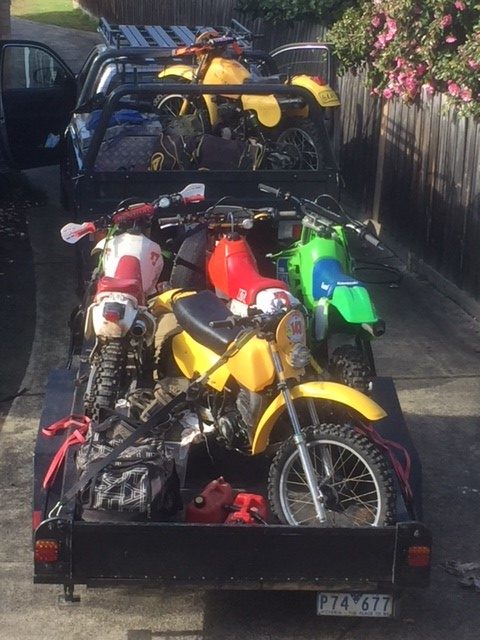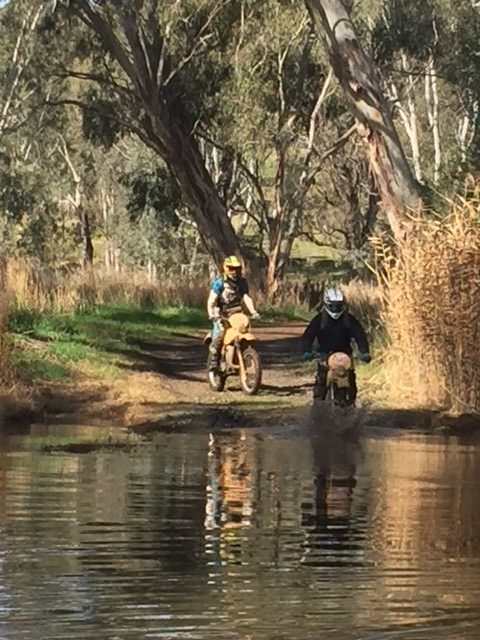 Content by: Colin Robbins