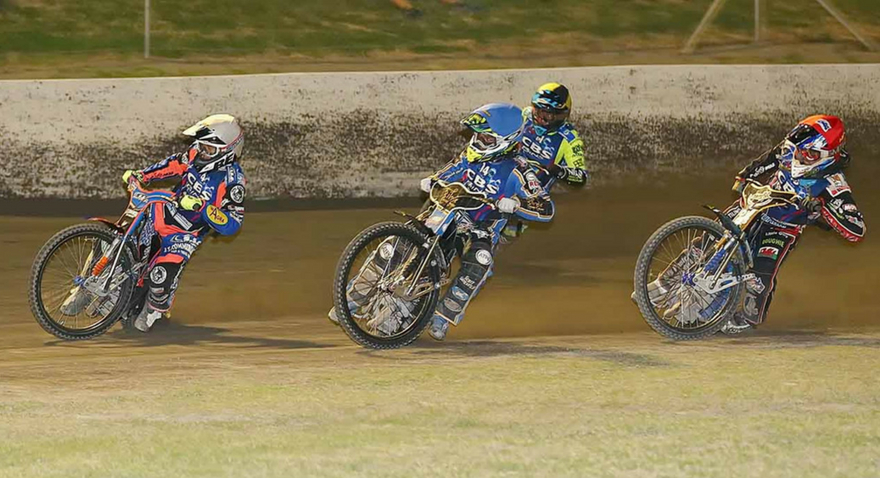 Mildura's Olympic Park Speedway will play host to another 4 Team Tournament next Sunday, 5th August, when some of Australia's best young solo speedway talent will represent four respected International teams, being two from Poland and two from Great Britain.
Former duel World 250cc Champion, Matthew Gilmore, will head up the Swindon "Robins" side and will have SA's Brayden McGuinness, who has just returned from some overseas duty, New Zealand visitor, Jake Turner and young Victorian, Aden Clare, as members of his team.
The Leszno "Bulls" will be skippered by Matt Pickering, with Kane Lawrence, Fraser Bowes and Dayle Wood as the polish team's foursome.
Young SA rider, Dakota Ballantyne, will Captain the Edinburgh "Monarchs" along with team mates, Jack Morrison, Mitch Cluff and Aaron Jackson while the Zielona Gora team, the second Polish side, will be skippered by Adelaide's Rob Medson, who will have Swan Hill's, Declan Knowles as well as local rider, Tom Dixon and SA 's Seth Hickey in his squad.
The 4 team Tournament will be held over 20 exciting heats where one rider from each team will take to the track in each heat. This format is the same as that used when Mildura hosted the 2015 World Under 21 Teams Championship back in October 2015.
The Winter Teams Speedway Development Program has been held on the first Sunday of each month during the Winter months as a way of giving young Australian riders some opportunity to ride against equal and decent competition while giving the lads the chance to learn how to "teams" ride, which is the basis of all the overseas "League" meetings in Poland, Sweden, Denmark and, of course the British league in both its Premiership and Championship  divisions. Even the French and German leagues are using the same format on a slightly reduced scale.
The racing has been exciting from start to finish of each match and Mildura patrons, who's numbers are growing at each monthly meeting, have been excited to see the improvement in the standard of the racing.
The 4 Team Tournament will commence at Noon on Sunday, but will be preceded by the 2018 Junior Leigh Adams Cup to be contested by the Junior division stating at 10:30am. Interspersed through the senior program there will be opportunity for Senior Practice as there are nominations from some younger 500cc Solos, some 250cc machines as well as some senior Sidecars taking to the track.
The Mildura junior Club is fortunate to have former Speedway Super star, Leigh Adams actively helping out in the Junior squad and the girls and boys really enjoy to see Leigh giving advice to all the youngsters, as they all try to improve their skills.
Mildura Club is fortunate that we have the Jason Lyons Trophy, the Jason Crump Shield and the Leigh Adams Cup as stand out meetings within the Junior Club, with all three former riders being held in great esteem by the young folk
Gates will open at Olympic Park at 10:00am on Sunday, with action to commence at 10:30 for the young brigade which will be immediately followed by the Senior Tournament meeting.
A modest entry fee is charged and patrons will find plenty of free Grandstand accommodation available for their enjoyment or one can bring a chair and use the grassy banks which surround the Stadium.
A BBQ Catering service will be available during the course of the two meetings, so patrons can get something to eat or drink as they require.
Content by: Brendon Gledhill