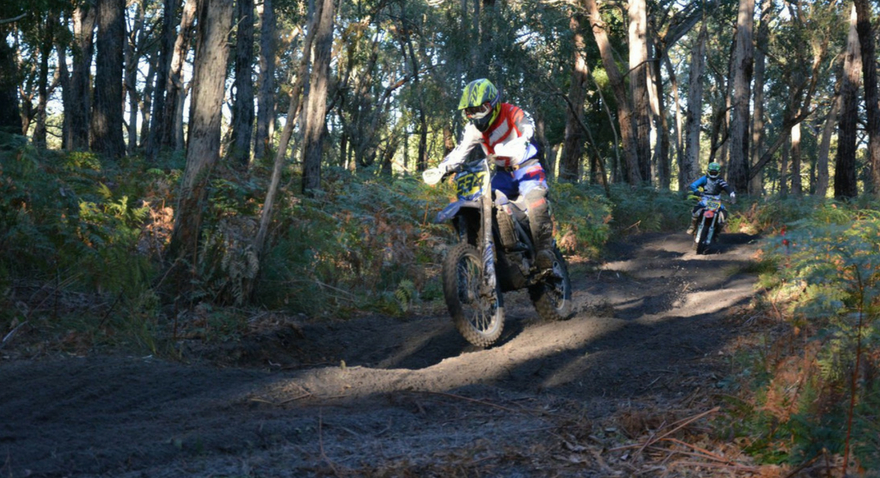 The Victorian Off Road Championships on the 21st & 22nd of July were held on a new property in Dartmoor, this property was very sandy and not too dissimilar in terrain to Corner Inlet.
Riders enjoyed perfect conditions with about an inch and a half of rain on the Friday before the event and absolutely no rain during the event. Conditions could not have been any better!
There was a bit of upset in the pro class with Daniel Sanders winning right up until the second last heat where he crashed out; Lyndon Snodgrass in true sportsmanship spirit stopped to help out Sanders and then continued on.
Sanders & Snodgrass were only about 7 seconds apart, however as Snodgrass stopped to help Sanders he got his fastest time for that lap, this meant that Snodgrass got his fastest time for that heat; when paired with his earlier times saw him take out the day by 6 seconds!! Great racing by both boys all day and it is great to see sportsmanship thrives at the top end of our sport! Such great example to be setting for our younger riders!
There was terrific racing to be seen throughout the other classes too! With the Clubman Class only seeing 3-4 seconds between riders.
Overall the day was thoroughly enjoyed by all riders, with many commenting on how well the property was laid out!
A massive shout out to the Koo Wee Rup Motorcycle Club who ran the event and also to the Casterton Motorcycle Club for helping out. The course was perfectly laid out with lots of bunting, generous camping areas and heaps of room for the pits.
Catering was done by the local primary school, who by all accounts had 'awesome slices' and heaps of stuff there, so absolutely hats off to the school!
The Riordan brothers Will and Angus had an incredible pace, taking out first and second place respectively in the Junior Cross Country! The two were only eight seconds different and were a massive five minutes in front of third place. The boys did a phenomenal job and really dominated.
Nick Graham is certainty one to watch! Graham ended up tenth outright in the Senior Cross Country. Graham is under 18 and has only just come out of juniors. When put up against the likes of Snodgrass and Sanders he really wasn't that far behind! He is one super quick kid! We cannot wait to see what more Graham comes out with in the future!
The Major Sisters Alisha and Kasey came second and third for the Women's class in the Senior Cross Country. Both of these lovely ladies have been selected for the Motorcycling Victoria Elite Riders Camp that will take place later this year.
Unfortunately Danielle Foot did not finish in the Senior Cross Country due to seizing her bike, this put her back to third overall in the championships, with the next round not too far off we are sure she will make up the ground!
 Photo Credit: Rechelle Beveridge Images – https://www.facebook.com/Rechelle-Beveridge-Images-345765689160956/