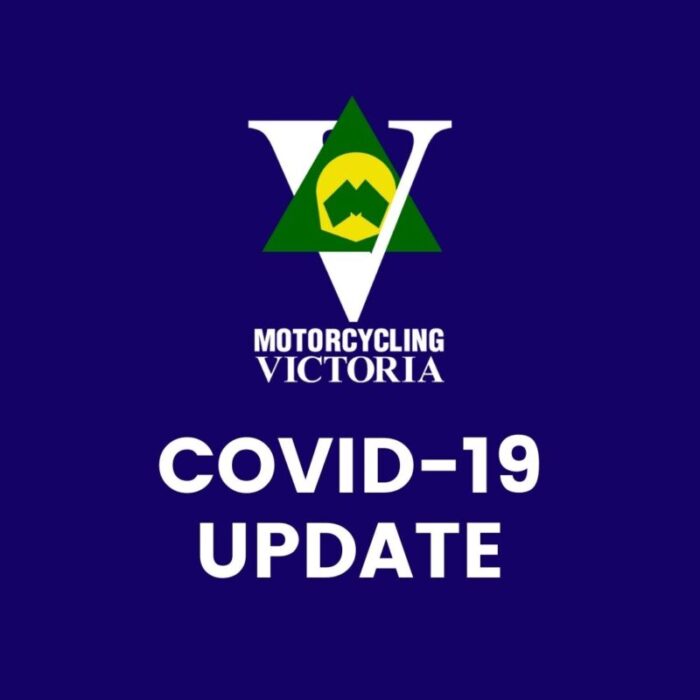 How does the Covid-19 Vaccine Mandate affects Community Sport?
The Victorian Government have released the Essential Workers List for keeping Victorian's safe as the States' restrictions ease.
All Community Sport in Victoria has been impacted by this.
You will find a copy of the Covid19 Vaccinated Activities Directions No.3 (VAD's) here.
This means that if you are involved in Motorcycle Sport, either through an Affiliated Club or Promoter or as a Volunteer, Licensed Official or Coach you are now considered an essential worker and are required to be vaccinated.
All listed worker must by the 15th of October have received their first dose of an approved COVID-19 vaccine or have a booking to get a vaccine by the 22nd of October. The second dose deadline is the 26th November 2021.
Please note: only a Medical Exemption is a valid reason for not having the Vaccine – more information on Medical Exemptions can be found HERE

During the meeting with Vic Sport and Sport and Rec Victoria, it was also mentioned that it has not yet been advised on how this mandate will impact participants and spectators.
Motorcycling Victoria sincerely understand that this news may not be what some of you were hoping for, all we can do is encourage everyone who is eligible to get the Vaccine and get one step closer to having our sport reopen.
---
Keeping Records
Under the Vaccination Activity Requirements, Event organisers are responsible for ensuring that every Official, Coach and Volunteer, Flaggie, etc must sign on using this form HERE.
This is to be used for all Permitted events. This includes: MA Permitted Events, Working Bees, face to face Committee Meetings and AGMs, etc.  (Click HERE to download a copy)
Please forward a copy of this form with your event report to Motorcycling Victoria reports@motorcyclingvic.com.au and this will be kept on file for you.
Please note: Motorcycling Victoria have been advised that by doing this we are protecting our Clubs and Event organisers from anyone not doing the right thing, or being dishonest.
Motorcycling Victoria ask that anyone who is not Vaccinated or is choosing not to be Vaccinated respect the Volunteers running the events, and do not put anyone in a position where they need to ask to you leave an event. If you are choosing not to get the Vaccine, you are now choosing not to be involved in Community Sport, under this mandate. 
PLEASE NOTE: Motorcycling Victoria are in discussions with Motorcycling Australia and other states to see if this information can be included in Ridernet as an ongoing solution. For now, please use the new sign on sheet that has been updated.
---
Personal Training / Coaching
MA Licenced Coaches are still eligible to run Coaching/Training Sessions, but they must be in line with the restrictions in their local LGA.
Under the VAD's in place, a Coach is only considered a Personal Trainer and therefore allowed to have 5 people train, if they have and supply their ABN number on the Permit Application: HERE
If a Coach does not have or supply their ABN they are only allowed to train 2 people. Coaches can however offer coaching through a Club RPA Training day, following the restrictions in place for that event.
If you would like some assistance in applying for an ABN please email finance@motorcyclingvic.com.au
---
We are with you, and want to remind you that there if you are struggling and need to talk, there is always someone ready to help:
Lifeline on 13 11 14
Kids Helpline on 1800 551 800
MensLine Australia on 1300 789 978
Suicide Call Back Service on 1300 659 467
Beyond Blue on 1300 22 46 36
Headspace on 1800 650 890