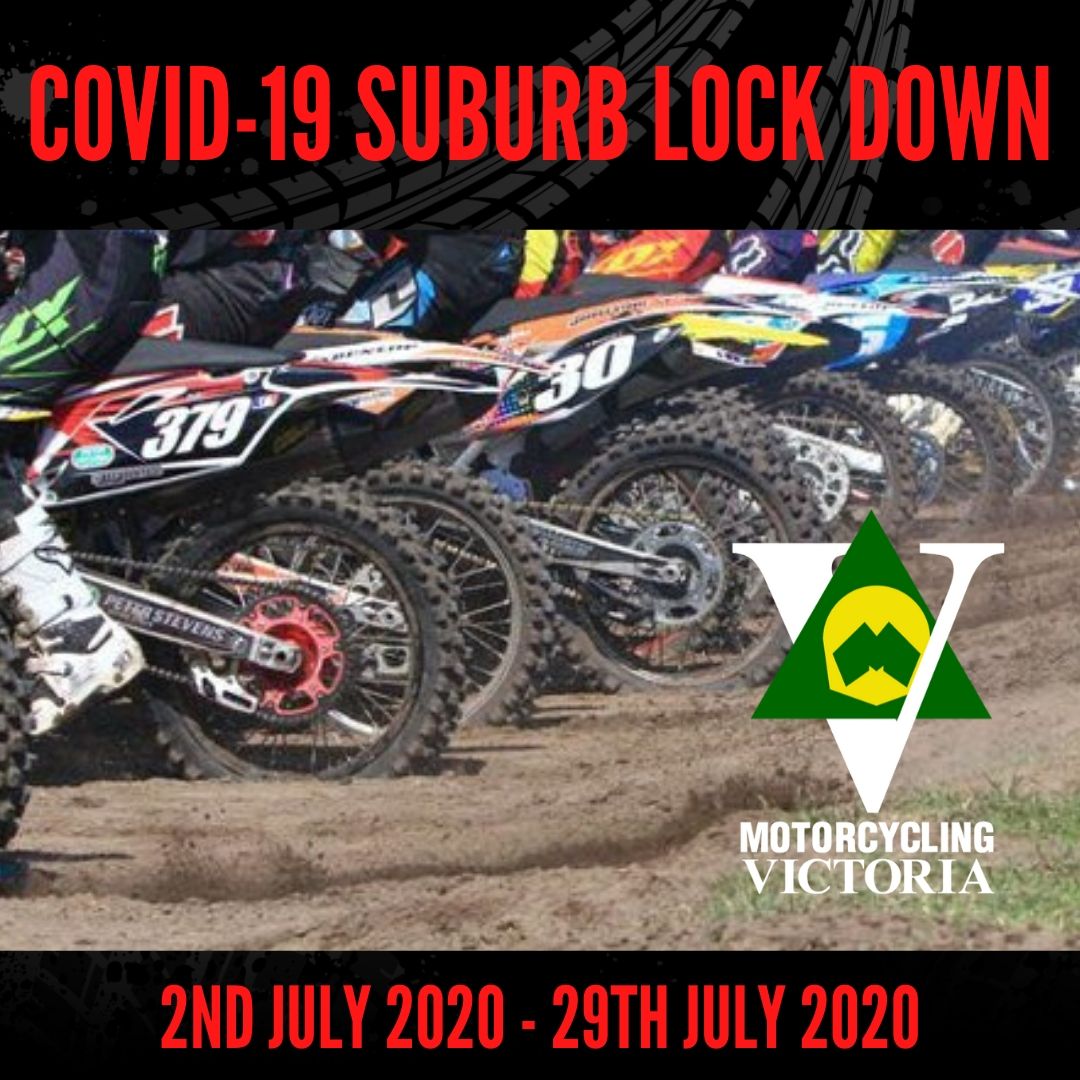 1st July 2020
FOR IMMEDIATE RELEASE
MOTORCYCLING VICTORIA: COVID-19 HOT SPOT LOCK DOWN
With the announcement from the Premier overnight, Motorcycling Victoria wish to keep our community informed on how this will affect you and the sport you love.
In short if you live in any of the Hot Spot areas identified from midnight tonight (1st July 2020) until at least the 29th July 2020, there are only four reasons to leave your home:
To shop for food, medication and other necessary goods and services.
To access medical services or provide caregiving
Work or education (if necessary)
Essential Exercise
Attending a Motorcycling practice day or competition, is not one of them.
These same rules apply for those wanting to enter the Hot Spot zones, this should only be done if absolutely necessary and in line with one of the four approved essential reasons.
---
In case you missed the announcement, the areas that have been identified as Hot Spots and that must return to Stage 3 restrictions are:
3038 – Taylors Lakes, Keilor Downs, Keilor Lodge, Watergardens
3064 – Craigieburn, Roxburgh Park, Mickleham, Kalkallo, Donnybrook
3047 – Broadmeadows, Dallas, Jacana
3060 – Fawkner
3012 – Maidstone, West Footscray, Kingsville, Brooklyn, Tottenham
3032 – Maribyrnong, Highpoint City, Ascot Vale, Travancore
3055 – Brunswick South West, Moonee Vale, Moreland West
3042 – Airport West, Niddrie, Keilor Park
3021 – St Albans, Kealba, Albanvale, Kings Park
3046 – Glenroy, Hadfield, Oak Park
To ensure you are getting all of the correct information please visit:  https://www.dhhs.vic.gov.au/new-restrictions-melbournes-hot-zones-covid-19
---
Everyone must play their part in reducing the spread of this virus where ever possible.
This includes continuing to:
Be vigilant and always practice good hygiene
Maintain physical distancing, keep at least 1.5 metres away from others
Understand the risk and symptoms
help continue to slow the spread of COVID-19 by getting tested, even if you have mild symptoms
If you feel unwell at all stay home
Take care wherever you go, assume you are already carrying the virus and protect your community '
---
Further to our announcement last week, and until there is direction from the State Government otherwise, Motorcycling Victoria wish to reinforce that anyone who lives in or has recently visited the following areas please stay away from their clubs and club events until this spike is under control.
The ten suburbs identified as have a high rate of community transmission are:
Broadmeadows
Keilor Downs
Maidstone
Albanvale
Sunshine West
Hallam
Brunswick West
Fawkner
Reservoir
Pakenham
 We encourage you all to stay up to date by visiting the dedicated coronavirus page on the Victorian DHHS site: https://www.dhhs.vic.gov.au/coronavirus
Warm Regards,
Motorcycling Victoria
Download a PDF of this Press Release here