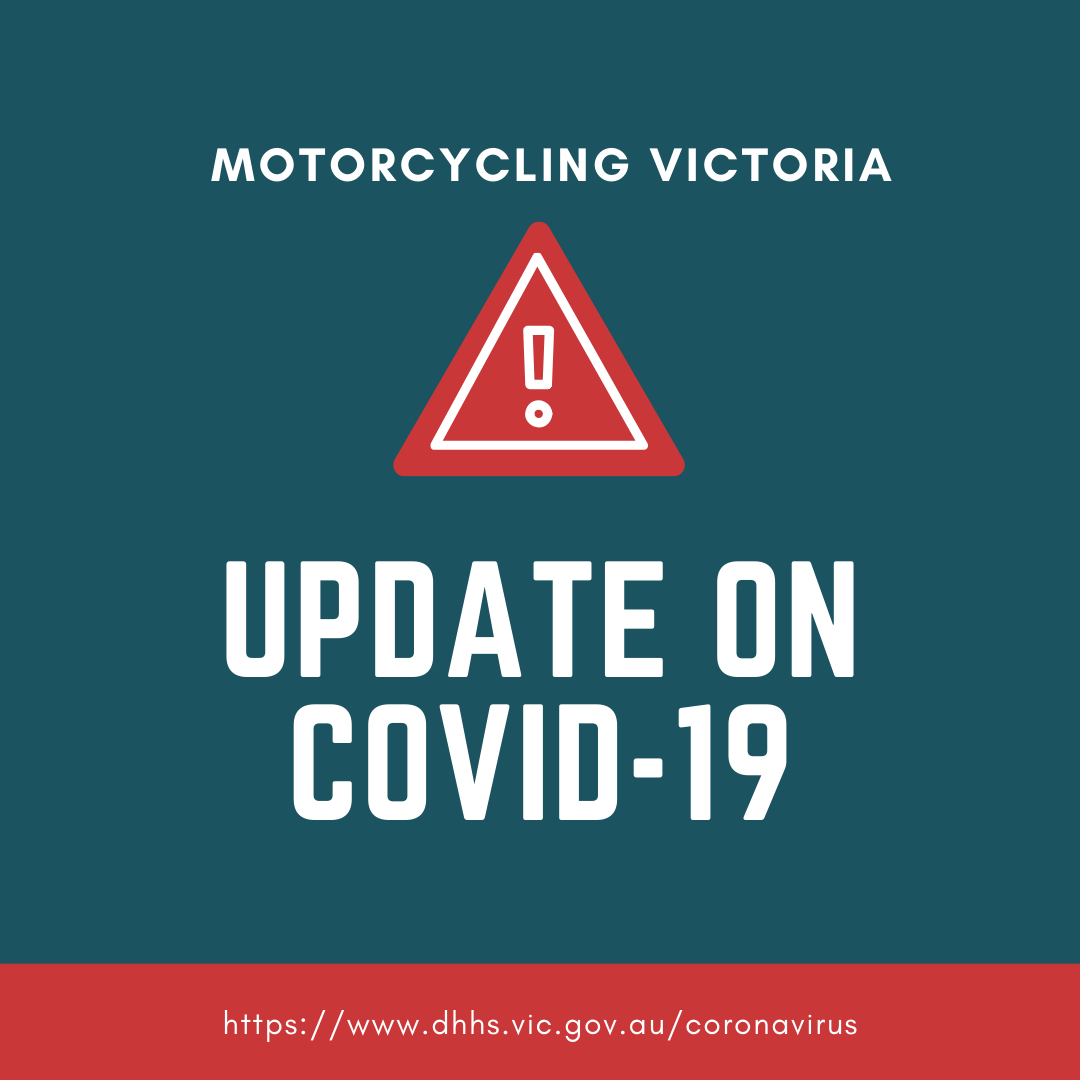 MOTORCYCLING VICTORIA:
A Message from our CEO| COVID-19
To our Motorcycling Victoria Riders, Committees, Clubs, Coaches and Volunteers,
As the situation around COVID-19 (commonly known as Coronavirus) continues to develop, we are committed to providing up-to-date information to you all, as it becomes available to us.
Yesterday Motorcycling Australia issued a statement and advice to the State Controlling Bodies on the running of events with over 500 people and issuing of MA Permits for events. This was based on the advice and direction of the Federal and State Governments.  For all the information around this please visit:
https://www.premier.vic.gov.au/state-of-emergency-declared-in-victoria-over-covid-19/
---
Motorcycling Victoria support the State and Federal Governments in their attempt to contain the spread of this virus as much as possible. We encourage you to keep up to date, and do your part in reducing your chance of contracting the virus. More information visit https://www.dhhs.vic.gov.au/coronavirus
With all this in mind, we have in conjunction with the organisers decided to postpone or cancell the following State Title events:
            28th -29th March: 2020 Mitas Off-Road State Title Rd.1 + 2 (Three Bridges) – Postponed
            4th – 5th April: Victorian Historic Road Race Championship (Broadford) – Cancelled
Information will be made available from the Event Organisers, to all riders who have already entered on their options for either having their entry roll over or refunded.
The status on Round 1 of the  VIC Senior MX Title on the 28th and 29th March, is still under review and as soon as a decision is reach we will update you again.
---
Further to this Motorcycling Victoria support and encourage any clubs wishing to continue to operate to do so, within the current strict hygiene and social distancing guidelines.
However, if a Club wishes to postpone any activity we actively support this decision, as you know your community better than any of us.
To keep up to date on the status of events we encourage you to continue to visit our website:  https://www.motorcyclingvic.com.au/calendar/
---
The Motorcycling Victoria Office is preparing for an inevitable office closure for preventative measures.
Our team will be set up to work from home, and this will reduce any disturbance in the service we can provide to our Riders and Clubs.
We wish to assure you all that the decisions we make, are with the best intentions and with the most up to date information available to us at this time.
We will continue to communicate as information and the situation progresses.
Warm regards,
Robert Mestrom
CEO
Motorcycling Victoria
Download a copy of this press release here