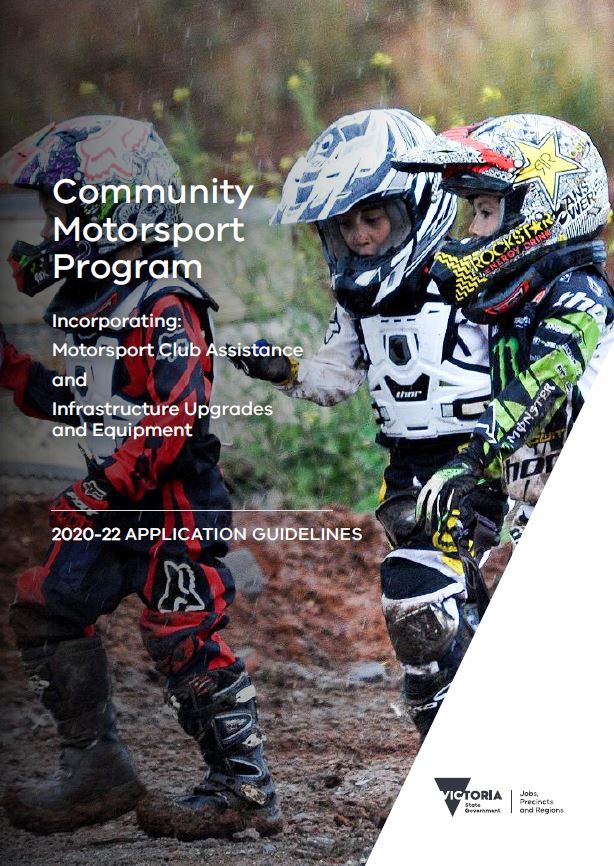 16th August 2021
Community Motorsports Program 
Thanks to the Victorian Government and Minister for Community Sport Ros Spence, Grassroots Motorsport and Motorcycling Clubs are being offered dedicated grants for better facilities, equipment and training. 
Motorcycling Victoria are pleased to announce that 28 of our Affiliated Clubs have been successful in their applications in the first round of the Community Motorsport Program.
That is a huge 28 of 34 clubs who applied (over 82%), some clubs with multiple applications approved.
An astounding $311K has been promised to Motorcycling Victoria affiliated clubs, within the first round of Grants.
Motorcycling Victoria wish to sincerely Thank the Victorian Government, the Minister for Community Sport Ros Spence and the Minister for Sport Martin Pakula for their support to the Motorsport and Motorcycling community through these grants.
Congratulations to the clubs for were successful within the first round:
Blue Rock Motorcycle Club Inc
Casterton Sporting Motorcycle Enduro Club Inc
Castlemaine & District Junior Moto Cross Club Inc
Colac Motorcycle Club Inc.
Creswick & District Motor Cycle Club Inc
Dandenong Motorcycle Club
Edenhope Motorcycle Club
Geelong Motocross Club Incorporated
Goulburn Valley Motor Cycle Club Inc
Hartwell Motorcycle Club
Historic Motorcycle Racing Association of Victoria
Horsham Motorcycle Club Inc
Koo Wee Rup & District MotorCycle Club Inc
Maroondah Cycle Training Club Inc
Mildura Motorcycle Club Inc
Motorcycle Racing Club of Victoria Inc
North West Victorian Motorcycle Club
Ohvale Australia Inc
Ouyen Mallee Motorcycle Club Incorporated
Preston Motorcycle Club Inc
Robinvale & District Motorcycle Club Inc
Rosebud & District Motorcycle Club Inc
The Harley Club of Victoria Inc
Track Day Bro Incorporated
Traralgon Motorcycle Club
Viper Vintage Moto X Club Incorporated
Winton Motorcycle Club
---
On Friday, the Minister Spence opened the second round of the Community Motorsport Program, which will again provide grants of up to $500,000 for grassroots motorsports to take performance on and off the track to a new level.
Applications for infrastructure (up to $500,000) and equipment (up to $50,000) support are open until 10 November 2021.
Read the full press release here: https://sport.vic.gov.au/news/articles/fuelling-growth-of-motorsport-clubs-and-backing-volunteers
Key dates for round two of the Community Motorsport Program (Infrastructure Upgrades and Equipment Category) are as follows:
Round Two Applications Open 13 August 2021
Round One Applications Close 10 November 2021
Round One Projects Announced February 2022 onwards
We encourage all of our Affiliated clubs to submit an application in this next round of grants.
To read more or submit an application visit: https://sport.vic.gov.au/grants-and-funding/our-grants/community-motorsport-program