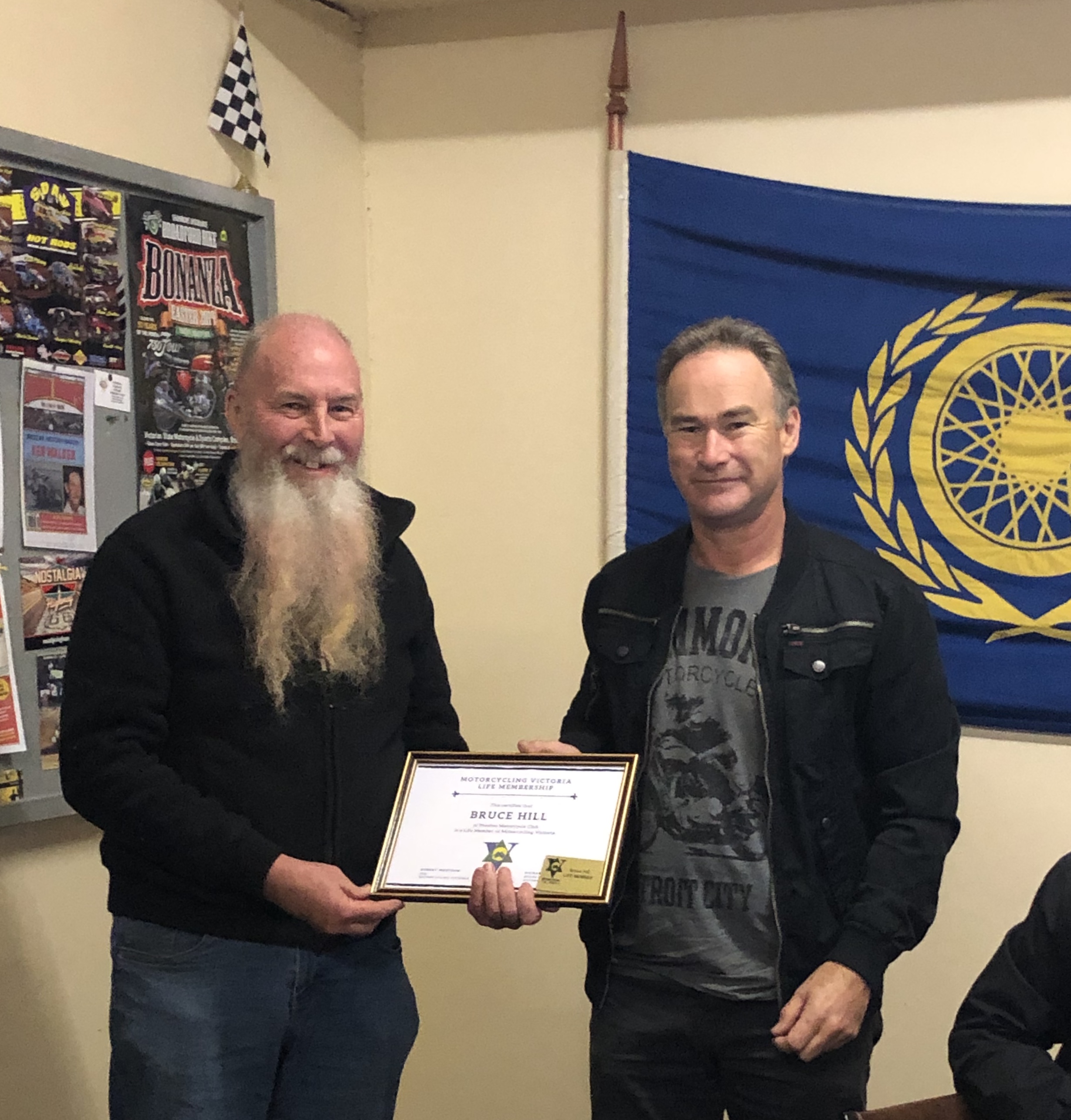 Motorcycling Victoria awards Bruce Hill life membership 2019.
Written by: Lauren Weaver
Motorcycling Victoria was proud to induct Bruce Hill to the list of honored life members at their General Meeting last Wednesday. Unusual it is to award life membership at anything other than an Annual General Meeting you say? You would be right. There were some special circumstances in play.
Bruce has contributed nothing short of a lifetime to the motorcycling fraternity.  He was 16 years old when he started riding and 19 when he first joined a motorcycle club, the then Police Motorsports Club. He has raced enduro, dirt track, supermoto and road race from the ages of 22 to 65 years old.
He keeps his achievements under his belt, and it wasn't easy to draw a history out of him. Not many know that Bruce was a member of the Victoria Police Force. He was a senior instructor at the police motorcycle school, specialising in off road riding and search and rescue for about seven years. Bruce was forced to retire from this role after suffering a workplace injury. One of the key achievements in his role in the police force included assisting in the introduction of protective leathers, full faced helmets and protective gear for police motorcycle officers. During this time, he was also a member of the Dandenong Motorcycle Club.
As a keen Ducati enthusiast and rider, Bruce was a co-founder of the Ducati Owner's Club in about 1975. In his time with the club he held various committee roles, including President.
In 1993, Bruce joined the Hartwell Motorcycle Club. He was a committee member in 2011 but was required elsewhere and moved across to the Preston Motorcycle Club and assumed a committee position in 2013.
It has been in this role that Bruce has truly earned his lifetime membership, due to his tireless commitment to build Preston to one of the most popular and thriving motorcycle clubs in the country and increase participation in motorcycle racing in Victoria. He became president of the Preston Motorcycle Club Inc. in 2014 and the club has not looked back since.
Bruce was the key driver in the club's efforts to revitalise the Victorian Road Racing Championships to the successful and ever popular four round series it is today. With a keen passion for motard racing, and awareness of a gap in the state for this group of riders, he also introduced the Supermoto Championships into the series, after convincing Motorcycling Victoria to build a dirt component to the road race track for the Supermoto riders.
With others, Bruce campaigned to get the Preston Bracket Racing Series up and running.  The idea had been played with around the club for a few years, but once again, it was Bruce's leadership and drive that got a new and different type of series, specifically suited to new racers and those wanting to practice their craft.  This has been a successful pathway into racing for new riders, many who have gone on to race in state and national series. It had also been a popular area for women who are looking to get involved in racing and has helped to increase participation in this area.
Last year, after much resistance, Bruce convinced an already loaded and hard-working committee to pick up and run a round of the Australian Historic Championships, after it looked to be cancelled. This took the club back to a national level. The team did an amazing job for their first national round.
In 5 years, the Preston Motorcycle Club Inc. moved from running the Pirelli Road Race Series in competition with the Victorian Road Racing Championships to partnering up with the organisation to build a successful series together. The club are now involved in the sport from all levels, club, interclub, state, and national championships, at both junior and senior levels. In this time, Bruce has been the engine running the show.  He has achieved some amazing outcomes for the sport in many different areas as a member of the MV Road Race Committee.
Last year, Bruce was diagnosed with terminal brain cancer. Those who know him know that he has approached this like every challenge in his life, with the fight of a wolf, but this one is a losing battle. After two major brain surgeries coupled with crippling treatment, Bruce is slowing down. Because of this, the Motorcycling Victoria Board thought it important to get this award formalised as soon as possible.
We say thank you to Bruce for a lifetime of commitment to the sport and the Motorcycling fraternity.