2019 bLU cRU Oceania Junior Cup – 7 Victorian Finalists
Motorcycling Victoria would like to Congratulate all of the finalists included in the inaugural 2019 bLU cRU Oceania Junior Cup.
The bLU cRU Ocenia Junior Cup is made up of 26 riders from all kinds of backgrounds and a massive seven (7) of these are Victorian!
A special Congratulations to the Victorian riders, we wish you the very best of luck, and cannot wait to see you show the country what you are made of.
Motorcycling Victoria took some time out to chat with the riders (who were available) about why they decided to apply and what they are most looking forward to.
First up, we have Victoria's only female finalist. 14 year old Natalie Barbati (#11). Natalie is very excited about the season ahead.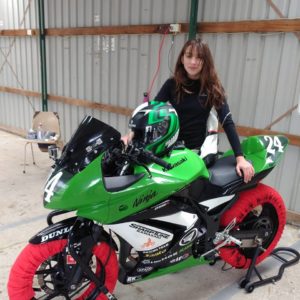 "I first started riding at the junior development days at Broadford. My dad was going to the rider days and when he heard about the junior development days he thought it would be a great experience for me. So I stuck to it and I have been training for the past 2 years and getting in as much track days as I can. 
When the Oceania Rookies cup came up, Martin Port told me and my dad about it. Dad thought that this would great to get me into racing and would be an amazing 
experience. I was keen to do it. So we applied for it. I was keen to apply for it because it would be really fun racing and just being in the moment. I am looking forward for felling the adrenaline"
Patrick Bognar (#37) is new to Motorcycle Sport, but has a very successful history in BMX competition. Patrick is 15 years old and ready to jump in and give it a crack!
"I was at the Moto GP in October and saw the rookies stand and was interested straight away. Road racing is something I have always wanted to do but never done before and I thought it would be cool to try. I have raced BMX around the world reaching as high as number 2 in my age group. I have also ridden dirt bikes socially with friends.
I have spent the last couple of weekends with Damian Cudlin and MotoStars group learning and getting use to the bike. I have even had my first high side and survived. It will be a steep learning curve but I am excited about the challenge."
Toby James (#27) is one of the youngest of the Victorian's at only 11, but has been riding since he was four (4), and we are all please he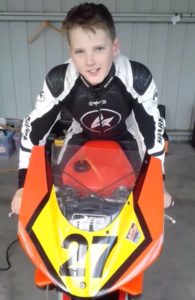 has applied and taken on this challenge.
"I am so excited to be part of the Oceania Junior Cup for 2019. I'm proud to represent Victoria and Australia in this exciting new series for junior road racing.
I applied for the Oceania Junior Cup, because I'm chasing a dream that started when I was 3 years old, watching Casey Stoner racing MotoGP.
I got my first bike when I turned 4 and since then I have raced; Speedway, Dirt Track and my favourite Road Racing.
I look forward to meeting and racing against the rest of the Yamaha bLU cRU team in 2019.
Get on board the Oceania Junior Cup, because all of the riders need your support."
Next up we have Angus Grenfell (#36) who is also a young racer, who is celebrating his 12th birthday today! Happy Birthday Angus!

"I decided to apply for the 2019 bLU cRU Oceania Junior Cup because racing is my life. Even though I have only just started road racing my ability and skills have put me at the front of many races already. I travel all over Australia and aim to compete in as many race days that I can get to. I love every part of racing. I am really looking forward to racing in the biggest collection of junior road racers in Australia. "
"I started riding motorbikes when I was 4. When I turned 7 I got a race licence to start racing Motocross, which I did for 6 months. I also found Dirt Track when I was 7 years old and I loved it from the very first race. I have now raced Dirt Track for 5 years and I have won multiple State Titles and Cup events. About 6 months ago I started my Road Racing career, I feel at home on the road. I have competed in State and Club Championships and the GP Juniors Cup in 2018."
When asked why Varis Fleming (#55) decided to apply he simply had this to say:
"because it is the only thing in my life I want to do and to learn how to be the best by beating the best and win. I want to be in the MotoGP and to become a world champion".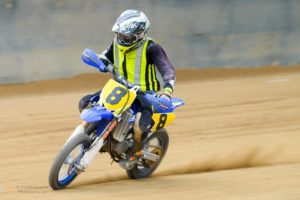 Our final comment came from racer Jamie Port (#24) who is reasonably new to Road Race but seems to have found his passion.

"I started riding a road bike about 12 months ago and had my first race back in March this year on the R15. As soon as I got on the road race track I was hooked. I just went into 2018 to learn as much as I can, so I'm over the moon to have claimed the Victorian and Club titles, and then to finish third nationally too. I know I've got a lot to learn still but I'm loving every minute of the sport. I can't wait to see what 2019 will bring. The Oceania Junior Cup is such an exciting concept, and to have 25 other kids to race with on the same bikes will be awesome. It's going to be some fantastic racing!"
Unfortunately at time of publishing this article we had not heard back from finalists Reece Oughtred (#12) . But we have no doubt we will see some great stuff from all of our Finalists.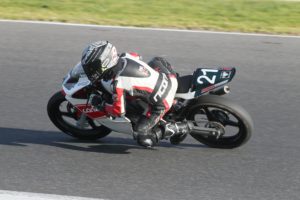 Reece Oughtred (photo: Carl Cox)
Ian Whitehead, a Motorcycling Victoria Coach, who himself has such a passion for seeing our next generation of riders progress and get involved, had a lot of encouraging things to say about the Victorian finalists:
"I am so pleased that Natalie (Barbati) decided to apply and take on this next challenge. She is a very skilled rider, I really believe this is the exact challenge she needs to become and even better!"
"I expect that Reece (Oughtred) will be fighting for the front positions, and he should do very well! Reece comes from good pedigree and is a regular at the Junior Development camps and Flat Track"
"Jamie is coming along nicely, he started out on the R15 and quickly stepped up to the R3 at the Junior Development days. I expect to see great things from Jamie"
"Angus (Grenfell) and Toby (James) have a competitive rivalry that sees them both improving at every Junior Development day."
"Toby has a history in MX and attends most of Hartwell MCC Junior Development days. He is very capable and he should excel with this challenge"
"Angus also come from a MX background, and will do well with this next challenge. Especially being up against Toby."
"After reading the profile on Patrick (Bognar), I have to say I do not recognise this rider,but if he has come from a BMX back ground and reached #2 in his age group, then he will be used to competition and have a very competitive nature, he should adapt well as BMX requires tremendous body position and movement skills, speed he will need to get used to but I would expect that to come easily and quickly, great to see new comers to road racing."
The season will kick off at the Official ASBK Test at Phillip Island on 2nd and 23rd February 2019. Full Junior Calendar for 2019 bLU cRU can be found here
Motorcycling Victoria's Road Race Junior Development dates confirmed for 2019:
January 25th 2019 – Broadford State Motorcycle Sports Complex
April 11th 2019 – Broadford State Motorcycle Sports Complex
July 12th 2019 – Broadford State Motorcycle Sports Complex
September 30th 2019 – Broadford State Motorcycle Sports Complex
Keep up to date with all the latest on the 2019 bLU cRU Oceania Junior Cup here