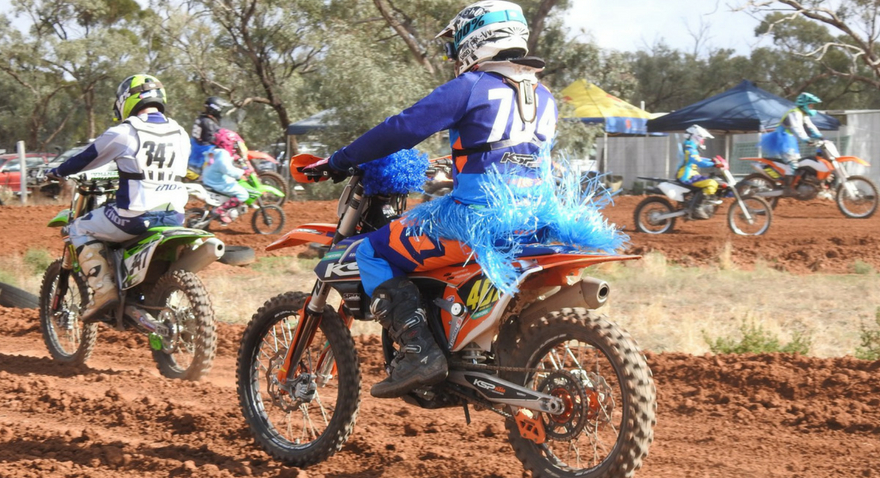 Last weekend Balranald held its round 4 Club Day that was dubbed 'Ride for River' with $8,500 being raised and going to the Rivers Road to Recovery fund!
River is a local 2 year old boy with cancer. His condition means that his family needs to constantly drive to and stay in Melbourne to be with him on his journey back into wellness. The funds raised will contribute to his treatment and also the accommodation costs for the family.
River loves the colour blue, so to make the ride day a bit more fun, everyone was asked to dress in blue, it didn't matter if it was a complete costume, themed outfit or just something you had in the wardrobe.
There were tutus galore and blue wigs everywhere you looked! They had the Cookie Monster, Sully from Monsters Inc, the Blue M&M, an Australian flag onesie and even B1 and B2 that was proudly worn by Mark Johnstone and John Funnell, who officiated the day's events!
There was an absolute sea of blue with around 500 people turning out to support the event and 77 riders – so the gates were well and truly full!
The canteen completely sold out!!
Rivers dad, Nathan and older brother, Nate were in attendance on the day. Nathan told Balranald Club representatives that River is doing quite well at the moment, but he does have a few little setbacks every now and then. River is currently undergoing chemotherapy and has lost all of his hair and now has a feeding tube. Despite all of this River remains a real battler taking everything in his stride.
After the first round, every one gathered to do a lap for River. Nathan and Nate led the charge with all of the riders falling in behind them in a flurry of blue to cruise around the track.
Mon Carmichael, Balranald's PR representative said "it was such a great vibe, everyone was so supportive. There were so many great donations for our raffle and we cannot thank all of our donors enough for their generosity".
An enormous thanks goes out to all of the local business who really dug deep and helped out. Harrison & Sons IGA who donated not only a wheelbarrow, but a 'barrow full of food and grocery items. Balranald Bakery for donating ALL of the bread for the day and Turps Tender Cut Butchery for donating ALL of the meat!
Robert Mestrom, CEO of Motorcycling Victoria commented on the success of the day "this is what our sport is all about, banding together in the tough times to help out our community".
Again thank you to all of you that have helped out Rivers Road to Recovery! Keep up the great work, and keep on riding!