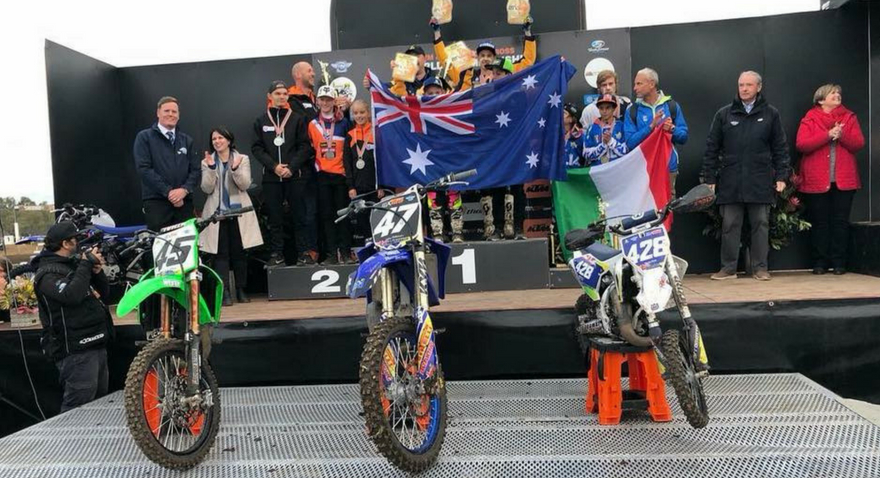 Team Australia has left the 2018 FIM World Junior Motocross Championship (WJMX) as the team to beat, taking out the Teams of Nations trophy at Horsham, Victoria. The results of Braden Plath (65cc), Brad West (85cc) and Bailey Malkiewicz (125cc) all contributed to the team success.
The Teams of Nations trophy takes the best performances from each class and puts their score together, for Australia the total of 10 was enough to take out the Team of Nations Trophy.
Team Australia Team Manager Mark Willingham was thrilled with the result and happy to perform so well on home soil; "What a weekend it was for the whole team, it had been such a busy build up for us for the event, and for the team to pull together and perform the way they did was great. Our team this year included 51 riders and they all banded together so well on and off the track, making this achievement achievable," finished Willingham.
An amazing achievement in itself to win the Team of Nations class, but to do it with two individual class victories is something else. Malkiewicz becoming the first Australian to win the 125cc WJMX title and then Plath also took out the World Cup in the 65cc class.
Brad West also played a pivotal role in the win, claiming eighth overall in the 85cc class to help clinch the win.
Australia beat out the Netherlands on a countback as the teams both ended the racing on 10 points a-piece, but as Australia had taken out two classes, the count back went Australia's way. Italy would round out the podium in third position just two points off both Australian and the Netherlands.
A massive shout out to the Kenny Watts and the Horsham Motorcycle Club for putting on a remarkable event, that ran smoothly without a hiccup. This was the first time the WJMX had ventured to Australia, and it definitely won't be one people forget in a hurry.
To see how all the Australian riders faired head to live timing.
Image Courtesy of Classic Shots Photography