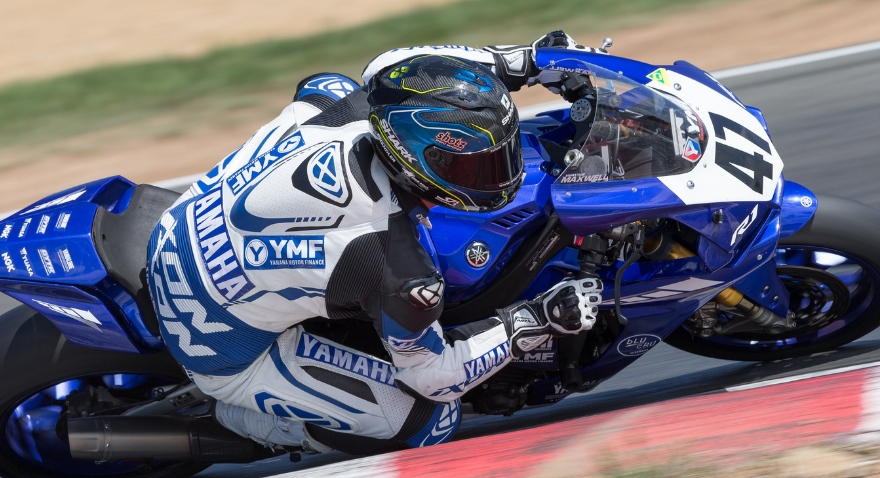 The Yamaha Motor Finance Australian Superbike Championship presented by Motul Pirelli (ASBK) is ready to kickoff once again for the Spokes.com.au presents Round 6 Winton Motor Raceway. This track has seen great wheel to wheel racing in the past and this year should be no exception. Here is what to look out for over the weekend. ASBK is also pleased to reveal the arrival of the Round 6 Digital Program which can be viewed at ASBK.com.au.
ASBK Live
Superbike action is going live on Sunday, September 9 and its going to be non-stop racing! If fans can't make it to the track make sure to tune into SBS and Fox Sports at 1:00 pm AEST. For the hard-core followers, they can view all the racing action on Facebook and ASBK.com.au through the Livestream.
The Track
Located near the local Victorian town of Benalla, Winton Motor Raceway is one of the most physically demanding tracks on the ASBK calendar. The track is very popular with motorcycle enthusiasts and lends itself to excellent spectator viewing spots. The layout plays well into the hands of any rider who is a demon under breaks and a bike that is well setup for braking stability and turn in. Bikes rarely get to reach max revs at this track and it allows riders with a power disadvantage to make the difference.
Form of the Riders
The 'In Form' rider without a doubt has to be Troy Herfoss (Penrite Honda, CBR1000SP) with his seven wins, two poles and 10 podiums for the season. The Honda rider is on a roll and his rivals will have to up their game to take the challenge to him. He now holds a 44.5 points advantage with 102 up for grab, with two rounds to go.
Throwing a spanner in the works could be Wayne Maxwell (Yamaha Racing Team, YZF-R1) who sits second in the standings. Maxwell is a Winton specialist and dominated at this track last year. He has noted that the fast and flowing layout of the track suits his R1M. The Yamaha mounted rider needs to get back to the form that saw him collect three wins earlier in the season, if he wants that number 1 plate once again.
Superbike legend Troy Bayliss (Desmosport Ducati, 1299 Panigale) has been Herfoss' greatest challenger as of late and collected his first ASBK win back at Darwin. If he can further dial in the Ducati with setup, he could be an absolute force. A costly mistake at Morgan Park where he ran wide in race two, could have cost him a tilt at the title in 2018 however.
Activities Around the Track
There will be plenty of action on and off the track at Winton. Six classes will be duking it out on the circuit including YMI Superbike, Kawasaki Supersport, Australian Supersport 300, YMF R3 Cup and the Horsell Consulting F1 and F2 Sidecars all taking part.
Make sure to also check out the Spokes.com.au Marquee which will host Q&A sessions with the riders during the lunch breaks on Saturday and Sunday. They will also be handing out plenty of prize giveaways, so make sure you swing by!
An exclusive pit lane walk opportunity is also up for grabs if you purchase a 2-day adult or 2-day concession ticket via ASBK.com.au by 11:59 PM Friday, 7 September. Fans will be able to get up close to the ASBK pits and get a signature from their favorite rider on Sunday during the lunch break!
ASBK Digital Program
ASBK is pleased to announce the arrival of the digitalised Official ASBK Round 6 Program.
The program can be found on the website ASBK.COM.AU.
Public access to the digital ASBK Program will feature many interesting and informative sections including; rider entry lists, race schedules, previous round wrap ups, championship points standings, track information, biographies, getting started in racing information, partnership information, race pictures and so much more.
Stay up to date with all the latest news and updates from ASBK by liking ASBK on Facebook, following the @asbk on Instagram and checking out the ASBK website here. To purchase your tickets for ASBK head to asbk.com.au.
Remaining 2018 ASBK Calendar Rounds
Round 6- Winton Motor Raceway, Benalla, VIC September 7 – 9
Round 7- Phillip Island Grand Prix Circuit, VIC October 12 – 14