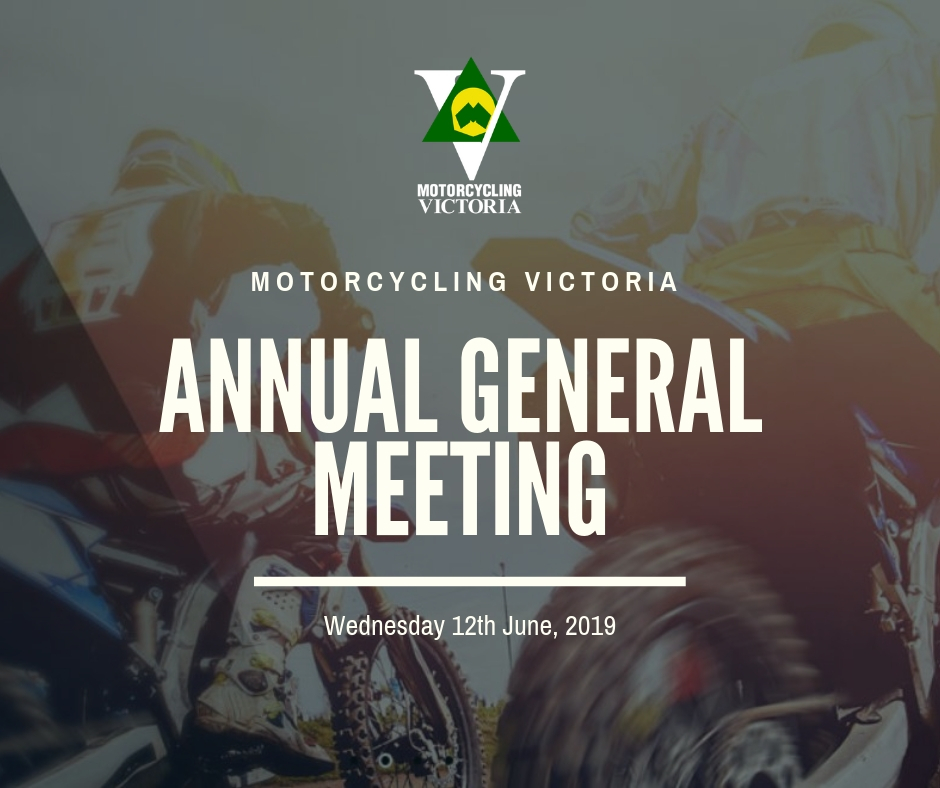 Motorcycling Victoria (MV) wish to formally announce that the 2019 Motorcycling Victoria Annual General Meeting will be held Wednesday 12th June 2019, 7.00pm at the Spotswood RSL, corner of Melbourne road and The Avenue (access via The Avenue).
The AGM will be confined to:
The Audited 2018 Accounts of Motorcycling Victoria
Motorcycling Victoria activities
Board Election
General business on notice
Please advise Rob Mestrom at robert.mestrom@motorcyclingvic.com.au as soon as possible but before Friday, May 31, 2019 of your attendance to the AGM.
2019/20 Board Election:
Nominations for the 2019/20 Motorcycling Victoria Board of Directors are now open.

Recognising the important contribution that females bring to our sport and to continue to improve on female participation in Motorcycle Sport and develop the Female Participation program, we are strongly encouraging any and all Women interested, to please step forward and put in a nomination with your clubs support.
We are seeking the perfect mix of individuals to take a seat on the board of directors.
The Board of Directors needs to be able to capture the overall requirements and any areas of concern to be addressed and reviewed at State Level. This is irrelevant of gender, and all for the better of the sport.
Nominations
The Nomination Form for the Motorcycling Victoria Board of Directors is required to be submitted to Robert Mestrom by 4PM, Wednesday, May 15 2019 to robert.mestrom@motorcyclingvic.com.au or via post to PO Box 3, Broadford, VIC, 3658.
Voting
Once nominations are received, MV will then send out candidature nominations in full immediately thereafter and Delegates and Life Members are encouraged to read these and exercise their right to postal vote or vote in person at the AGM.
Delegates
REMINDER: It is very important that all clubs provide their club delegates so they are eligible to vote.
As per the Constitution every club affiliated with MV must provide two delegates to take part in regular General Meetings and the AGMs to represent the club and its member's interests.
If you haven't provided a current list of delegates to MV please do so by 4PM, Wednesday, May 16 2018 to robert.mestrom@motorcyclingvic.com.au otherwise your club will not be entitled to vote at the AGM.
Please find attached: Notice for the 2019 Annual General Meeting.