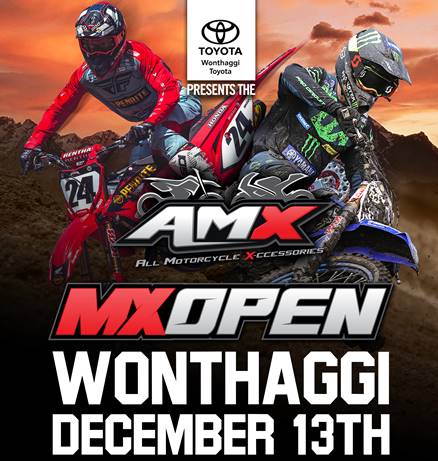 The MXOPEN will take place this side of Christmas thanks to AMX, the Dandenong Motocross Club and other leading industry partners and local businesses.
$15,000 in Prizemoney headlines the one-day Motocross spectacular. Penrite Honda, Empire Kawasaki, SP Motorsports Suzuki riders will compete against the best riders in Victoria in a winner takes all one round open. Yarrive Konsky has been working with the Dandenong Motocross Club to facilitate the AMX MXOPEN.
"We are starving for racing; it's been eight months without competition in Victoria and riders, sponsors, teams and clubs are hungry for competition. I wanted to see racing happening this side of Christmas, and I appreciate the Dandenong Motocross Clubs enthusiasm towards making this possible".
On December 13th an all-star line up of riders and teams will take to the track in an effort to win prize money, prizes and bragging rights going into Christmas.
The Dandenong Motocross Clubs president understands the need for racing and wanted to see competition happen this side of the New Year.
"We have members we want to support, an industry we need to support, and we love racing, that is why we are behind this event. Our club is made of passionate people, and we are excited to see racing resume".
Motorcycling Victoria's CEO Robert Mestrom is equally supportive of the event.
"We are getting behind this event. Yarrive, the DMCC and Motorcycling Victoria share the same passion for competition. We know that some of our members want to get back to racing and we have offered our full support to Yarrive and the DMCC" said Mestrom.
Entries are available online at www.ridernet.com.au
The AMX MXOPEN is proudly sponsored by AMX, Wonthaggi Toyota, Honda, POD, SERCO, Yoshimura, FMF, Fly Racing, Answer, FCAM Bricklaying, Ausbuilt, Rhino, FIST, McLeods, Michelin, Matrix Concepts, THOR, Delcon Civil, M9, Alpinestars, M2R Helmets, Krooztune, 100%, Bridgestone, SKDA and Leongatha Honda.
Details
Sunday, December 13th
Wonthaggi Motocross Track – Dandenong Motorcycle Club
220 W Area Rd, Wonthaggi VIC 3995
Gates open 5:45 am
Practice commences: 8:00am
Classes
C-grade 450 4-stroke

SNR Women's 

125cc and 128 – 150cc 2 Stroke 13 – Under 16

200 – 250cc 4 Stroke 13 – Under 16

Pro Lite 250cc 4-stroke (A and B classes scored separately)

65cc 9-U12

65cc – 7 -U11

85 2stk & 150cc 4stk Std & BW – 11-U15

Pro Open 450cc 4-stroke (A and B classes scored separately)

DIV 2 50cc

Vets 30 + 35+ 40+ 45+

C-grade 250 

2-stroke pre 90, pre 2000 and open – (Classes scored separately)