Albury-Wodonga MCC Skylift Hire & Rental Summer Series Round 1
Written by: Karina Marasco
Contributors: Caroline Garlick, Lori Gow, Tayla Street & Maddison Busch
This is the 7th year Albury-Wodonga Motorcycle Club has held the Skylift Hire & Rental Summer Series which kicked off with Round 1 commencing on 23rd February. With the number of riders entering each year the event is getting bigger. Round 2 starts Saturday 9th March and Round 3 finishing the series on Saturday 23rd March.
We are lucky enough to have received rider profiles from some young gun girls that competed in Round 1. Taylor Street, Maddison Busch & Lori Gow explained to us how they began their love and passion for riding to how they have grown within the sport and how they found the first round of the Skylift Series.
Tayla Street
I'll start by answering the questions I'm always asked : "how does it feel racing against men?", "aren't you afraid?", "do you feel intimidated?". The short answer is I don't know any different.
I've been riding motorbikes since I was 4, alongside my twin brother Jacob. We have always helped and challenged each other and yes we like to beat each other. In the beginning it was never about winning.
Our parents always encouraged us to be the best we can be no matter what we do. They didn't care if we came last at anything – as long as we tried our hardest.
Jacob and I started Road Racing aged nine, so gender was the last thing on my mind and yes, I've had my share of last placings along the way. I've always competed against guys.
But I've learned one big lesson along the way – the harder you train and the harder you try, success comes with it. I try not to think about winning, I think about improving, getting better. Don't take my word for it. If you've ever seen the Moto GP riders interviewed, they talk about times, consistency, improvement, and the overall championship, not where they finish. The results will take care of themselves.
Along the journey I've held the lap record at Winton Raceway, had a Round win at Phillip Island where I was the first woman to win an Aussie Title Round in the MRRDA Series for the Australian Junior Championships along with podium finishes in the Australian Junior Championships.
This is an event I very much look forward to every year, my goal this year was to make it into the Pro Open Final and the A grade 450 class, in which I did.
I hadn't had a race meet since the Vic Titles last year in November at Albury, where I gained a State Championship in the ladies class,  and with only one practice day at Broadford since, as I work most weekends now.
I won all of my ladies Class races on the night on my YZ450 and had a few good results on the YZF250, where I'm currently situated seventh , I am pretty stoked with this result so far as this is the first time I have ridden the YZF as my usual YZ125 needs some love.
As much as I am very happy with my results in the ladies Class races and my Pro 250 races, my excitement to race in the Pro 450 A Grade Class and the Pro Open classes were the highlight of my night.
For me to be able to be right in the mix with the top riders in these premier classes made me feel on top of the world. I'm currently situated in the Pro 450 A Grade Class 7th and in the Pro Open Class 6th.
Photo Credit- Juli Burns Photography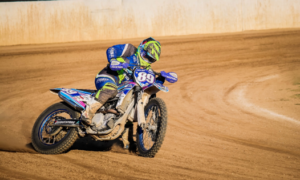 Maddison Busch
l started riding when I was seven when my auntie lent me a QR50, and I was hooked!
l then started at the Northwest Victorian MCC at the start of the next season on a TTR50 and in the following eight years have competed in every dirt track meeting they have held.
l have progressed through all the junior classes on 65s,85s,125 and now starting on a 250F.
I have competed at many State titles and been lucky enough to have a number of podium finishes in both boys and girls classes including leading the 2017 Australian junior track titles after day one and then have the heartache of an engine failure on day two.
Competing against guys and women, with much more physical strength on larger capacity machines will be tough but I'm up for a challenge and look forward to seeing how it all works out
The Skylift series in Albury is my first major meeting as a senior and after round one I am sitting in 3rd place in the pro open women.  After Skylift we head to SA for a meeting and then start our NWVMCC series.
Mildura will host the Australian senior track titles in August so that should be a great experience for me to compete against some really fast ladies.
The Vic and SA titles are on the agenda as well as other assorted meetings during the year.
l would like to thank Indulge Apartments who help make it possible for me to attend the meetings. Ànd of course my dad, none of this without would be possible him.
Lastly i would like to try and be a role model for any young girls out there who think they would like to try this sport we all love. You will make life-long  friends while having a blast on your bike.
Photo Credit- Juli Burns Photography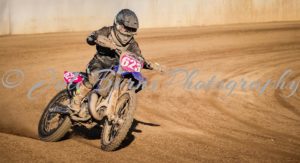 Lori Gow
I am a part of the Albury Wodonga Motorcycle Club [AWMCC] and began my journey of racing at the club non-competitively in 2013. In 2014 I began racing competitively and competed in the Troy Bayliss Classic, from there I participated in many Victorian Title championships claiming first's, second's and a third. In 2016 I competed in all the Riverina Interclub Golden Wheels series in which I came second overall in the Women's class. I have also participated in the Australian Long Track Masters at the Bathurst Showground, but was caught up in an event in the first race that lead to some injuries.
I participate in working bees as well as helping out where ever I can, whether that be on the admission gate, canteen, water truck and mentoring future up and coming junior riders.
The Albury Wodonga Motorcycle Club are and have held the 'Skylift Hire & Rentals Short Track Summer Series' for many years, which is a three-round series. In 2016 and 2018 I came first in the senior pro open women's class. This year I am currently placing second in the women's class with some tough competition, I think this is great not only for the sport but for spectators too. I am also racing in the B Grade 450's, claiming two firsts', a second and a fourth in my heats. I really enjoy racing against the boys because being a female in a male dominated sport proves that we can do anything that we put our minds to, as well as having bragging rights.
My success with motorcycle racing in this short period of five years would not have been possible without the guidance and encouragement from my father. Not only is he my mechanic and my dad, but he also races with me!
For two years now I have had the support from Blacklocks Motorcycles which has greatly contributed to my positive results.
Photo Credit – Bill MacFarlane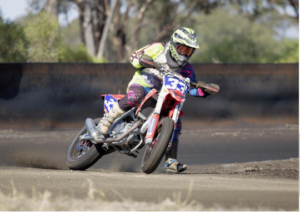 Round 1 Results: 2019 Skylift Hire & Rental Summer Track Series
Women
| | | | | | | | | |
| --- | --- | --- | --- | --- | --- | --- | --- | --- |
| Number | Rider | Club | RD1 | RD2 | RD3 | RD4 | | |
| 89 | Tayla Street | AWMCC | 25 | 25 | 25 | 25 | 100 | 1st |
| 33 | Lori Gow | AWMCC | 22 | 22 | 22 | 22 | 88 | 2nd |
| 623 | Maddison Busch | NWMCC | 20 | 20 | 20 | 20 | 80 | 3rd |
Pro 250
| | | | | | | | | | | | |
| --- | --- | --- | --- | --- | --- | --- | --- | --- | --- | --- | --- |
| NO. | Rider | Club | RD1 | RD2 | RD3 | RD4 | | | | 1 | 25 |
| 47 | Tayla Street | AWMCC | 14 | 15 | 14 | 20 | 63 | 7th | | 2 | 22 |
| 382 | Brad Burns | | 25 | 25 | 22 | 25 | 97 | 21st | | 3 | 20 |
| 514 | Jock Rogers | AWMCC | 18 | 20 | 18 | 22 | 78 | 2nd | | 4 | 18 |
| 53 | Lawson Black | ACTMCC | 15 | 16 | 20 | 14 | 66 | 6th | | 5 | 16 |
| 346 | Brad Whitehouse | AWMCC | 22 | 22 | 16 | 15 | 75 | 4th | | 6 | 15 |
| 435 | Jayden Costarella | AWMCC | 20 | 14 | 25 | 16 | 75 | 3rd | | 7 | 14 |
| 63 | John Haynes | AWMCC | 13 | 13 | 13 | 12 | 51 | 8th | | 8 | 13 |
| 623 | Maddison Busch | NWMCC | 12 | 11 | 12 | 11 | 46 | 9th | | 9 | 12 |
| 44 | Ben Arnold | | 16 | 18 | 15 | 18 | 67 | 5th | | 10 | 11 |
| 15 | John Selva | | 11 | 12 | 0 | 13 | 36 | 10th | | 11 | 10 |
Pre 90
| | | | | | | | | |
| --- | --- | --- | --- | --- | --- | --- | --- | --- |
| Number | Rider | Club | RD1 | RD2 | RD3 | RD4 |   | |
| 51 | Graeme Anderson | AWMCC | 22 | 20 | 0 | 20 | 62 | th |
| 3 | Colin Carey | AWMCC | 0 | 0 | 18 | 18 | 36 | 9th |
| 99 | Gavin Grant | AWMCC | 18 | 18 | 16 | 18 | 72 | 5th |
| 89 | Garry Walsh | Myrtleford | 20 | 0 | 18 | 20 | 58 | 8th |
| 382 | Brad Burns | Kurri Kurri | 25 | 25 | 25 | 25 | 100 | 1st |
| 90 | Simon Hampton | AWMCC | 22 | 22 | 22 | 0 | 66 | 6th |
| 9 | John Selva | GVMCC | 0 | 0 | 0 | 0 | 0 | |
| 3 | Charley Wallace | AWMCC | 0 | 0 | 0 | 0 | 0 | |
| 73 | Clinton Doller | HCV | 18 | 20 | 20 | 22 | 80 | 4th |
| 121 | Ray Stevens | HCV | 25 | 22 | 22 | 25 | 94 | 2nd |
| 257 | Billy Ricardo | HCV | 20 | 25 | 25 | 22 | 92 | 3rd |
Pro 450
| | | | | | | | | |
| --- | --- | --- | --- | --- | --- | --- | --- | --- |
| Number | Rider | Club | RD1 | RD2 | RD3 |   | RD4 | FinaL Totals |
| 82 | Hunter Anderson | | 16 | 18 | 20 | 54 | 14 | 68 |
| 34 | Jesse Davies | | 22 | 25 | 25 | 72 | 25 | 97 |
| 524 | Banjo Rogers | AWMCC | 14 | 16 | 14 | 44 | 5 | 49 |
| 514 | Jock Rogers | AWMCC | 20 | 18 | 15 | 53 | 13 | 66 |
| 11 | Matthew Sims | Kurri Kurri | 15 | 14 | 16 | 45 | 7 | 52 |
| 39 | Josh Antone | AWMCC | 25 | 20 | 25 | 70 | 18 | 88 |
| 382 | Brad Burns | | 20 | 25 | 18 | 63 | 15 | 78 |
| 71 | Jay Herne | AWMCC | 22 | 22 | 20 | 64 | 20 | 84 |
| 8 | Mark Jones | AWMCC | 25 | 22 | 22 | 69 | 22 | 91 |
| 22 | Brendan McCowat | | 13 | 15 | 13 | 41 | 9 | 50 |
| 23 | Chris Seaton | AWMCC | 18 | 20 | 22 | 60 | 16 | 76 |
| 89 | Tayla Street | | 18 | 15 | 16 | 49 | 12 | 61 |
| 121 | Ray Stevens | HCV | 0 | 0 | 0 | 0 | 0 | 0 |
| 72 | Tom Morton | | 16 | 14 | 13 | 43 | 0 | 43 |
| 411 | Jake Filsell | HCV | 11 | 12 | 12 | 35 | 6 | 41 |
| 678 | Bryce Holmes | HCV | 15 | 13 | 18 | 46 | 11 | 57 |
| 17 | Kelvin Wallace | AWMCC | 12 | 16 | 15 | 43 | 10 | 53 |
| 4 | Mitch Harper | | 12 | 0 | 14 | 26 | 8 | 34 |
|   | | | | | | | | |
| 872 | Zac Arnold | AWMCC | 20 | 20 | 22 | 62 | | 62 |
| 33 | Lori Gow | AWMCC | 25 | 25 | 18 | 68 | 15 | 83 |
| 12 | Gavin Grant | AWMCC | 22 | 20 | 16 | 58 | 14 | 72 |
| 62 | Chris Hume | | 16 | 18 | 18 | 52 | 13 | 65 |
| 995 | Rhys McCartney | | 18 | 18 | 20 | 56 | 18 | 74 |
| 5 | Tony Nagel | | 20 | 16 | 20 | 56 | 22 | 78 |
| 15 | Gordon Wallace | AWMCC | 25 | 22 | 22 | 69 | 25 | 94 |
| L | Charley Wallace | AWMCC | 18 | 25 | 25 | 68 | 20 | 88 |
| 346 | Brad Whitehouse | AWMCC | 22 | 22 | 25 | 69 | 16 | 85 |
Open Pro
| | | | | | | | | |
| --- | --- | --- | --- | --- | --- | --- | --- | --- |
| Number | Rider | Club | RD1 | RD2 | RD3 |   | RD4 | |
| 89 | Tayla Street | | 20 | 13 | 15 | 48 | 12 | 60 |
| 23 | Chris Seaton | AWMCC | 22 | 20 | 22 | 64 | 15 | 79 |
| 22 | Brendan McCowat | | 16 | 15 | 14 | 45 | 5 | 50 |
| 39 | Josh Antone | AWMCC | 20 | 16 | 25 | 61 | 16 | 77 |
| 382 | Brad Burns | | 14 | 25 | 20 | 59 | 11 | 70 |
| 71 | Jay Herne | AWMCC | 25 | 25 | 22 | 72 | 18 | 90 |
| 8 | Mark Jones | AWMCC | 13 | 20 | 20 | 53 | 22 | 75 |
| 524 | Banjo Rogers | AWMCC | 16 | 14 | 15 | 45 | 0 | 45 |
| 514 | Jock Rogers | AWMCC | 18 | 14 | 18 | 50 | 14 | 64 |
| 19 | Max Rowlands | HCV | 0 | 22 | 0 | 22 | 10 | 32 |
| 82 | Hunter Anderson | | 18 | 16 | 16 | 50 | 13 | 63 |
| 24 | Aden Clare | AWMCC | 25 | 22 | 25 | 72 | 25 | 97 |
| 34 | Jesse Davies | | 22 | 18 | 18 | 58 | 20 | 78 |
| 72 | Tom Morton | | 15 | 13 | 0 | 28 | 0 | 28 |
| 411 | Jake Filsell | HCV | 13 | 11 | 13 | 45 | 6 | 51 |
| 678 | Bryce Holmes | HCV | 14 | 12 | 16 | 42 | 7 | 79 |
| 4 | mitch harper | | 15 | 16 | 13 | 44 | 9 | 50 |
| 17 | Kelvin Wallace | | 14 | 18 | 14 | 46 | 8 | 54 |
|   | | | | | | | | |
| L | Charley Wallace | AWMCC | 22 | 25 | 22 | 69 | 18 | 87 |
| 435 | Jayden Costarella | AWMCC | 0 | 20 | 25 | 45 | 25 | 70 |
| 63 | John Haynes | AWMCC | 18 | 18 | 15 | 51 | 15 | 66 |
| 15 | Gordon Wallace | AWMCC | 25 | 22 | 25 | 72 | 22 | 94 |
| 40 | Mitch Wolfe | AWMCC | 20 | 25 | 20 | 65 | 14 | 79 |
| 62 | Chris Hume | | 16 | 16 | 16 | 48 | 13 | 61 |
| 5 | Tony Nagel | | 0 | 0 | 0 | 0 | 0 | 0 |
| 872 | Zac Arnold | AWMCC | 22 | 18 | 18 | 58 | 0 | 58 |
| 78 | Colin Carey | AWMCC | 20 | 20 | 20 | 60 | 0 | 60 |
| 602 | Ben Hall | AWMCC | 18 | 0 | 0 | 18 | 0 | 18 |
| 44 | ben arnold | AWMCC | 25 | 22 | 22 | 69 | 20 | 89 |
Over 35
| | | | | | | | | |
| --- | --- | --- | --- | --- | --- | --- | --- | --- |
| Number | Rider | Club | RD 1 | RD2 | RD3 | RD4 | | |
| 57 | Jarred Anskaitis | | 22 | 22 | 20 | 22 | 86 | 2nd |
| 78 | Colin Carey | AWMCC | 14 | 14 | 14 | 14 | 56 | 7th |
| 12 | Gavin Grant | AWMCC | 18 | 16 | 16 | 18 | 68 | 5th |
| 963 | David Hope-Hodgetts | Kurri | 15 | 15 | 15 | 15 | 60 | 6th |
| 62 | Chris Hume | HCV | 12 | 13 | 13 | 13 | 51 | 8th |
| 40 | Mitch Wolfe | AWMCC | 20 | 20 | 22 | 20 | 82 | 3rd |
| 39 | Josh Antone | AWMCC | 25 | 25 | 25 | 25 | 100 | 1st |
| 78 | Tim Gray | | | | 0 | | 0 | |
| 73 | Clinton Doller | HCV | 16 | 18 | 18 | 16 | 68 | 5th |
Over 50
| | | | | | | | | |
| --- | --- | --- | --- | --- | --- | --- | --- | --- |
| Number | Rider | Club | RD1 | RD2 | RD3 | RD4 | | |
| V154 | Glenn McAliece | AWMCC | 11 | 11 | 13 | 14 | 49 | 8 |
| 5 | George Baker | AWMCC | 14 | 15 | 16 | 15 | 60 | 6 |
| 15 | John Selva | GVMCC | 20 | 18 | 18 | 18 | 74 | 4 |
| 5 | Tony Nagel | | 12 | 22 | 25 | 25 | 84 | 2 |
| 51 | Graeme Anderson | AWMCC | 18 | 16 | 0 | 0 | 34 | 9 |
| 12 | Simon Hampton | AWMCC | 25 | 25 | 22 | 22 | 94 | 1 |
| 89 | Garry Walsh | Myrtleford | 13 | 12 | 14 | 13 | 52 | 7 |
| 46 | Greg Antone | AWMCC | 16 | 14 | 15 | 16 | 61 | 5 |
| 121 | Ray Stevens | HCV | 22 | 20 | 20 | 20 | 82 | 3 |
| 602 | Ben Hall | AWMCC | 15 | 13 | 0 | 0 | 28 | 10 |
Junior 250
| | | | | | | | | |
| --- | --- | --- | --- | --- | --- | --- | --- | --- |
| Number | Rider | Club | RD1 | RD2 | RD3 | RD4 | | |
| 8 | Michael West | ACTMCC | 18 | 0 | 0 | 0 | 18 | 5 |
| 23 | Remmie Fyffe | AWMCC | 25 | 25 | 25 | 25 | 100 | 1 |
| 100 | Zane Kinna | AWMCC | 20 | 20 | 20 | 20 | 80 | 3 |
| 95 | Toby McDonald | AWMCC | 16 | 18 | 18 | 18 | 70 | 4 |
| 59 | Tom Drane | Kurri Kurri | 22 | 22 | 22 | 22 | 88 | 2 |
65cc
| | | | | | | | | |
| --- | --- | --- | --- | --- | --- | --- | --- | --- |
| Number | Rider | Club | RD1 | RD2 | RD3 | RD4 | | |
| 7 | Sam Drane | Forbes | 22 | 22 | 22 | 22 | 88 | 2nd |
| 8 | Teerin Fleming | Kurri Kurri | 18 | 18 | 16 | 18 | 70 | 4th |
| 6 | Hugh Hope-Hodgetts | Kurri Kurri | 15 | 16 | 18 | 0 | 49 | 6th |
| 291 | Hamish Bibby | Kurri Kurri | 25 | 25 | 25 | 25 | 100 | 1st |
| 23 | Jed Fyffe | AWMCC | 20 | 20 | 20 | 20 | 80 | 3rd |
| 28 | Tommy Wright | HCV | 15 | 15 | 15 | 16 | 61 | 5th |
| | | | | | | | | |
| --- | --- | --- | --- | --- | --- | --- | --- | --- |
| Number | Rider | Club | RD1 | RD2 | RD3 | RD4 | | |
| 8 | Varis Fleming | Kurri Kurri | 22 | 22 | 22 | 22 | 88 | 2nd |
| 173 | Beau Bailey | Forbes | | | | 0 | | |
| 1 | Archie McDonald | AWMCC | 25 | 25 | 25 | 25 | 100 | 1st |
| 36 | Oli Bergic | AWMCC | 16 | 18 | 18 | 0 | 52 | 6th |
| 32 | Mitchell Carrick | | 20 | 16 | 16 | 16 | 68 | 4th |
| 5 | Riley Plum | | 18 | 20 | 20 | 20 | 78 | 3rd |
| 21 | Ben Bloomfield | HCV | 15 | 15 | 15 | 18 | 63 | 6th |
Slider
| | | | | | | | | |
| --- | --- | --- | --- | --- | --- | --- | --- | --- |
| Number | Rider | Club | RD1 | RD2 | RD3 | RD4 | | |
| 382 | Brad Burns | | 22 | 22 | 20 | 20 | 84 | 2nd |
| 19 | Max Rowlands | HCV | 0 | 0 | 22 | 22 | 44 | 5th |
| 57 | Jared Anskaitis | | 18 | 20 | 18 | 18 | 74 | 3rd |
| 24 | Aden Clare | AWMCC | 25 | 25 | 25 | 25 | 100 | 1st |
| 257 | Billy Ricardo | HCV | 20 | 18 | 16 | 0 | 54 | 4th |
50cc Non-Comp
| | | | | | | |
| --- | --- | --- | --- | --- | --- | --- |
| Number | Rider | Club | RD1 | RD2 | RD3 | RD4 |
| 304 | Chad Arden | AWMCC | | | | |
| 44 | Miles Arden | AWMCC | | | | |
| 454 | Archie Calvert | AWMCC | | | | |
| 3 | Dustin Carey | AWMCC | | | | |
| 4 | William Cross | Kurri Kurri | | | | |
| 29 | Mitchell Forrest | AWMCC | | | | |
| 22 | Cole O'Niell | AWMCC | | | | |
|   | Charlie Spence | AWMCC | | | | |
| 213 | Cooper Antone | AWMCC | | | | |
| 446 | Ashden Locke | AWMCC | | | | |
| 44 | Matthew West | AWMCC | | | | |
| 23 | Caden Smith | AWMCC | | | | |
| | Tilly Wailes | | | | | |
50cc Comp
| | | | | | | |
| --- | --- | --- | --- | --- | --- | --- |
| Number | Rider | Club | RD1 | RD2 | RD3 | RD4 |
| 23 | Jed Fyffe | AWMCC | 25 | 25 | 25 | 25 |
| 10 | Teerin Fleming | Kurri Kurri | 22 | 22 | 0 | 22 |
Junior 125
| | | | | | | | | |
| --- | --- | --- | --- | --- | --- | --- | --- | --- |
| Number | Rider | Club | RD1 | RD2 | RD3 | RD4 | | |
| 23 | Remmie Fyffe | AWMCC | 22 | 22 | 25 | 25 | 94 | |
| 100 | Zane Kinna | AWMCC | 20 | 20 | 20 | 0 | 60 | 4th |
| 59 | Tom Drane | Forbes | 25 | 25 | 22 | 22 | 94 | |
| 95 | Toby McDonald | AWMCC | 18 | 18 | 18 | 20 | 74 | 3rd |
85cc 9-11
| | | | | | | | | |
| --- | --- | --- | --- | --- | --- | --- | --- | --- |
| Number | Rider | Club | RD1 | RD2 | RD3 | RD4 | | |
| 173 | Beau Bailey | Forbes | 25 | 0 | 0 | | 25 | 3rd |
| 36 | Oli Bergic | AWMCC | 22 | 25 | 25 | 25 | 97 | 1st |
| 21 | Ben Bloomfield | HCV | 20 | 22 | 22 | 22 | 86 | 2nd |
85cc 11-13
| | | | | | | | | |
| --- | --- | --- | --- | --- | --- | --- | --- | --- |
| Number | Rider | Club | RD1 | RD2 | RD3 | RD4 | | |
| 5 | Riley Plum | HCV | 20 | 20 | 20 | 20 | 80 | 3rd |
| 12 | Blake Keenes | AWMCC | 13 | 13 | 15 | 13 | 54 | 8th |
| 43 | William Groat | | 18 | 18 | 18 | 18 | 72 | 4th |
| 1 | Archie McDonald | AWMCC | 22 | 22 | 25 | 22 | 91 | 2nd |
| 8 | Varis Fleming | Kurri Kurri | 16 | 16 | 16 | 16 | 64 | 5th |
| 30 | Tom West | AWMCC | 15 | 15 | 13 | 14 | 57 | 7th |
| 507 | Michael Cogdell | Myrtleford | 25 | 25 | 22 | 25 | 97 | 1st |
| 5 | Jack West | AWMCC | 14 | 14 | 14 | 15 | 57 | 6th |