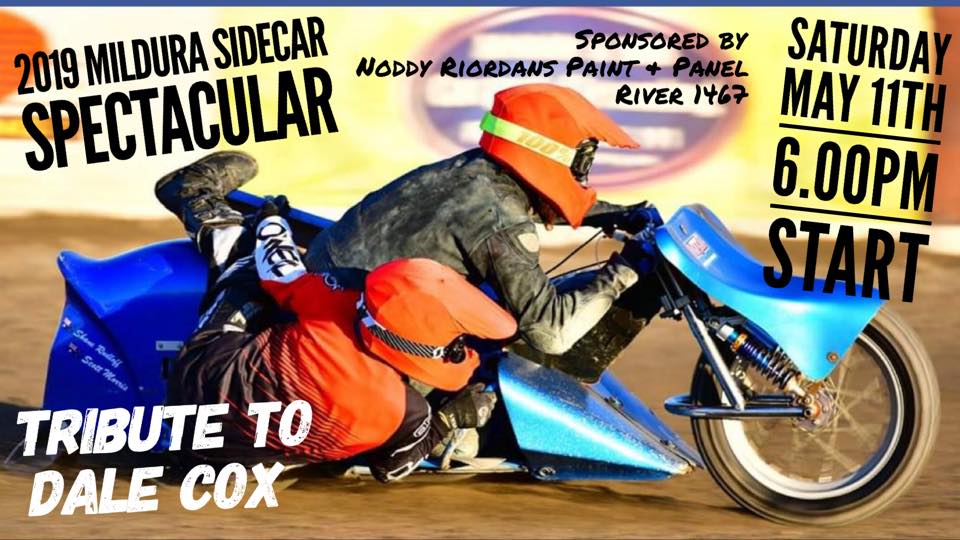 SIDECAR SPECTACULAR SET TO EXCITE
Publicist: Brendon Gledhill
The Riordan's Paint and Panel, 42nd Mildura Sidecar Spectacular is set to warm up Olympic Park on Saturday night. An early start time of 6:30 has been set to ensure that our valued patrons are not kept out in the cold for too long. It is expected that the action on the track will be hot enough to warm up the great crowd of spectators who are likely to attend.
Newly crowned FIM 1000cc World Sidecar Speedway Champions, Warren Monson and Andrew Summerhayes will enjoy coming "home" to Mildura to celebrate their second win in the FIM Sidecar Cup, a meeting which they won on 6th April and then, as they did in 2017, backed up on the following night by winning the 2019 Oceania Sidecar Championship.
Monson / Summerhayes are the only riders to have achieved the "double up" of both the World and Oceania Titles and have achieved the feat twice.
The "Full Noise" race team have enjoyed this season immensely, just missing out on their first Australian Championship in Townsville over the Easter weekend, coming second behind the amazing Darrin Treloar / Blake Cox.. They have been riding in great form and have recorded some of the fastest times at many tracks around the country this year.
By virtue of their Number 1 World plate, Monson / Summerhayes will start off in the number 1 spot for the Spectacular. The powerful Monson tuned machine is expected to be running very well for the meeting and the team confidence should be at its peak for the final meeting for the season.
A second dual World Champion, Mick Headland / Brenton Kerr, will be trying to change their season around with a late win in the important event on Australia's Speedway Calendar.       Mick seems to have only had bad luck at many meetings around the nation this year and the coveted Australian Title still eludes him after many years of trying., so another "Speccy" win would be ideal for him.
2009 Australian Champion, Mark Mitchell / Tony Carter will want to get into immediate contention as Mitchell won his Australian Title here at Mildura and has always liked the surface at Olympic Park.
Many other visiting riders will fancy their chances at this Spectacular, amongst them being the family team of Aaron and Teagan Hartwig, and this year's podium placer in the National Title in Sam Harrison, this meeting with local passenger, Darcy Risstrom in the chair. Harrison has been in great form this year and his first hit out at Olympic Park is one where  he will want to achieve his best result.
Damien Niesche / Mitch Spear are back for another attempt at the main prize, having won the Sidecar Spectacular before as will fellow Adelaide riders Dean Hobbs / Glen Zaworski , who enjoy to ride Mildura as often as possible.
Broken Hill's Rick "The Bartman" Stephens / Nick O'Brien are also engaged in the 42nd running of this prestigious event. Bart has always been a popular rider at Mildura and he joins fellow Silver City riders, Darren Howse / Jack Wheeler, who are always in with a chance around Mildura. Tradition continues with the Broken Hill based riders who are always keen to do well at Olympic Park. Stephens is fresh from a "B" Final chance at Townsville. Fellow NSW riders are Nathan Johnson / Dylan Schwikert.
Mildura welcomes the WA team of Reece Liptrott / Jesse Thomas, who come with a strong reputation. They will enjoy the track at Olympic Park and we all wish them well. This is probably the earliest hit out from anyone who has aspirations for the 2020 Australian Sidecar Title, which will be held here next year.
A host of locals along with the World Champions, are headed up by Byren Gates / Mick O'Loughlin, President, Neale Hancock / Tubs Johnson, AJ Pearce / Eli Bock, Simon Cohrs / Reece Farr and nearly local, Mark Radford / Blake Halls for their first run for this year.
Past Winners of the annual Sidecar Spectacular are Monson/ Summerhayes, Headland / Kerr, Niesche / Spear and Gates / O'Loughlin, so the pressure will be on right from Heat one to the Riordans Paint & Panel Final of the night.
Racing will be fast and furious, even though it is expected that the riders will want to enjoy the meeting, especially in memory of their late passenger friend, Dale Cox.                              "Coxy" was very passionate about the sport which he had really just begun, but it was a sport where he was embraced by all involved.
Support events will be provided by a full strength field of Classic Sidecars, with five of the eight candidates being locals, which shows the importance of the division within speedway in Mildura.  Visitors, are regulars too, with Rob Kemp again coming down from Broken Hill to mix it with the locals on the Waters machines. Johnny Bennett also, is always at Mildura showing off his orange and blue colours to the fore while Paul Snadden is now keen on the division, once he started coming to Mildura.
Best placed to take the top points would have to be the family team of Chris and Hannah Holmes, who always circulate well after usually making good starts as does Horrie Hollis, with our Classic organiser, Rex Byrne in the chair. Chris Wakefield / Aden McCarthy are always good for a shot as are youngsters, Jake Zoch / Brady Bowen and brother, Marc Bowen / Jarrod Woods
The first Junior Winter Series meeting will kick off from 4:00 pm. This is a Leigh Adams organized "Teams" meeting, so the Club is pleased that the focus again returns to teams events to start the Winter competition for the kids.
Olympic Park gates will open to the public at 4:00pm, with the rider Introduction and Presentation set to begin at 6:00pm, immediately after the Junior program concludes.  The riders will pause in tribute to the late Dale Cox, after which Brad Ferguson will lead the Classic machines on a parade lap.
Bikes taking part in the STE Engineering "Dash for Cash" will remain on the infield, do their Dash of Cash and then retreat into the Pits to await the start of the 42nd Sidecar Spectacular.
Patrons are asked to join with the Club in paying tribute to the life of former passenger, Dale, as we offer our deepest sympathy and respect to Dale's family and friends.
Ends  ……………………..                                                               8th May  2019.
For further information, Contact:
Ph: 03 5027 4225
Mob: 0419 174 225
Email: gledhillbj@bigpond.com