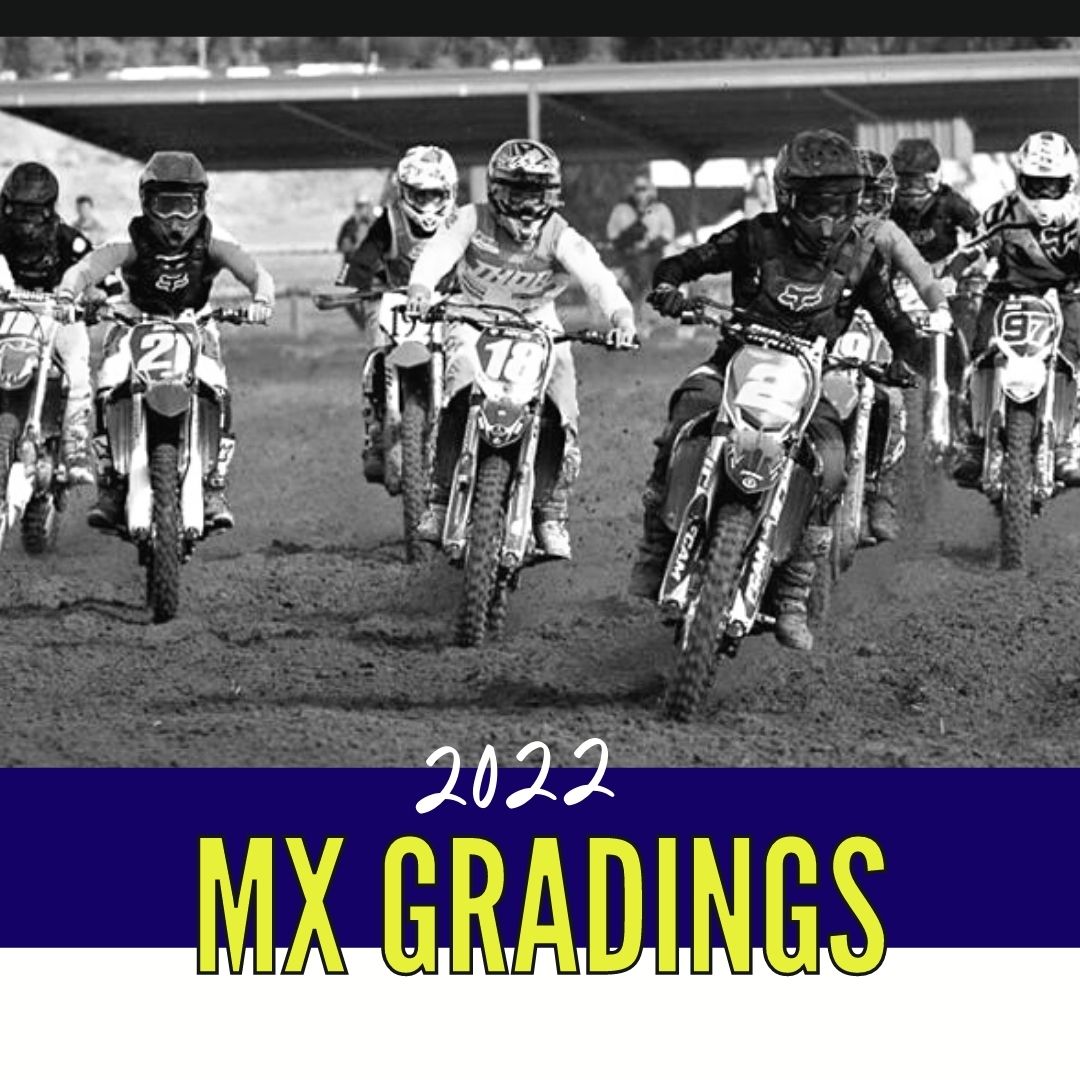 9 November, 2021
2022 MOTOCROSS GRADINGS
MX Management Committee have reviewed the races that were able to be run in 2021.
Congratulations to all the riders who have been regraded ahead of our return to racing in 2022.
The Motocross Management Committee is looking forward to putting on an enjoyable State Title series in 2022.
Especially looking forward to seeing everyone back racing again in the new COVID normal.
Additionally the Motocross Management Committee would like to thank the individuals who have volunteered their time and effort to come onto the Committee to make sure this season will be a good one.
If you wish to contact the committee, please use the following emails:
mxsecretary@motorcyclingvic.com.au  for all General enquiries
mxsenior@motorcyclingvic.com.au for Senior Title enquires
mxjunior@motorcyclingvic.com.au for Junior Title enquires.
Below is the list of riders who have been regraded ahead of the return to racing in 2022.
SENIOR RIDERS:
Senior C to B
Senior B to A
·         Kurtis Cameron

·         Aiden Keady

·         Benjamin Birch

·         Cameron McPherson

·         Ebony Harris

·         Jake McMillan

·         Justin Stafford

·         Keiran Hilderbrand

·         Kyle Pengelly

·         Luke Taylor

·         Mason Gardiner

·         Max Royle

·         Nathan Trengove

·         Rhys Wood

·         Rick Kelly

·         Ryan Floate

·         Sam Jones-Hague

·         Wil McGannon

·         Blake Bardell

·         Boyd Hocking

·         Braydon Young

·         Brodie Petschauer

·         Connar Adams

·         Cooper Krezlik

·         Harrison Finlay-Smith

·         Isaac Wilkin-Thom

·         Kallam Orchard

·         Luke Bell

·         Mathew Clyne

·         Reilly Lynch

·         Scott O'connor

·         Thomas Chapman

·         Zane Mackintosh
JUNIOR RIDERS:
OVER 12 C TO B
OVER 12 B TO A
UNDER 12 C TO B
UNDER 12 B TO A
·         Edward Whitehead

·         Bailey Marcus

·         Bailey Tuddenham

·         Christopher Williams

·         Cohen Prout

·         Fletcher Thompson

·         Harvey Findlay

·         Harvey Webb

·         Jack Silcock

·         Jacob Bayley

·         Jayven Tanner

·         Jet Bennett

·         Jye Caruana

·         Jye Smith

·         Logan Scott

·         Max Boyer

·         Oskar Kimber

·         Reagan Mayes

·         Thomas Jones

·         Codi Vanderlei

·         Adam Hood

·         Emily Lambert

·         Jack Maher

·         Jack Stacey

·         Jack Wilson

·         Jackson Little

·         Judd Rumbelow

·         Knox Chalmers

·         Lachlan Dean

·         Mitchell Walsh

·         Olivia Kimball

·         Rory Arabin NSW

·         Seth Langman

·         Tony Spinelli

·         Chase Tuddenham

·         Cody Dunne

·         Cooper Berg

·         Cooper Byrnes

·         Jensen Nash

·         Jett Barclay

·         Kai Delany

·         Kaide Tenance

·         Koby Alberico

·         Koby Binnion

·         Lachlan Vincent

·         Lewis Carafa

·         Lucius Stivala

·         Marco Costa

·         Mason Wyatt

·         Max Oakley

·         Patrick O'Bryan

·         Syd O'Brien

·         Tripp Smith

·         Curtis Morrison

·         Harry Gilberston

·         Hunter Cameron

·         Nate Waldie

·         Ryder Trickey

·         Xzavier Moore