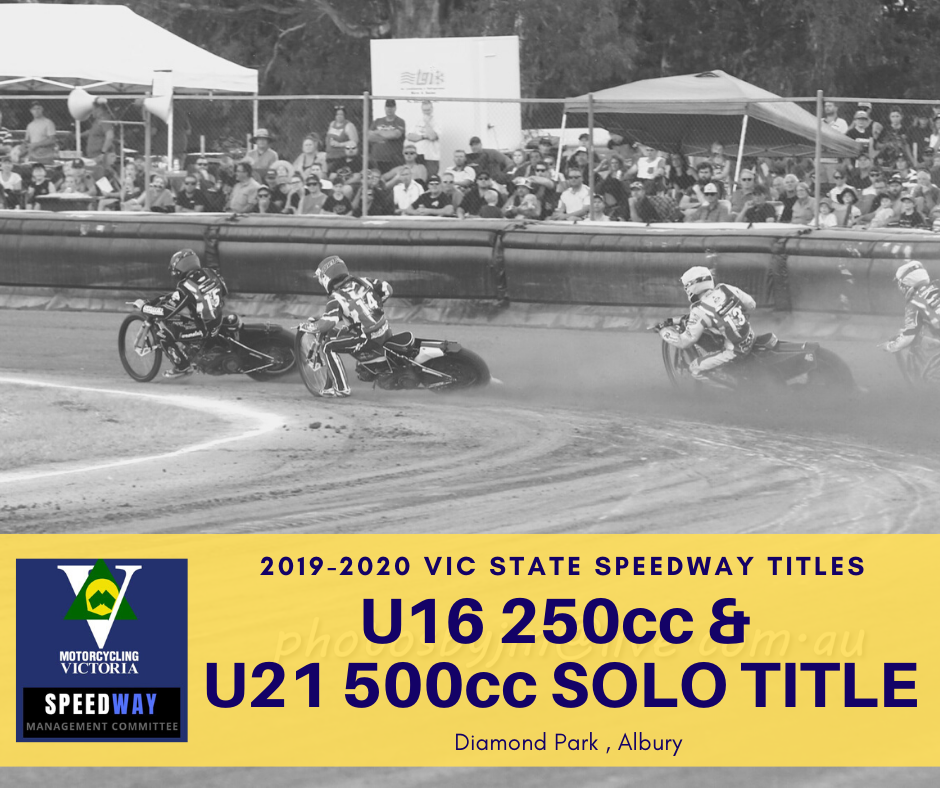 2019/2020 VIC SPEEDWAY U16 250cc & U21 500cc SOLO TITLE – FINAL FIELD ANNOUNCED
The Motorcycling Victoria Speedway Management Committee are please to announce the Final Field for the 2019/2020 Vic Speedway U16 250cc & U21 500cc Solo Title at Diamond Park, Albury on Saturday 14th December 2019.
We would like to Thank everyone who took the time to submit a nomination for this Victorian Speedway Title, and Congratulate everyone on making the final field.
2019/2020 U16 250cc Solo Title:
Joshua Beetham
Maurice Brown
Michael Codgell
Jasper Freebairn
Lachlan Hayes
Flynn Nicol
Bradley Page
James Pearson
Tate Zischke
2019/2020 U21 500cc Solo Title:
Aden Clare (NSW)
Zach Cook (NSW)
James Crundwell (VIC)
Matthew Gilmore (NSW)
Isaiah Hartley (VIC)
Isaac Hawes (NSW)
Jacob Hook (QLD)
Declan Knowles (VIC)
Jedd List (QLD)
Liam May (SA)
Cordell Rogerson (QLD)
Bailey Viner (QLD)
Jack Morrison (VIC)
Oliver Hamilton (VIC)
Patrick Hamilton (VIC)
Mitchell Cluff (NSW)
We ask that you now visit RiderNet to enter the event – Entries for this event close Monday 9th December .
If you require any assistance with the entry process please contact Meghan Hayes at Motorcycling Victoria (03) 5784 2827.