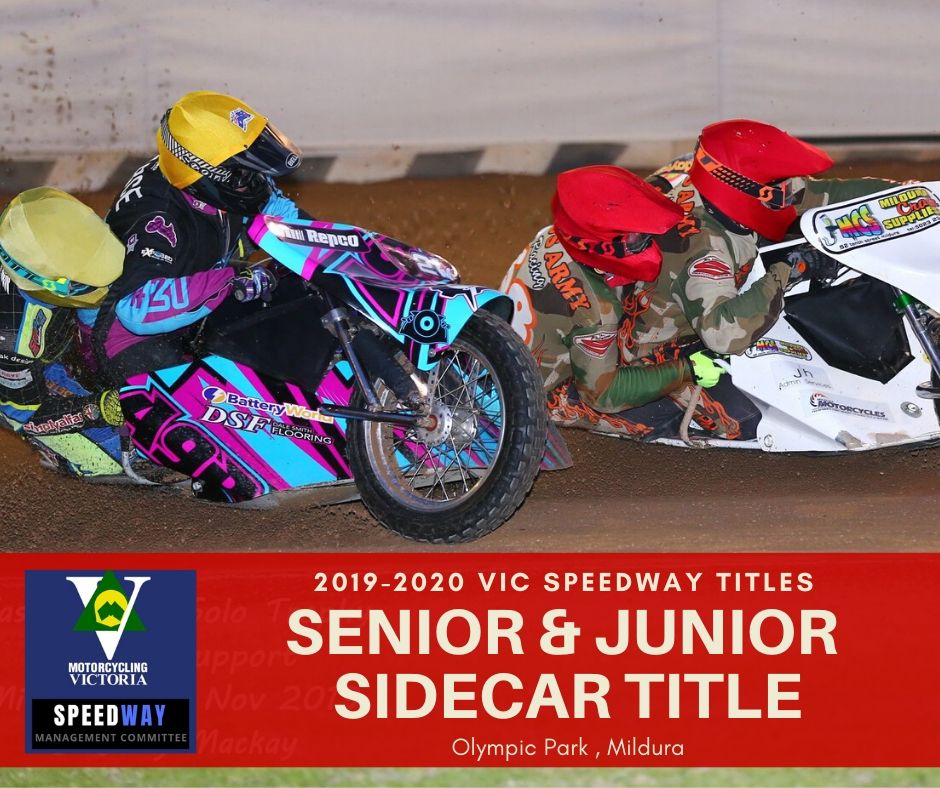 2019/2020 VIC SPEEDWAY SENIOR & JUNIOR SIDECAR TITLE – FINAL FIELD ANNOUNCED
The Motorcycling Victoria Speedway Management Committee are please to announce the Final Field for the 2019/2020 Vic Speedway Senior & Junior Sidecar Title at Olympic Park, Mildura on Saturday 4th January 2020.
We would like to Thank everyone who took the time to submit a nomination for this Victorian Speedway Title, and Congratulate those who made the final field.
2019/2020 Senior Sidecar Title:
Mark Plaisted  (Ben Pitt)
Neale Hancock  (Brendan Johnson)
Mick Headland  (Brenton Kerr)
Richard Stephens  (Nick O'Brien)
Byren Gates  (Michael O'Loughlin)
Shane Rudloff  (Scott Morris)
Warren Monson  (Andrew Summerhayes)
Rick Howse  (Adam Commons)
Darren Howse  (Jack Wheeler)
Nathan Fleet  (Aryton Canning)
Sam Harrison  (Jacob Lynd)
Simon Cohrs  (Reece Farr)
Damien Niesche  (Mitchell Spear)
Adon Pearce  (Eli Brock)
Dave Bottrell  (Darcy Risstrom)
Clint Mayes  (Sean Coleby)
Reserves:  
1st  Brad Pitt
2nd  Nathan Cock
2019/2020 Junior Sidecar Title:
Max Howse  (Riley Commons)
Connor Curran  (Brodie Kress)
Jake Treloar  (Isaac Mitchell)
Jackson Milner  (Adam Niesche)
Madison Kerss  (Riley Plum)
Brady Tickle  (Mitchell Withers)
All successful riders must contact the Mildura Motorcycle Club who are hosting this State Title, to find out how to enter and for a copy of the Sup Regs.