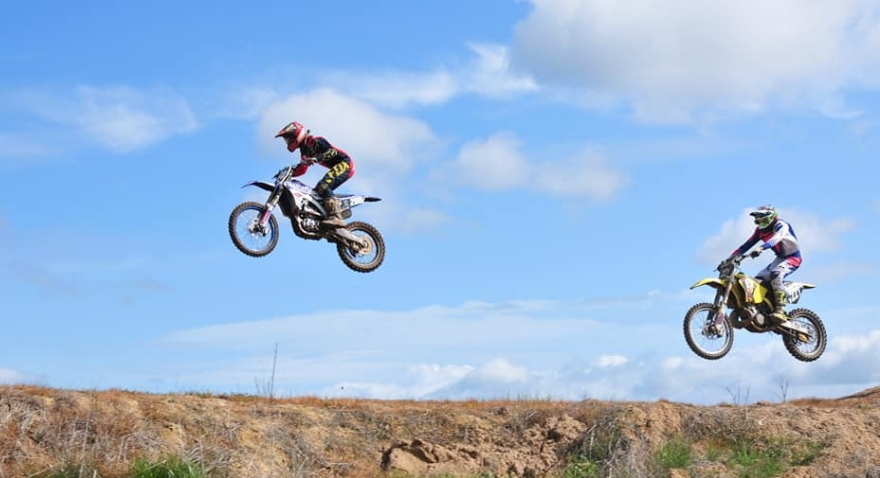 Hosted by the Winton Motocross club on Sunday the 9th of September 2018, the Northern Regions ran its final round of the series for 2018, followed by a trophy presentation.
The Winton Motocross club put in an amazing effort to get the track up to the standards that they did! It was absolutely perfect, you could not have asked for a more perfect day. The surface was nice and tacky and also looked like there was a bit of sand mixed in there making it nice and deep and loamy.
In the girls class, Madi Healey took out the round with a great performance. Overall Healey finished up 3rd in the Regions with missing 3 round adding up for her allowing Olivia Kimball to take out the region win with her consistency. Elli Hay brought home second place for both the round and the series showing consistency is the key to a winning formula!
Special mention to Jobe Dunne, who was crook as a dog all day (being on the tail end of a chest infection and croup cough), sleeping between races to keep his energy levels up! Dunne went into the day only 6 points behind in the 50cc class and 4 points behind in the 65cc class. What is even more phenomenal is the fact that he ended up taking out both the 50cc and the 65cc C-Grade classes for the round and also the series! What a trooper!
Dunne is still a blue plater so he will still have another year on his 50cc, but after that, he will be on a yellow plate. Being only 8 years old he has so much potential, he is definitely going to be one to watch.
Jaxin Harvey took out the top podium place in the 85cc C-Grade Small Wheel for the season. Harvey who often trains with Dunne also came down with croup cough, a chest infection and a virus! Luckily Harvey went into the round 60 points in front, meaning he just had to complete each race in order to score top place on the series podium. Harvey put in an awesome effort bringing home 4th for the round and securing 1st place for the series.
Again awesome effort by the Winton Motorcycle Club! It is the first time these guys have run a region and they did a stellar job! Winton are a small club who are always looking for new riders and volunteers, so if you want to get involved with the club you can find all of their contact details at: www.motorcyclingvic.com.au/clubs/club-directory/winton-mx-motorcycle-club/
2018 Northern Region Series Winners:
50cc:
1st – Jobe Dunne
2nd – Malakai Middleton
3rd – Levi Byrnes
65cc A-Grade:
1st – Jake Sanderson
2nd – Ty Sharp
65cc B-Grade:
1st – Hudson Crothers
2nd – Marcus Daley
3rd – Oliver Skinner
65cc C-Grade:
1st – Jobe Dunne
2nd – Daniel Bruno
3rd – Judd Rumbelow
85cc SW A-Grade:
1st – Benjamin Lay
2nd – Jack Kenney
3rd – Jake Sanderson
85cc SW B-Grade:
1st – Hudson Crothers
2nd – Oliver Skinner
3rd – Jye Peterson
85cc SW C-Grade:
1st – Jaxin Harvey
2nd – Cayd Tumai
3rd – Cole Hendy
85cc SW/BW A-Grade:
1st – Jack Bates
2nd – Rielly Lynch
3rd – Tyler Wiremu
85cc SW/BW B-Grade:
1st – Hayden Van Deventer
2nd – Zach Allan
3rd – Kyle Mcclurg
85cc SW/BW C-Grade:
1st – Jake Huddleston
2nd – Tomas Learmonth
3rd – Cole Trott
Girls:
1st – Olivia Kimball
2nd – Elli Hay
3rd – Madi Healey
125cc Jnr A-Grade:
1st – George Knight
2nd – Mark Carroll
3rd – Ricky Chalmers
125cc Jnr B-Grade:
1st – Blake Mcpherson
2nd – Hayden Van Deventer
3rd – Cameron Mcpherson
125cc Jnr C-Grade:
1st – Reece Atteridge
2nd – Christopher Tomarchio
3rd – Dylan Bedford-Mcdowell
250cc Jnr A-Grade:
1st – George Knight
2nd – Mark Carroll
3rd – Kipp Adams
250cc Jnr B-Grade:
1st – Blake Mcpherson
2nd – Kade Stratton
3rd – Isaac Wilkin-Thom
250cc Jnr C-Grade:
1st – Reece Atteridge
2nd – Mason Anderson
3rd – Dylan Bedford-Mcdowell
MX1 A-Grade:
1st – Bryce Ognenis
2nd – Matt Karm
3rd – Jordan Selva
MX1 B-Grade:
1st – James Macfarlane
2nd – Dale Lyons
3rd – Daniel Matthews
MX1 C-Grade:
1st – Daniel Dinsdale
2nd – Jack Sheahan
3rd – Nicholas Harding
MX2 A-Grade:
1st – Jed Polomka
2nd – Ryan Kenney
3rd – Austin Ross
MX2 B-Grade:
1st – Mitchell Cinquegrana
2nd – Dale Lyons
3rd – James Macfarlane
MX2 C-Grade:
1st – Josh Baker
2nd – Luke Mclaughlin
3rd – Cooper Wallace
Vets under 35:
1st – Scott Briant
2nd – Matthew Mcmahon
3rd – Dan Ronald
Vets under 45:
1st – Glenn Mcaliece
2nd – Darren Garlick
3rd – Alistair Maxwell
Women's:
1st – Danielle French
2nd – Courtney Whyte – Dennis
3rd – Maddy Brown
Photo courtesy of Jacqui Ajp Hayward