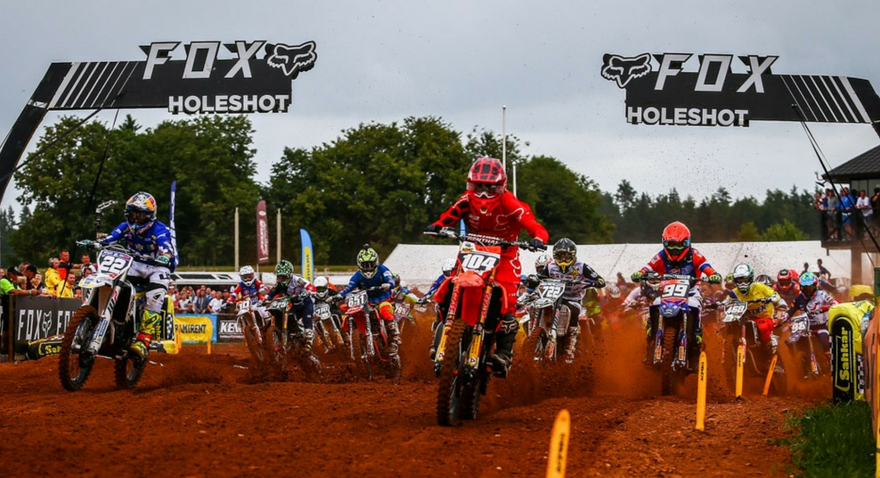 Youthstream is happy to announce the entry lists for the 2018 FIM Junior Motocross World Championship in Horsham, Australia. The event will take place the 25th and 26th of August in Australia's Victoria region.
The event will bring together riders from 23 different countries who not only race for their flag but also for themselves and to be crowned Junior World Champion and 65cc World Cup Winner. Three classes will take part in the racing with 65cc, 85cc, and 125cc.
Starting gates will be filled with big names such as America's Max Miller, Ryder Difrancesco, and Aiden Tijero along with European top guns such as Holland's Raivo Dankers, and Belgium's Liam Everts plus the newly crowned EMX85 Champion from South Africa, Camden Mc Lellan.
In addition to the competitive racing a competition titled the 2018 RIDE GREEN CUP will challenge the teams and riders to show their commitment to the environment also via social media. From correctly disposing of motor oil to promoting a sustainable approach to racing the teams will be judged at the end of the weekend. By clicking HERE you will be able to download the 2018 Ride Green Cup Info Document!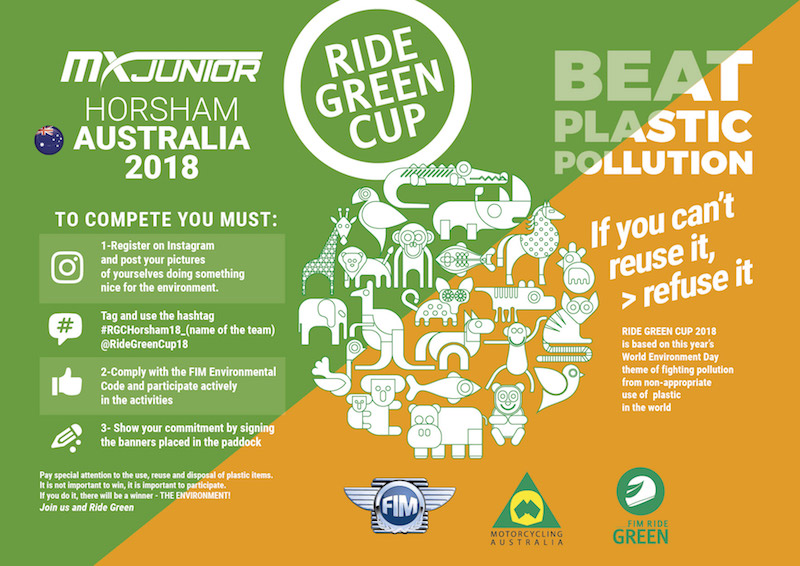 Below in BLUE are the Australian Riders- 
65cc Entry List:

| | | | | | |
| --- | --- | --- | --- | --- | --- |
| No | SURNAME | NAME  | NAT | FMN | BIKE |
| 2 | BOUGHEN | Ashton | GBR | ACU | YAMAHA |
| 3 | FISHER | Heath | AUS | MA | HUSQVARNA |
| 7 | JOHNSON | Kade | USA | AMA | YAMAHA |
| 8 | BEST | Logan | USA | AMA | YAMAHA |
| 11 | MAHONEY | Shaun | GBR | ACU | HUSQVARNA |
| 17 | DAVIES | Cole | NZL | MNZ | KTM |
| 19 | IKUSHIMA | Ryuki | JPN | MFJ | KTM |
| 20 | KINGSFORD | Kayd | AUS | MA | YAMAHA |
| 24 | ALSOP | Jet | AUS | MA | KTM |
| 27 | BURCHELL | Seth | AUS | MA | YAMAHA |
| 28 | SAKATA | Yamato | JPN | MFJ | KTM |
| 37 | SHARP | Ty | AUS | MA | YAMAHA |
| 43 | WOOD | Thomas | AUS | MA | HUSQVARNA |
| 47 | WEST | Jason | AUS | MA | HUSQVARNA |
| 52 | BARR | Lachlan | NZL | MNZ | YAMAHA |
| 61 | PAICE | Deacon | AUS | MA | KTM |
| 65 | SHACKLETON | Seth | AUS | MA | KTM |
| 66 | MINEAR | Kayden | AUS | MA | KTM |
| 67 | PHAIRUENGSOME | Chalasin | THA | FMSCT | HUSQVARNA |
| 71 | FINDLAY | Harrison | NZL | MNZ | HUSQVARNA |
| 75 | MESTERS | Bradley | NED | KNMV | HUSQVARNA |
| 76 | McINNES | Hixon | AUS | MA | KTM |
| 94 | HANTIS | Koby | AUS | MA | COBRA |
| 101 | VAN DRUNEN | Lotte | NED | KNMV | HUSQVARNA |
| 111 | LEYRAUD | Matt | FRA | FFM | KTM |
| 122 | HARVEY | William | NZL | MNZ | YAMAHA |
| 123 | PEKLAJ | Jaka | SLO | AMZS | KTM |
| 204 | OWENS | Liam | AUS | MA | HUSQVARNA |
| 217 | RISPOLI | Brando | ITA | FMI | KTM |
| 254 | DEVESON | Jack | AUS | MA | KTM |
| 262 | WOODS | Ky | AUS | MA | KTM |
| 410 | CANNON | Jake | AUS | MA | YAMAHA |
| 411 | KNUIMAN | Damien | NED | KNMV | KTM |
| 428 | PLATH | Braden | AUS | MA | HUSQVARNA |
| 447 | MADSEN | Jacob | DEN | DMU | KTM |
| 479 | MAREK | Vitezslav | CZE | ACCR | KTM |
| 655 | PIKAND | Romeo | EST | EMF | |
| 714 | OZOLINS | Markuss | LAT | LaMSF | HUSQVARNA |
| 727 | PETERSON | Mark | EST | EMF | |
| 751 | PEARCE | Angus | AUS | MA | YAMAHA |
85cc Entry List:
| | | | | | |
| --- | --- | --- | --- | --- | --- |
| No | SURNAME |  NAME | NAT | FMN | BIKE |
| 4 | JILLINGS | Rhys | NZL | MNZ | KTM |
| 5 | DIFRANCESCO | Ryder | USA | AMA | KAWASAKI |
| 6 | BRASWELL | Caden | USA | AMA | KTM |
| 8 | VIANO | Andrea | ITA | FMI | KTM |
| 11 | KIPPS | Jett | AUS | MA | HUSQVARNA |
| 14 | BOURKE | Cobie | NZL | MNZ | KTM |
| 17 | EVERTS | Liam | BEL | FMB | KTM |
| 21 | KINGSFORD | Ryder | AUS | MA | YAMAHA |
| 22 | KARSSEMAKERS | Kay | NED | KNMV | KTM |
| 27 | COLSON | Arnaud | FRA | FFM | KTM |
| 33 | KONDE DESHMUCK | Yuvrajsinh | IND | FMSCI | KTM |
| 38 | KEAN | Ty | AUS | MA | KTM |
| 42 | HILLS | Mason | AUS | MA | HUSQVARNA |
| 44 | WATSON | Zac | AUS | MA | YAMAHA |
| 45 | WEST | Brad | AUS | MA | KAWASAKI |
| 47 | ALEXANDERSON | Ryan | AUS | MA | KTM |
| 48 | MANCINELLI | Deegan | AUS | MA | KTM |
| 49 | YONEDA | Kaito | JPN | MFJ | KTM |
| 72 | SATAKE | Ryouga | JPN | MFJ | KTM |
| 75 | MASSURY | Carl | GER | AMF | KTM |
| 77 | DEWARAJA MALAWEERAGE | Dilitha Kalhara | SRI | FMSSL | KTM |
| 83 | WIREMU | Tyler | NZL | MNZ | KTM |
| 114 | HENSON | Seth | NZL | MNZ | KTM |
| 122 | TAYLOR | Jak | GBR | ACU | KTM |
| 140 | CAMILLERI | Jackson | AUS | MA | KTM |
| 213 | MOON | Jasper | AUS | MA | KTM |
| 225 | TOWILL | Connor | AUS | MA | KTM |
| 252 | SANCHEZ | Raul | ESP | RFME | KTM |
| 288 | WILLIAMS | Cambell | AUS | MA | KTM |
| 422 | Mc LELLAN | Camden | RSA | DMSB | KTM |
| 431 | PIKART | Tomáš | CZE | ACCR | KTM |
| 434 | MATHER | Jack | AUS | MA | KTM |
| 483 | LANE | Ethan | GBR | ACU | KTM |
| 484 | KOOIKER | Dave | NED | KNMV | YAMAHA |
| 494 | CANNON | Charli | AUS | MA | HUSQVARNA |
| 514 | DE WOLF | Kay | NED | KNMV | KTM |
| 598 | LEPIGEON | Ethan | FRA | FFM | KTM |
| 715 | KARU | Romeo | EST | EMF | KTM |
| 731 | JONES | Alfie | GBR | ACU | KTM |
| 757 | BURGESS-STEVENS | Jett | AUS | MA | KTM |
125cc Entry List:
No
SURNAME
 NAME
NAT
FMN
BIKE
TEAM

2

FERGUSON

Noah

AUS

MA

KTM

3
TIJERO
Aiden
USA
AMA
KTM
4
MILLER
Max
USA
AMA
KTM

5

LARWOOD

Alex

AUS

MA

YAMAHA

8
JILLINGS
Zac
NZL
MNZ
KTM
10
DANKERS
Raivo
NED
KNMV
KTM
20
DORMEHL
Cayle
RSA
MSA
KTM
22
HO
Hailey
FRA
FFM
YAMAHA

25

FOX

Blake

AUS

MA

KTM

26
CHEDORGE
Kerian
FRA
FFM
KTM

28

CHALMERS

Ricky

AUS

MA

KTM

32

ANDREWS

Liam

AUS

MA

YAMAHA

38
KOVACS
Ádám Zsolt
HUN
MAMS
YAMAHA
IFLY JK RACING
44
ELZINGA
Rick
NED
KNMV
YAMAHA

45

KUKAS

Jack

AUS

MA

YAMAHA

47

MALKIEWICZ

Bailey

AUS

MA

YAMAHA

57
McNICOL
Kyle
GBR
ACU
HUSQVARNA
58
DUROW
Cameron
RSA
KNMV
KTM

61

DUFFY

Regan

AUS

MA

KTM

81
MEUWISSEN
Raf
NED
KNMV
KTM

84

CLIFTON

Caleb

AUS

MA

KTM

88
CONNOLLY
Brodie
NZL
MNZ
KTM

92

HYAM

Dante

AUS

MA

KTM

98
BENISTANT
Thibaut
FRA
FFM
YAMAHA
101
GUADAGNINI
Mattia
ITA
FMI
HUSVARNA
105
SMITH
Hayden
NZL
MNZ
HUSVARNA
108
SCOTT
James
NZL
MNZ
KTM

153

MCMAHON

Korey

AUS

MA

KTM

180
AMBJÖRNSON
Leopold
SWE
SVEMO
HUSVARNA

201

FABRY

Mathew

AUS

MA

YAMAHA

215
NAKAJIMA
Souya
JPN
MFJ
KTM
217
WADE
Eddie Jay
GBR
RFME
KTM
313
POLÁK
Petr
CZE
ACCR
KTM
JD GUNEX KTM RACING TEAM
325
ALFARIZI
Muhammad
INA
IMI
HUSQVARNA
365
NUNN
Sam
GBR
ACU
YAMAHA
377
WILLIAMS
Preston
GBR
ACU
HUSQVARNA
731
MAUSSER
Maks
SLO
AMZS
HUSQVARNA
912
RIZZI
Joel
GBR
ACU
YAMAHA

927

JONES

Ty

AUS

MA

HUSQVARNA