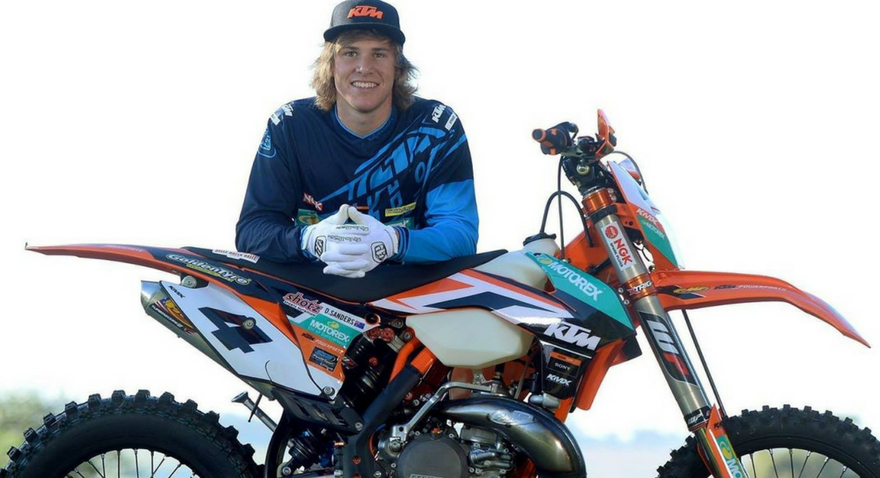 Motorcycling Victoria is pleased to be the home of three of the four riders selected to be part of the World Trophy Team representing Australia at the 2018 International Six Day Enduro Championship (ISDE) to be held in Viña del Mar, Chile on November 12-17.
Yesterday, Motorcycling Australia (MA) announced the Victorians that will be part of the World Trophy Team, they are; Daniel Sanders, Daniel Milner & Lyndon Snodgrass.
Motorcycling Victoria sat down with the boys and had a chat about being selected for the team, how they are preparing and more!
How do you feel about being selected to represent Australia?
Sanders: "Excited to be going back and representing Australia for another year. I have been lucky enough to represent Australia at the ISDE since 2014, making this year my 5th ISDE. I have had really good success over there, so really looking forward to going back again this year".
Milner: "I am pretty excited about being selected for the worlds, to be able to go over there and be chosen over all of the great talent that we have here in Australia is such a privilege. I have been competing in the ISDE since 2011. I am really looking forward to going back again this year".
Snodgrass: "Excited to be heading to Chile and to be riding the ISDE in November! We have a great team this year and I am excited to be part of it".
How are you preparing?
Sanders: "Preparation will start straight after the AORC is over. I think we will all get together and hit some desert tracks. It is going to be really important to stay focused and mentally sharp. It's gonna' be a long season – everyone will be burnt out by the end of the AORC.
With the last AORC round in October, I will take a week or two off for myself, by then the bikes will already be sorted and set, so we just need to stay fit, strong and healthy. We want to fly over there well prepared with the team, have some fun and start walking all of the tracks!"
Milner: "I am focused on doing my best, put my all in and see what happens after the AORC is over. We will probably go and ride some desert like kind of terrain that will be similar to the race conditions. Hopefully we can get some information about what the terrain and track will be like and then we can put in some solid prep based on that. Pretty much just doing the training we do now for the AORC, just focusing on the sand a bit more to make sure we are ready to go".
Snodgrass: "We will be finished the AORC season by then, so just a heap of riding and training before we head over. The climate will be a bit different from home – especially coming from an Australian spring, but we should be right over there. I am keen to get over there and see what it is all about!"
Any competition you have your eye on?
Milner: "The French are always really strong. The Americans will also be a strong team. There will be quite a lot of teams that if they put forward all of their best riders it's going to be real hard to beat them. But we have a strong side too so we will definitely be knocking at the door for the win, that's for sure! Hopefully we can smoke them and bring that trophy home again!"
Snodgrass: "The French are a very strong team, there are so many other strong countries out there with great riders, however we have a good team this year, so I can't wait to see how we go against them!"
What bike will you be taking over?
Sanders: "I haven't decided which bike I will ride over there yet, either the 450 or the 500, it really depends on the track, if it's going to be more sandy or I know there is a fair bit of rocky stuff up in the hills, and it is not far to get off the beach and into the rocks, so we will have to wait and see what the course layout is like".
Milner: "I am definitely in the right bike over there especially for deep sand and technical kind of stuff, I will be riding a 500 so I think that would be the best possible bike you could choose to go over there and go for it!
Any other thoughts or Comments?
Milner: "It's one of those races where you need to make sure you are going fast enough that you are getting good times, but at the same time you need to save your bike – for being 6 day and all – especially being in hot and dry conditions – kind of similar to Australian desert races – in Australia our season is run through winter so we don't have really hot races that we would if we were riding in an Australian summer. Obviously we do a lot of training here in the summertime, so we should be alright over there. I have come close to winning twice now coming runner up, so for me I would love to win the whole event outright. There is some good young talent coming through on the junior team, I guess I have been there enough that I can put my knowledge onto them and help them get through it".
Pictured above: Lyndon Snodgrass
Pictured above: Daniel Milner
Main Image: Daniel Sanders
More on the Victorians selected for the Junior Trophy Team to come…….