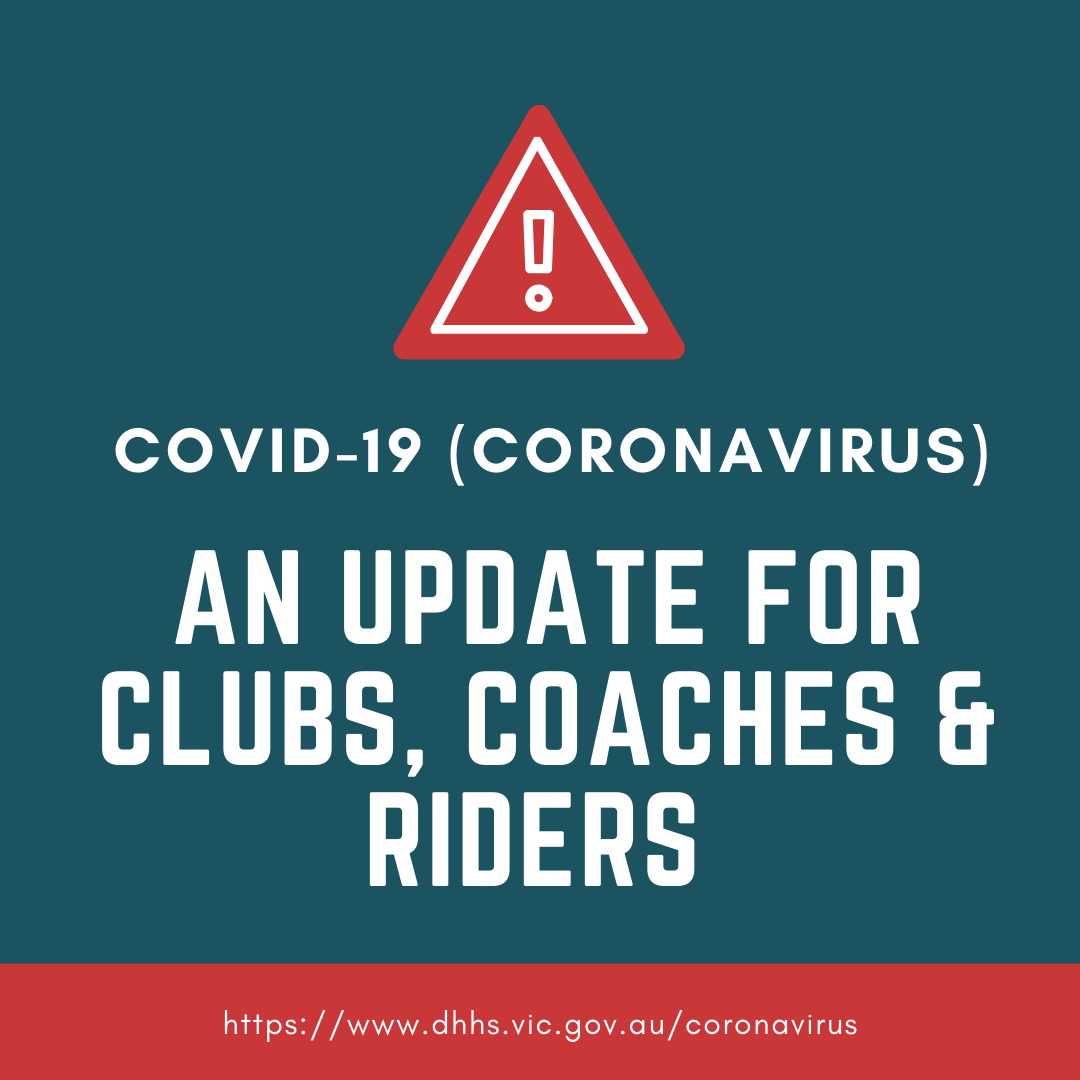 MOTORCYCLING VICTORIA | COVID-19
A MESSAGE TO OUR CLUBS, COACHES AND RIDERS 
As the status of COVID-19 (commonly known as Coronavirus) changes rapidly each day, we want to take this opportunity to reassure our community. Although we have had to cancelled or postponed some of the large scale State events, this has only been done with the best interest of the Community in mind, in line with Government guidelines and advice.
For the events that have been postponed the committees are working hard to have new dates announced as soon as possible.
What does this mean for Club and Coaching Activity?
For now it can be business as usual.  The Motorcycling Victoria team are here, in the background, to support anyone wishing to continue to operate, in line with the Government restrictions and guidelines.
The organisers (clubs or coaches) have our full support either way.
To keep up to date on the activity across the state, visit the MV Calendar on our website:
https://www.motorcyclingvic.com.au/calendar/
Are you planning an event?
For the protection of everyone involved, we ask that you access and read the most up to date advice on COVID-19.  Which outline the restrictions and guidelines that are being put in place for the protection of us all.
https://www.sportaus.gov.au/media-centre/news/minister-for-sport-issues-covid-19-guidelines-for-community-sport
https://www.health.gov.au/sites/default/files/documents/2020/03/coronavirus-covid-19-what-you-need-to-know_4.pdf
This includes keeping in mind that being an organised outdoor activity we must be sure to limit the amount of people to below the maximum 500, and ensure we are supplying the basic tools to maximise hygiene (i.e. Running water, soap, toilet paper, hand sanitiser, etc).
And finally, we all must do our best to encourage everyone to take accountability for their own health and that if anyone does not feel well to stay home.
Feel free to print off the below to display at your event:
A FINAL NOTE:
We must clearly communicate to you that the situation is changing daily, and that we must all work together where possible. If you have any questions we encourage to you call us and discuss.
We want to encourage you to keep up to date on COVID-19 where possible directly from the Government agencies putting in place the measures to protect us all.
We have all seen many social media post and even text messages with misinformation designed to cause panic. If you are concerned, we encourage you to check the source of the information you are being given.
Below you will find links to the Government sites releasing the updates daily:
https://www.dhhs.vic.gov.au/coronavirus
https://www.premier.vic.gov.au/more-restrictions-put-in-place-in-the-fight-against-covid-19/
https://www.health.gov.au/news/health-alerts/novel-coronavirus-2019-ncov-health-alert
https://www.pm.gov.au/media/update-coronavirus-measures
https://www.sportaus.gov.au/media-centre/news/minister-for-sport-issues-covid-19-guidelines-for-community-sport
We will continue to communicate with you as information and the situation progresses.
Motorcycling Victoria